Thao Nguyen Gets Down with Song Exploder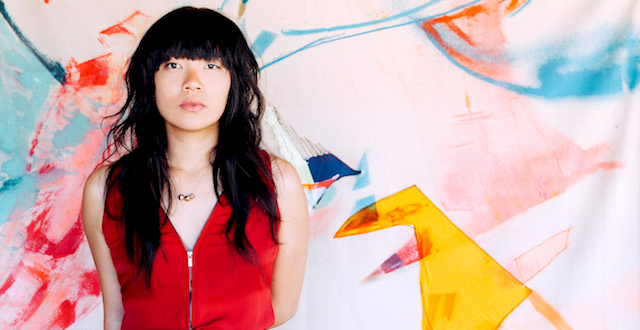 You might say that Thao Nguyen knows music inside and out. As the front person for the band Thao & The Get Down Stay Down, she's been playing music before some of us knew how to operate a cell phone.
This year, she also landed a spot replacing the host and creator for the podcast Song Exploder. Now in its sixth season, Nguyen finds herself swiveling the microphone to something of a 180°.
She's arrived on the other side of the music, posing questions to her podcast guests with the same infinite curiosity any music fan can relate to.
Song Exploder was started back in 2014 by Hrishikesh Hirway as a platform for musicians to dissect the songs they've performed, piece by piece, letting liseners in on the backstory of how they came together. The New York Times once said of it:
"In the world of beautifully produced podcasts, Song Exploder is the beacon… It's a show filled with serious lines of honesty, cinematic production and peeks inside the creative process."
There's no methodology to how someone interprets a song and no sequential order to the way emotions take shape after. Similarly, lyrics are a product of the artist's personal narrative and their tendency to flow in and out of meaning, changing seasons with timeline and context.
Imagine if you could understand how each harmonic creation really came together?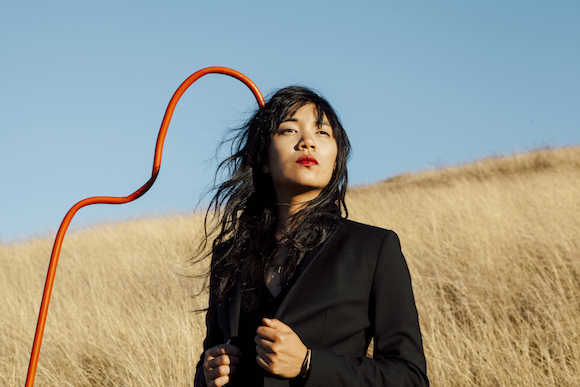 Photo by Maria Kanevskaya
Back in 2016, Hirway asked Nguyen to appear on Song Exploder to sift through one of her new releases, "Astonished Man," off the album A Man Alive.
The idea for the song came from reading Gilead, by Marilynne Robinson, where a dying father fashions a long farewell letter to his adolescent son. The album is largely a tribute to Nguyen's estranged father; its lyrics braided with vows of forgiveness for his vacancy in her past.
"It was just really cool to speak in such an in-depth manner about a song, so i really enjoyed the process, just as a guest,' said Nguyen. "It does allow for that time and that room to expand on things and to really dive deeply."
Fast forward to the end of 2018, when Hirway approached her again—this time about guest hosting an episode on the same podcast she had appeared on. She agreed, hoping to interview one of her favorite singer-songwriters, Neko Case, about "The Last Lion of Albion" on her most recent album, Hell-On.
Along the discussion, Case divulged how her meditation on the lion crests she saw on buildings throughout England gave her the idea for the song. Before this, listeners might have only had a fuzzy impression of the historical context that led to her haunting refrain on the album about the destruction of the natural world.
"I just remember thinking how sad it was that all the lions of England were extinct," said Case, in the interview.  "Anything really beautiful that's used as a national symbol is often something that has been destroyed…kinda the signature move of colonialism."
In each episode, guest artists on Song Exploder commit a good 75 minutes to an interview. It's a space that allows for a favorable downtime in conversation and can prompt musicians to speak more openly about their work.
In early January, she chatted with Irish singer-songwriter Hozier, about a song off his album Nina Cried Power. Its supporting vocals were delivered by the legendary gospel singer Mavis Staples. During the interview, Nguyen also learned what it was like when Staples marched with Dr. King and how her music was infused by her involvement in the Civil Rights Movement.
"I really love that spiritual element of our conversations," said Nguyen. "There are moments when things come up that you wouldn't necessarily expect and there are these unforeseen poignant moments, or moments where the artist is willing to allow more candor into the conversation."
It's a journey that's led to her renewed fascination with the unexpected. Touring and recording alongside other musicians always carries the lucky add-on for her to catch an artist backstage to swap lyrical anecdotes. Alas, she admits, this can only go so far.
Music is often described as the universal art form. It can be unshakable. You hear a song and it resounds with you somehow. You are exposed to it, but in many ways it also exposes you.
"You know when you write a song or record a song there are a probably a hundred things that you know no one will ever hear," said Nguyen. "It's nice to be appreciated in that way—in ways where you just thought you'd toil in darkness forever."
Thao & The Get Down Stay Down moved to San Francisco over a decade ago to further their country-stained indie-folk sound. In Nguyen's short time as host of the show this year, she's found her approach to music reinvigorated.
"I'm so grateful to Song Exploder because it's reminded me that the expulsion of being a musician is that you can do what you love," said Nguyen. "Sometimes that gets obscured when it becomes your job, even though its a very lucky job to have."
Song Exploder has provided a more comprehensive picture of what it takes to make a song, especially in an era where music has been devalued in certain arenas, sometimes to the detriment of the artist. It's a reminder that real people make this music—something you essentially might never pay for or take for granted—and if you want an avenue to appreciate them on a deeper level as a person then there's an avenue for that.
"The underlying theme here is people work really hard and care a lot and they figure out how to get over their crises of confidence, or whatever it is, and thats really helpful in making a record," she said.
Check back in for Nguyen's impending album release and tour dates for Thao & The Get Down Stay Down on their official site. And listen to the Song Exploder podcast where musicians share the heartfelt moments into how the song is created.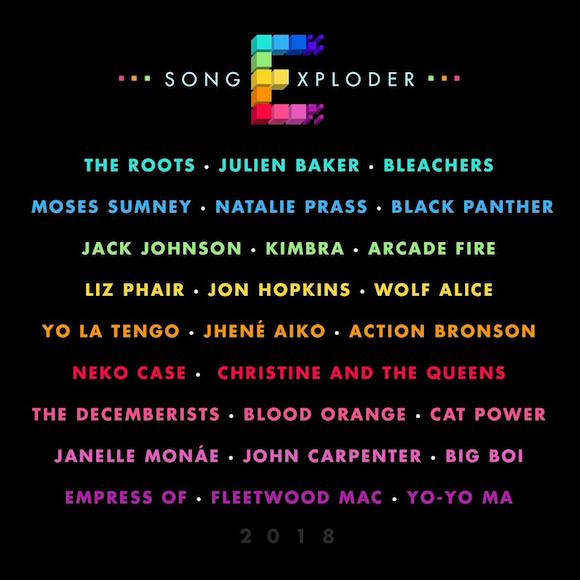 The podcast lineup from Song Exploder, 2018