New Cocktail and Charcuterie Bar Secretly Opens in SoMa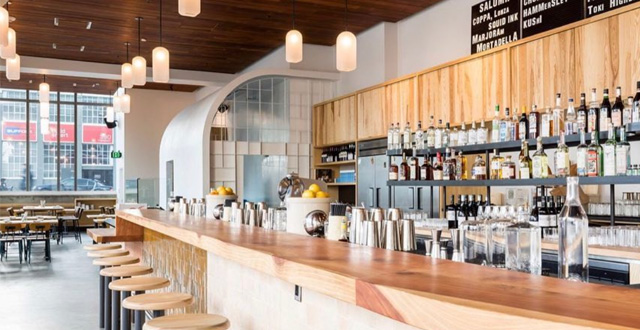 In an age of endless hype, a silent bar opening is almost unheard of. Yet Nommo, the latest addition to the city's drinking scene, decided to open its door without the excessive pre-opening buzz, following the owners' previous experience. Behind the SoMa bar are some scene veterans; Thad Vogler from Bar Agricole, Trou Normand, and most recently Obispo, and Jon Santer, the man behind Prizefighter, a popular watering hole in Emeryville. According to Volger, Obispo's prolonged and dragged-out opening process led to the decision to open Nommo under the radar. And accordingly, they don't even have a website yet; although they are on Instagram.
The space is large and feels like a casual sit-down spot, the cocktails are straightforward, five ingredients tops, and there's a satisfying presence of sherry offerings and beers on tap. The food offerings go well beyond typical bar fare; from house-made charcuterie to a pork belly main, the menu is skewing French (boudin blanc, anyone?) and is big on flambe and the sense of decadence it conveys.
Unlike its rum-centered cousin Obisbo, Nommo has yet to climb onto the "Best Of" lists. So once you find it, Nommo's located on the ground floor of a residential building, pull up to the bar, and treat yourself to a well-crafted, delicious drink.
Nommo
396 Harrison Street, SF
Monday-Saturday, 4pm-12am