For its 10th anniversary, Huichica Sonoma returns with more amazing music, wines, and locally-sourced food. Presented by Gundlach Bundschu and (((FolkYEAH!))), the all-ages, family-friendly music festival features many established & emerging folk and indie artists on four stages.
"Ten years into Huichica Sonoma and this year will be the most memorable yet," says Britt Govea, founder of (((folkYEAH!))) Presents. "A fun and diverse line up with great food and even better wine from the oldest family-owned winery in California – it's one of my favorite music and family weekends of the year! This micro gathering is smaller in size but resonates big in the heart of music and wine lovers looking for something more intimate and relaxing. It is such treat to spend two glorious days at Gundlach Bundschu Winery with some of the best artists of our time."
"It's been so exciting to watch Huichica grow over the past decade," says Huichica co-founder, Jeff Bundschu. "We've stayed true to ourselves and this festival in the process–presenting an extremely curated and talented lineup in epic, rural locations year after year… and having a ton of fun in the process."
~~~~~~~~

Huichica Sonoma 2019 Lineup

LEE FIELDS & THE EXPRESSIONS
REAL ESTATE
CONNAN MOCKASIN
LOVE band featuring Johnny Echols plays "FOREVER CHANGES"
FOXWARREN (Andy Shauf)
DEAN WAREHAM plays Galaxie 500's "On Fire"
FRUIT BATS
CHUCK PROPHET
BRITTA PHILLIPS
SPIRAL STAIRS
LITTLE WINGS
KELLEY STOLTZ
HERON OBLIVION
THE BABE RAINBOW
BALLAD OF THE BAND tribute to FELT
ONCE & FUTURE BAND
QUINN DEVEAUX
VINYL WILLIAMS
Live Tribute to THE BASEMENT TAPES
PURE BATHING CULTURE
LUMERIANS
THE TYDE
BEDOUINE
GARCIA PEOPLES
PAPERCUTS
DIRTY GHOSTS
THE BLANK TAPES
BRIGID MAE POWER
OLIVER RAY
TRIPTIDES
OLDEN YOLK
PARTING LINES
TRUMMORS
The CASUAL COALITION
ZEB ZAITZ
THE RADIO FLIERS
THE MATCHING SHOE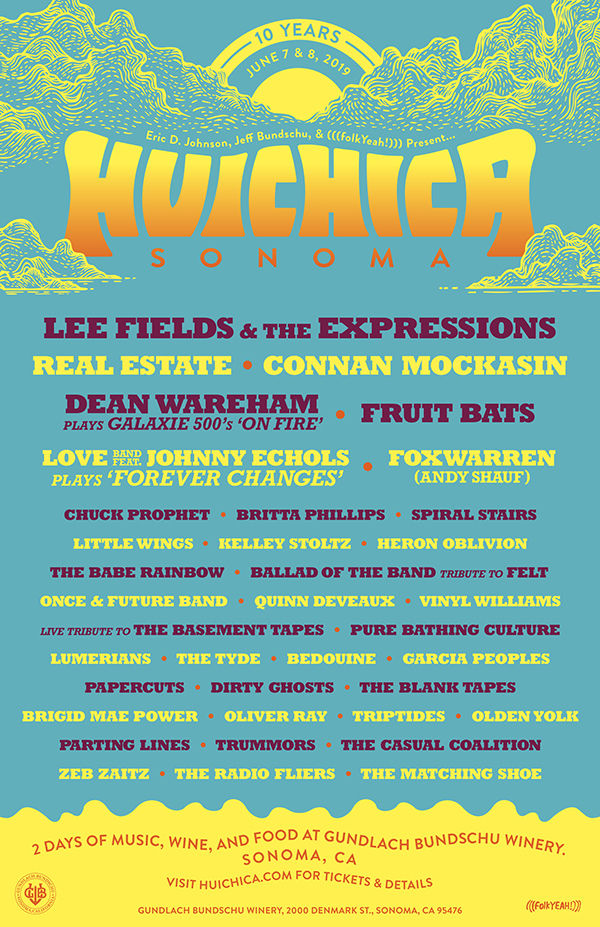 ~~~~~~~~
Huichica Sonoma
Friday, June 7th and Saturday, June 8th
at Gundlach Bundschu Winery
2000 Denmark Street, Sonoma, CA
General admission tickets are available. Two-day passes to Huichica Sonoma will be released for $155, with day passes for Friday ($55) and Saturday ($110) to follow.
A portion of proceeds from Huichica Sonoma will benefit The Sonoma Valley Education Foundation.