Joy Williams Will Serenade Swedish American Hall for Noise Pop Festival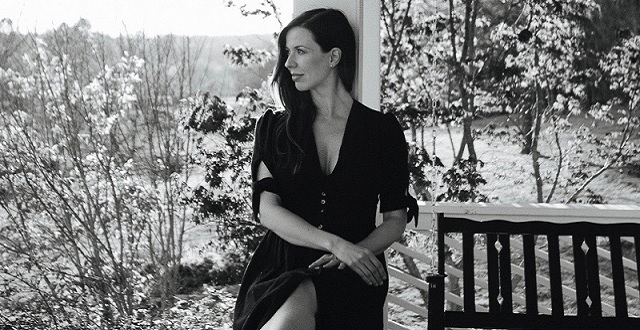 Grammy award-winning singer-songwriter Joy Williams has an upcoming tour stop at Swedish American Hall in support of her latest album, Front Porch, released earlier this year.
~~~~~~~~
Update posted 2/19/19: Joy Williams has announced the postponement of her tour due to a "difficult and blindsiding" personal matter. She hopes to go back out on the road when the time is right.
~~~~~~~~
Williams has Bay Area roots, having grown up in Santa Cruz. At 17 years old, she signed a recording contract and moved to Nashville, Tennessee. Joy Williams made her self-titled debut in 2001 and has an extensive and impressive history of songwriting for various projects. She also formed her own record label called Sensibility Music LLC with her husband, Nate Yetton. Beyond her solo endeavors, Joy Williams previously played in a duo with fellow musician John Paul White, in the indie folk band, The Civil Wars. Their project, started in 2009, won four Grammy Awards, but in 2014 the two artists went their separate ways.
As a preview of her upcoming performance on Saturday, March 2nd for Noise Pop, we spoke to Joy to learn more about her upbringing, musical influences, and what she loves about San Francisco.
How did you grow up in Santa Cruz, move to Nashville, and pursue your music career path?
I grew up in Santa Cruz so I have a lot of love for San Francisco… I think it's ironic talking about the fact that I grew up in Santa Cruz and grew up in a very conservative family. There's a bit of a paradox there and I actually feel like it fit me pretty well. I grew up in a really loving household that definitely had a world view and framework that was a pretty solidly locked down. So, of course, as a kid, you kind of grow up with that as your container for your world. What I loved about living in Santa Cruz was it made me quickly and individually go do what I want… and what is it that I want to leave behind as I grow. That didn't happen until later. I moved to Nashville and already had a gospel music record deal.
I cut my teeth with Joy (Williams); 250 days a year for the first few years after I graduated high school, traveling the country, traveling the world, singing to tracks on a CD with a wireless mic, and no band. I'll tell you what, no matter what you're singing about, that's a balls to the walls (excuse the phrase) experience that will make you grow up really fast. I was on the road by myself from 18 on. I did fairly well in that industry and in that genre, but what I had difficulty with is that, as my worldview started shifting, I didn't feel, in my good conscience, that I could continue to make that kind of music. My worldview got a lot broader than what I felt that genre was willing to contain. So I left it.
I had odd jobs for a while. Wound up writing songs for a few friends, which led me to get a publishing deal out of LA, which help me cut my teeth to write songs, which allowed me to get a PD Sync deal writing jingles for TV, (for) which I wrote a theme song for Oscar Meyer. That was a sizable amount and allowed… Nate and I to fully fund the endeavors of The Civil Wars… There's a long streak of how I came to this season in my life. On Front Porch, I actually kind of returned, not to the container, but I return to quite a familiar language and turning it on its ear and being playful with it, and I have a lot of fun doing that.
It was like the smell of weed was everywhere and I would come home and we would have Bible study. One thing I love about Santa Cruz. One of the many things is, just let your freak flag fly. I think that was kind of what gave me the freedom to go explore. I want to check out what I believe. I want to make music. I might just be crazy enough to believe that I might be able to make a living doing this. You know, to each their own. We all find our own path.
Speaking of Front Porch, could you paint a picture of what is on your front porch?
Sidewalk chalk drawings by my six and a half-year-old son Miles. Four bleached out sun wooden rocking chairs… a few razor scooters, a couple bikes, a dusty mailbox, and a doormat that used to say, "Bon Jour," but that got ratty… I ordered a new one that says, "Howdy."
Does your daughter Poppy Lou travel the road with you and where did you get the name?
She's five months old. Gosh, she is traveling the road… she's already a seasoned veteran of the bus life. Her name is an homage to my late dad who passed away from cancer. Her due date was my father's birthday and I found that to be such a beautiful, full-circle thing. When Nate and I were trying to sort out names, we thought about the timing of everything and how that lined up. And the grandkids always called my dad Poppy and Grand Poppy. Nate said, "What if we named her Poppy," and I just started weeping. I know that was it. I love what Poppy means. It means remembrance. It means rebirth. It means strong medicine. And it means a resurgence or a resurrection of hope. I love what that name meant. Lou or Louise, we picked because Nate and I went on a trip during my pregnancy to Lake Louise in Alberta, Canada, for an Eckhart Tolle retreat. That lake is one of the most stunning vistas that I've yet to see in my life. It means strong warrior. And so I thought, I like the combo of this. Also too, I figured Lou could be gender neutral. If Poppy felt more comfortable in that way, she could have a more gender-neutral name if she wanted to. She came one day before my dad's birthday. I feel somehow in the universe my dad was cheering her on, saying go for it. Her birthday is one day before my dad's. And it's such a sweet, beautiful serendipity.
I did six shows when I was seven to eight months pregnant with Poppy. My son Miles came along for that. I did 11 shows when Poppy was three months old. And now we're coming into a full-blown tour. We have been on the road a bit. We've taken a little bit of a break, but we're a traveling family circus.
Who are some of your acoustic influences?
Good question. That's very specific. I would say Emmylou Harris. I would say Ryan Adams. I would say Dolly Parton. Acoustic, wow. It depends how you define acoustic as well, but I grew up listening to a lot of Billy Holiday, and Ella Fitzgerland, Louis Armstrong, and Janis Jolin, and Led Zepplin; before I got sucked into the vortex of boy bands in high school. And of course, you've got Dylan and you've got your queen, known as Joni Mitchell. I would say all of those have been a major part of influencing me, among many others. Karen Dalton is also in there.
What do you like most about visiting San Francisco?
Uhm, everything. I have lots of memories of being young and driving up and accidentally driving down a one-way street with my girlfriends and I screaming and turning around. Eating at beautiful, sumptuous restaurants I couldn't afford. Trying sushi for the first time on a dad-daughter date with my dad. I have a lot of really amazing memories of that city. As I've toured over the years, I love the feel of the city in general. The slant of it. The ocean air. The feeling of the people that live there. It's eclectic and beautiful and interesting. It always feels like the crowd is up for having accomplished conversations with the music and I want to do that with them.