Gregory Alan Isakov Plays Back-to-Back Nights at the Fillmore for Valentine's Day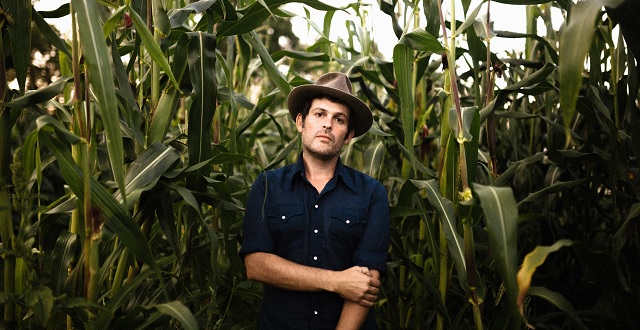 Colorado resident and indie-folk musician Gregory Alan Isakov visits San Francisco, February 14th & 15th for two shows at the Fillmore, in support of his latest album, Evening Machines.
Born in Johannesburg, South Africa and raised in Philadelphia, Isakov eventually settled in Boulder. When he's not working on his heirloom vegetable farm, he's creating music to self-release on his own independent label Suitcase Town Music. His latest record is his first new material in five years, and the twelve-track ethereal exploration is an intimate narrative layered with lush textures rooted by melancholy undertones. The multi-faceted singer-songwriter has additional experience in classical debut music, having made his debut with the Colorado Symphony Orchestra back in 2013. Since then he's performed with many other symphonies.
Beyond gardening and music, Isakov is also a philanthropist. One dollar from tickets sold for each show on his current tour goes to support one of two charities. The two Fillmore shows will support Sweet Relief Musicians Fund, a non-profit that provides financial assistance to all types of career musicians who are struggling to make ends meet while facing illness, disability, or age-related problems. The other organization receiving ticket sales donations is Southern Africa Education Fund (SAEF), which helps children in the remote village of Namibia receive the education necessary to lift themselves and their families out of poverty by building classrooms and playgrounds to uplift educational standards.
We spoke to Isakov just before he started his tour to learn more about his story, inspirations for the new material, and what he thinks about Valentine's day.
Your tour starts tomorrow. What do you have left on your to-do list?
Whenever we go away, I have to get bails of hay for my sheep. My friend Wendy feeds my sheep. I've halfway done that. And pretty much just lock up stuff and change my strings. That's it.
Why did you move from South Africa to Colorado?
My whole family. I was a kid when I moved from South Africa pretty much in the height of the apartheid. My dad found a job outside of Philadelphia. We all moved there as a family. I went to school outside of Philly for a while and ended up in New York for a second and then out to Colorado to go to horticulture school. Then kind of stayed here, worked on horticulture farms and produce production. Then met the band and started playing here and I'm still here.
Who are some of your vocal inspirations?
Oh man, there's so many. You know, it's funny, when I was a kid I used to listen to a ton of old folk records. You know, Paul Simon, Joni Mitchell, Leonard Cohen. I still probably listen to way too much Leonard Cohen if that's a thing. There are so many singers out there that I love what they're doing. I'm constantly blown away by other bands that we're playing with and seeing all the time. For me, I love everything. Jazz, rock. I was in a bunch of metal bands when I was in high school.
Is there a dream symphony you would like to collaborate with?
They've all been so incredible. I'd love to go to Europe and be able to do that over there. There's a symphony in Amsterdam and Vienna and I would love to try and do that over there. That symphony run was so incredible and humbling for us. We had the arrangements already scored and we just brought the arrangements and the orchestra just runs the music the day of the show. I was just so blown away by that.
We tried to do a show with [the San Francisco Symphony] and we ended up doing a really cool show with the Magik Magik Orchestra [instead]. It was incredible. We did it at the Fox in Oakland.
Evening Machines is your first new solo studio album in five years. What pushed you to create new material?
All the records are kind of made by myself. It's definitely a band record just like all the records I've made in the past. I get that question a lot. What took you so long or whatever. I always come back to this space where that's how long it takes me. I'm constantly working on new material. I think I tracked 40-50 songs for this record. Just over the years of writing and recording and then kind of deduced what wanted to live together for the record. I really love making records that feel cohesive. You know, I think with the touring schedule, I come back for usually three months for the growing season because I farm for the rest of the year. I'm constantly compiling the recordings I'm making over the years and I was finally able to take a full year off to record the record, which is probably the quickest I've ever made a record to be honest.
Anything thematic in terms of inspiration for this new record?
It's almost an inevitable kind of feeling I was after. I recorded the record mostly at night, so I was kind of referencing a lot at night. When I would play it during the day, it almost felt like, oh wow, we need some uptempo songs and I would come back to the studio after work and be like, nope, it sounds right. I went with that initial sort of feeling. And storylines throughout the record, they have a couple threads there that are kind of common throughout but I kind of almost don't like overemphasizing too much. what I'm really interested in is how it makes other people feel.
At the end of your tour, how will you spend your brief gap before traveling to Australia?
That's funny you ask me that because I literally was planning that this week. I'm doing all my seed ordering because I'm growing for six or seven restaurants in Colorado and I do a small farmer's market most of the season. I'm doing all my seed ordering and paperwork stuff. I have to have everything prepped by the time I get back from Australia.
What's the best Valentine's Day you've ever had?
Man, I don't even remember. That holiday is so trippy because I don't even understand. I have this song called St. Valentine's. I was doing some research on Valentine's day when I was writing that song and no one really knows where that holiday came about, where it comes from. It is sort of a Hallmark holiday isn't it, you know? I'm down. If there's a holiday that celebrates love, fuck yeah!
Any advice for lover's in the crowd for your show in the 14th?
I'll be there. Feel free to come alone. Just come as you are. You don't need a date to feel loved that's for sure.