February Food and Drink Events For Your Calendar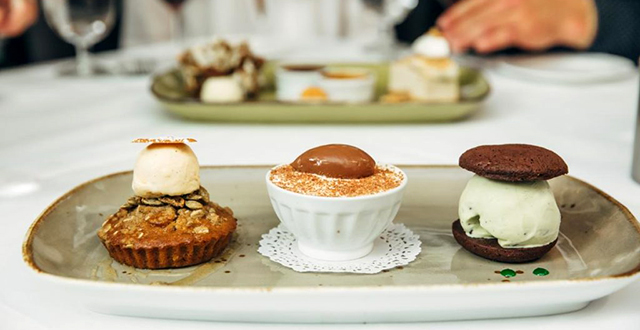 Now that we're over the shock of 2019 beginning, it's time to turn our attention to all-important stuff like Chinese New Year, SF Beer Week and Valentine's Day. Ready to celebrate the fact you survived the first month of the year? There are plenty of food and drink events in February to ensure your bases are covered.
The Saratoga is somewhere you go for a good burger and a good time. Through February 13th, however, it will also become a ramen bar, serving delicious and creative takes on ramen, every Wednesday of the month. Try chef Francisco Baca's version of ramen in this very unusual setting; and chase it down with a drink or two.
1000 Larkin Street, San Francisco
Did you know February 2nd marks a celebration of everyone's favorite childhood food? Soma Streat Food Park is hosting a special feast of tot dishes, served by its many vendors. Cheesy, spicy, reinvented – you name it. Tickets are $5 or or $35 with all-you-can-drink beer.
11 am – 5 pm, 428 11th Street, San Francisco
On Wednesday, February 6th, from 6pm – 9pm, the Presidio's beloved establishment will transform itself into a festive hall in celebration of Chinese New Year's welcoming of 2019 as The Year of the Pig. Expect a Master Soup Dumpling maker, Chinese Lion Dancers, dim sum carts, themed cocktails, and other surprises. Chef/owner Ray Tang celebrates heritage and community. Tickets are $75.
563 Ruger Street, San Francisco
On Monday, February 4th, Chef Rich Lee, previously of Hong Kong's Yardbird, is coming to the city for a one-night event featuring chicken, miso and matcha. Hosted at Stag Dining's Cerf Club, The Karaage Kid mixes sake, hip hop, and dishes like karaage chicken with kewpie, pasta salad with ponzu, and chicken fat rice with ginger and chili. The event starts at 7pm. Tickets are $60.
925 O'Farrell Street, San Francisco
Science of Cocktails? Sounds like an event after our own heart. On February 8th the Exploratorium's Ninth Annual Science of Cocktails event returns; just in time for the museum's 50th anniversary. Look forward to more than 20 open bars, where some of the Bay Area's best bartenders and mixologists will create science-inspired cocktails; plus hors d'oeuvres, sweet treats and culinary surprises. The Exploratorium exhibits will be open, ready to be viewed by the imbibed eye. Tickets are $125.
Pier 15 on The Embarcadero, San Francisco
From February 1st – 28th, One Market chef and co-owner Mark Dommen and 1300 Fillmore chef/owner David Lawrence are teaming up to celebrate African American culinary heritage with a collaborative four-course menu of Californian and Southern flavors. The special menu will include dishes like Three Hour Maple Syrup Braised Beef Short Ribs and Blood Orange Cornmeal Cake for dessert. $49 for a prix fixe menu, 10% of proceeds will be donated to the Museum of the African Diaspora.
1 Market Street, San Francisco
See Yasmin Khan at Omnivore Books
Author and activist Yasmin Khan in coming to the city with her new book, Zaitoun: Recipes and Stories from the Palestinian Kitchen . On Wednesday, Feb 13, at 6:30 pm she will participate in a conversation with a local author and foodie Nick Sharma, and will sign copies of the book, which meshes delicious recipes with history and tradition.
Omnivore Books, 3885 Cesar Chavez, San Francisco
Feed Your Soul with Local Artist Pop-up at Tilden Hotel
On Tuesday, February 5, from 5-8pm, the Tilden Hotel shines a light on emerging San Francisco artist Christopher Fodera during its bi-monthly Tilden Tuesday kickoff event. Inspired by color and textures found in nature, Fodera's collage series combines hand-cut paper elements with original photography, creating a wonderland of surreal and playful images that will line the hotel lobby walls through March. Enjoy sweet sounds by musician Mark Goodwin and complimentary bites and beverages crafted by The Douglas Room.
345 Taylor Street, San Francisco