21 Essential SF Beer Week Events: Tater Tots, Pliny Release, Girl Scout Cookie Pairing, Double IPA Festival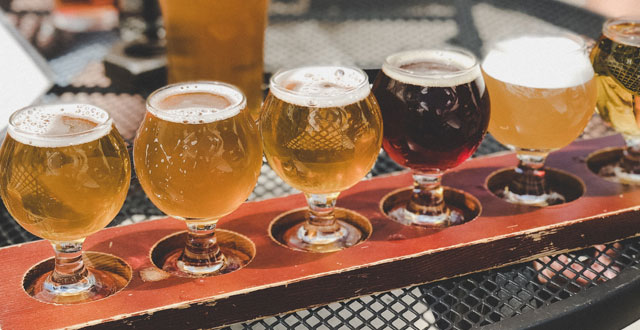 The annual SF Beer Week, which will take place February 1-10, has announced its 2019 schedule. With over a 100 beer related events to choose from, it can all be overwhelming. Although each event involves some special aspect in beer, be it new productions from favorite breweries to unique beer-food pairings – here are a few highlights…
SATURDAY FEBRUARY 2
Double IPA Festival in Hayward
Take the trip to the East Bay and enjoy live music, food trucks and over 60 Double and 30 Triple IPAs on tap at The Bistro. Begins at 11am, tickets are $55.
Sour Sh!tstorm Saturday
Sample 20 sour beers from dozens of different breweries at Old Devil Moon. Begins at noon, no admission fee.
Chocolate Pairing and Beer Making
The ThirstyBear Organic Brewery is hosting a chocolate making class and beer pairing event. Begins at 6pm, $50 reservation.
Tater Tot Fest and Bear Republic Tap Takeover
Even though they won't be serving Racer 5, they'll have flights of all of the other BRBC brews as flights along with Tots 5 ways. Good eats and drinks start at 10am at the Richmond Republic Draught House.
Pacman Tournament with Temescal Brewing
It's time to show off those left right up down skills. Begins at 4pm sharp at the Brewcade, no admission free.
Popsicle Day
That's right, you're favorite flavors all wrapped up into one booze free frozen treat. Begins at noon at Woods Island Club, Treasure Island.
Pliny the Younger Release
The now world famous gathering in Santa Rosa has expanded to their new taproom in Windsor from Feb 1st to Feb 14th and will also be available at many bars participating in SF Beer Week.
SUNDAY FEBRUARY 3
Pinball and Pints
Now is your chance to check out the Pacific Pinball Museum in Alameda! Get tickets early, free play all day on 100+ machines. Begins at 3pm, tickets are $45.
Cinnamon Roll Sunday
The Pacific Standard Taproom is pairing its Calf-eine Coffee Milk Stout with homemade cinnamon rolls. Begins at noon, no admission fee.
Super Sundae Stouts in Santa Clara
"Super Bowl LIII + barrel aged stouts + a scoop of vanilla ice cream = pure happiness." Begins at 11am at Smoke Eaters.
Antiques on Draft and in the Bottle
Full list TBA, begins at noon at City Beer Store.
MONDAY FEBRUARY 5
Brats, Beer & Cheese with Fort Point
"Between pairings, we'll have a cheesemonger and Fort Point brewer walk you through their beer styles and our cheese pairing strategies." Begins at 5:30pm and 8pm at Mission Cheese, tickets are $49.
TUESDAY FEBRUARY 5
Uptown Funk: Bear & Cheese Paring
The Barrel Program Manager of Drake's Brewing Co. is collaborating with a local cheese expert to teach you how cheese is made and how to pair it with beer. Begins at 6pm, $39 reservation.
WEDNESDAY FEBRUARY 6
Wing Eating Competition
Try mystery IPAs along with a Chicken Wing Eating contest beginning at 7pm. Sign up to compete or root for your friends with a sweet 5 wings for $5 offering, everyone wins!
THURSDAY FEBRUARY 7
Mini-Golf Open
"Craft beer pairings inspired by the history behind the holes." All you can drink tickets start at $48.
Fieldwork Tap Takeover
Sample 16 taps, starts at 11:30am at Richmond Republic Draught House, no admission fee.
Norwegian Kveiking Raid
"10 kveik fermented beers, the most ever offered in one place in the USA." Begins at 5pm, no admission fee.
Tasting in the Dark with Dr. Hoby Welder
Learn how to heighten your beer senses with a blindfold on during this 2 and half hour session in Novato at Hopmonk Tavern, tickets are $55.
SATURDAY FEBRUARY 9
Broke-Ass Stuart Cornehole Tournament
Have you tried a Beermosa yet? Now is your chance! Tournament is free to enter with sweet prizes. Begins at noon, no admission fee.
German Beer School & Dinner
Learn from the pros at this rare dinner night in Oakland. Begins at 5:30pm, tickets are $75.
SUNDAY FEBRUARY 10
Girl Scout Cookie & Beer Pairing
It's almost cookie season, celebrate with 4 Bay Area beers paired with your favorite cookie, $4 from each flight goes to charity. Begins at noon at Wine Down, 685 Folsom Street, $25-$30 tickets.