Put These December Food and Drink Events on Your Radar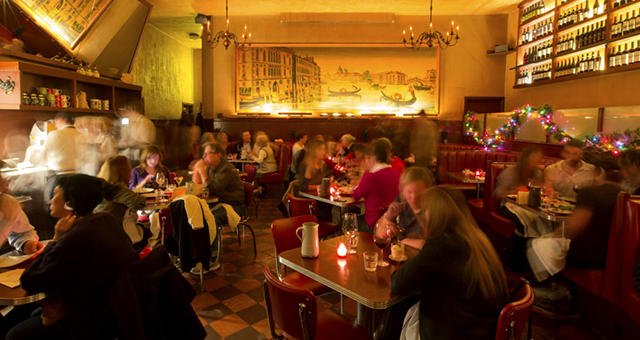 December isn't, or shouldn't be, just about family gatherings and binging on Netflix. While half of San Francisco goes away for the holidays, it feels like you have the city all to yourself; hopping around events, enjoying a sip here and a bite there. Pink winter fun at the Museum of Ice Cream, Mexican Hannukah, and a dinner circus?  December truly has it all.
Drink Up with SKYY and Bumble Bizz
You probably know Bumble, the dating app. On December 12th, 6:30pm – 9:30pm, The Assembly will host a party by Bumble Bizz, the apps's networking mode. Under the title N.O.N. Holiday Party (No Office Needed), you can sip on SKYY Vodka cocktails, enjoy light bites, listen to holiday music and connect with awesome folks. The best part? It's absolutely free. Register to the event.
Attend a Dinner & Circus Show on an Island
Treasure Island isn't messing around. After ramping up its restaurant scene, the island is rolling out Kaleidoscope, a family-friendly circus show with aerialists, acrobats, jugglers, and clowns, accompanied by a live band. To celebrate the occasion, Mersea, the restaurant hosting the daily show, will offer a custom menu of drinks and food. The show debuts November 30th and will run through January 6th. Tickets are $39 – $150.
Eat Blizzards with Abstract Table
Just in time for the holidays, snow or no snow, Abstract Table's pop up at The Gastropig is switching things up with Blizzards, a conceptual menu inspired by winters in Japan and Scandinavia. Each artfully plated serving, you guessed it, will feature a snow or ice motif, and the menu will offer dishes like soba with ikura, sweet potato snow, and nori brown butter. The 5-course menu is $50 per person; 7 courses are $70 per person.
Feast on Lord Stanley's Full English
The vegetable-loving elevated eatery goes decadent this winter, with two installments of its legendary Full English Breakfast. On two Sundays, December 2nd and 30th, enjoy a perfectly cozy plate of fried eggs, toast, beans, black pudding, roasted tomatoes and mushrooms, plus bacon and sausage with brown sauce. Order a mimosa or a Bloody Mary, while you're at it. $25 tickets are available.
Celebrate a cookbook with champagne
Everyone knows Foreign Cinema, the restaurant with the winning cookbook. On Monday, December 10th, Foreign Cinema is teaming up with the champagne bar The Riddler, for a  festive evening celebrating The Foreign Cinema Cookbook. Chic bites and wines will be provided, and percentage of the proceeds will go to ALMA's California wildfire relief fund. Tickets are $65, including a copy of the book.
Eat for free at the opening of BiteUnite
BiteUnite is a new co-working kitchen and café. To celebrate winter, the space is hosting a free event, with the request that donations will be made to the California Wildfire Campaign. There will be gluten-free waffles, plant-based yogurt, fried plantains, and complimentary coffee and kombucha. Saturday, December 15th, 11am – 2pm.
Go Instagram Crazy at MOIC's Pinkmas Exhibit
Move over, bananas and cherries, welcome gingerbread houses and frosty trees. Museum of Ice Cream is running its new Pinkmas attraction until December 30th, featuring a glowing pink forest, wintry surprises and new ice cream flavors like MyMo Mochi, La Michoacana, and Ghirardelli. Get your phones out and prepare to leave cynicism at the door. Tickets are $38.
Celebrate Hannukah at Canela Bistro
One might not expect a Hannukah menu at a Spanish restaurant, but Canela makes it happen. Between Sunday, December 2nd – Sunday, December 9nd, this Castro favorite will serve a $49 menu of matzoh ball soup, potato pancakes with quince-apple sauce, sweet and spicy fish and apple cake, or, believe it, an old-fashioned jello mold.  Wine pairings are available, so lechaim!
Learn About the Future of Food at IndieBio
Soul search and ponder about the future of food? Add a thought-provoking lecture to your itinerary. On December 6th, sip alcoholic beverages and nibble on bites from Prime Roots, a promising new health food brand, as you hear answers to questions about technology, sustainability and more. Free with registration.
Listen to Opera at Tosca Cafe
Perfectly timed for winter, The North Beach institution that is Tosca Cafe is launching Sunday Social Club, a new dinner series, featuring a four-course $45 menu, accompanied by live music (yes, opera too) and wine pairings for an additional price. You've heard of the place, now it's time to experience it, while you nibble on delicious cannoli and pasta. Every Sunday night from 5:30pm – 11pm; beginning Sunday, December 2nd.
Attend Oaxanukkah at Comal
A Mexican Hannukah party? Berkeley's institution Comal says yes. The restaurant's annual Oaxanukkah Dinners are back with a menu mixing tradition and innovation. Try tequila-cured salmon, potato-jalapeño latkes, braised beef brisket in ancho chile adobo & other unorthodox creations, and watch a hannukiya (the proper name for menorah) being lit. December 3rd | December 4th – $75 are tickets.