SantaCon Makes San Francisco's Naughty List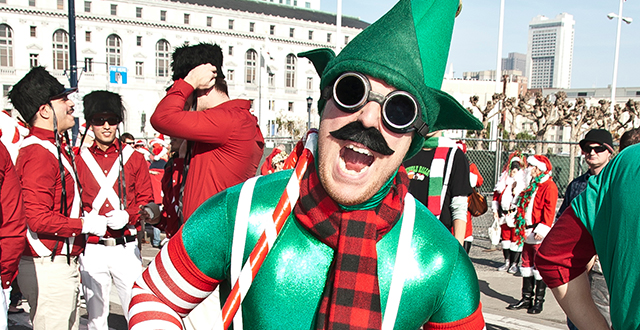 San Francisco Recreation and Parks recently denied a permit request by the organizers of SantaCon, who requested amplified sound to host costume contests and a singalong for this year's event. This caused a stir that the annual tradition had been cancelled.
But that's not the case. Even though it won't be a sanctioned event, SantaCon will proceed. Thousands of Santas, Mrs. Clauses, Elves, reindeer, and grinches will transform Union Square on December 8th.

Santa Tom delivered a few messages last week, diplomatically called out the city, and set the record straight:
SantaCon is not cancelled! The only thing canceled is my participation in organization efforts. I am not doing Costume Contests, nor am I having a singalong…

I was informed that the event is not, and will not be, sanctioned by the City and that if you do show up you will be asked to leave…

They publicize these things to scare the amateurs and thin out the crowds, but y'know, like, 1st Amendment or whatever… expression, assembly, yada yada nbd…
The first SantaCon took place in San Francisco in 1994 and the annual phenomena has grown so much, it now takes place in well over 100 cities around the world. Last year's SantaCon had more than 10,000 people get out to Union Square to have fun and give a little to those in need.
The event is free, 21+, and attendees are encouraged to bring a new, unwrapped toy that can be donated to Toys for Tots.
SantaCon SF
Saturday, December 8th from 10am-6pm
meet in Union Square, San Francisco