Dreams of Narnia Illuminate Montalvo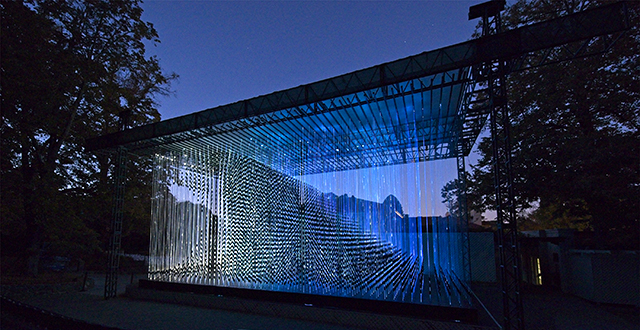 In 2016, Montalvo directors Angela McConnell and Kelly Sicat asked artist Bruce Munro to visit The Montalvo Arts Center, in Saratoga, and dream about what he could create there. When Munro arrived, he took in the garden, manicured lawns, and grand mansion with its stained-glass depiction of a sailing ship.
"I kind of had a shiver. I felt I'd been here before," he said. "I thought, god, this is a Narnian experience."

Munro at Montalvo: Stories in Light, features 10 large-scale works by the British artist, installed throughout the center's lawns, gardens, terraces, and historic structures in Munro's first public West Coast exhibition.
Bruce Munro's "Chronicles of Narnia" illuminated landscape is the culmination of his readings as a child, drawing upon the imagery of those iconic C.S. Lewis adventures, mixed with his life experiences. These inspirations led Munro to create this beautiful world of light – LEDs, fiber optics, fluorescents, projection mapping, and battery-operated candles.

"It's really jaw-dropping," said Angela McConnell, executive director of Montalvo. "And it's not happening in L.A. or San Francisco. It's happening right here." Bruce Munro at Montalvo represents "the most ambitious, impactful exhibition Montalvo has ever presented… inspiring and delighting visitors from across the Bay Area and beyond."
Montalvo Arts Center
15400 Montalvo Road, Saratoga
408.961.5800