15th Anniversary of SF Trolley Dances Travels from Mission Bay to SFMOMA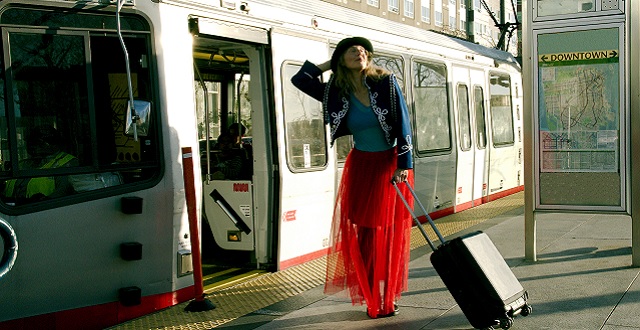 October 8 Update: Due to the continued closure of Salesforce Park while construction crews repair two cracked beams, Epiphany Dance Theater and Biederman Redevelopment Ventures have decided to cancel Transit Dances: Night Trolley. It was originally scheduled for this Friday, October 12, but now the event will be postponed to 2019 with the exact date to be announced at a later time.
Epiphany's annual event, San Francisco Trolley Dances, will take place on October 20 – 21 as planned.
– – – – –
Seven local theater companies are participating in the 15th annual San Francisco Trolley Dances event, happening along the N-Judah Muni line from Mission Creek Park to the San Francisco Museum of Modern Art (SFMOMA).
Artists and ensembles are matched to a specific location, and each group creates an 8 to 15-minute piece in response to the physical environment, architecture, and history of the area. Tours begin at Mission Creek Park at 4th and Channel Streets, finishing at the Public Knowledge Library in SFMOMA.
At each site, trained volunteers greet audience members, while professional theater artists act as tour guides leading audiences along the performance journey. This year's program includes site-specific performances by Aisan Hoss and Dancers, Hālau Makana Polynesian Cultural Arts, ODC/Dance, Robert Moses' Kin, San Diego Dance Theater and STEAMROLLER Dance Company, in addition to Epiphany Dance Theater.
The best views of the performances are guaranteed with the purchase of a wristband, you can get them in advance, along with more information at epiphanydance.org. While anyone can join the tour at any point, the first 80 people per tour receive a wristband to ensure the best sight-lines at each performance site and priority MUNI boarding. For Advance Wristband Reservations: CLICK HERE.
Photo Credit: Andy Mogg
Organized by Epiphany Dance Theater, a total of 12 tours are scheduled over one weekend. Each tour lasts approximately 2 hours. Six tours run daily: 11am, 11:45am, 12:30pm, 1:15pm, 2pm and 2:45pm.
Admission to SF Trolley Dances is free with the cost of your Muni ticket and attendees have the option to walk or bike to the performance sites on their own rather than taking public transit.
SF Trolley Dances
October 20-21, 2018
Mission Bay to SFMOMA on the N-Judah Muni line
Community partners for the event include Mission Creek Park, the San Francisco Public Library, Mercy Housing, the Yerba Buena Community Benefit District, Yerba Buena Alliance, the Children's Creativity Museum and Intersection for the Arts.