Two New Filipino Foodie Spots Are Finding its Home in Oakland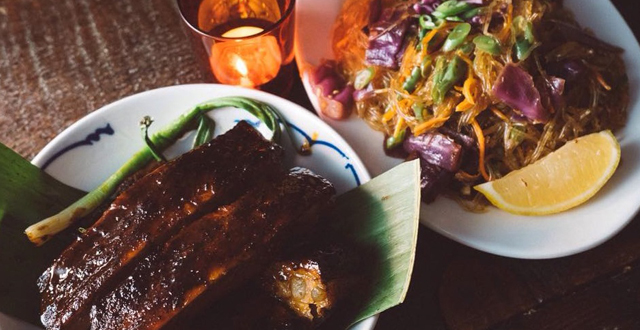 Riding the wave of Undiscovered, the monthly Filipino market happening in San Francisco, two new Filipino establishments are slated to feed the East Bay. In West Oakland, there's 7th West, boasting delicious food, a beer garden, and even a dog park. The ambitious project was put together by three Oakland movers and shakers; Pancho Kachingwe, the co-founder of The Hatch, Assan Jethmal, the founder of Good Mother Gallery, and Kevin Pelgone and Donna Brinkman from the Overlook Lounge.
In the kitchen, Dennis Villafranca of the Filipino truck Jeepney Guy will settle in a permanent location and serve guests creative takes on lumpia, crispy pork belly, adobo ribs, and more. While the venue is already open, the kitchen is joining the festivities in a few days; follow the Instagram account to get updates.
Meanwhile, in Temescal, the space previously occupied by Juhu Beach Club will become the new restaurant location for the popular pop-up FOB Kitchen. Owners Brandi and Janice Dulce are getting ready to launch the permanent spot in a few weeks. The restaurant will serve modern Filipino fare, including interesting cocktails and brunch. Will Juhu's wallpaper stay in place? We'll have to wait for the opening to find out.
7th West
1255 7th Street, Oakland
FOB Kitchen
5179 Telegraph Avenue, Oakland (Coming Soon, Date TBD)