Say Cheese! Taste Delicious Bites & Learn a Thing or Two at SF Cheese Fest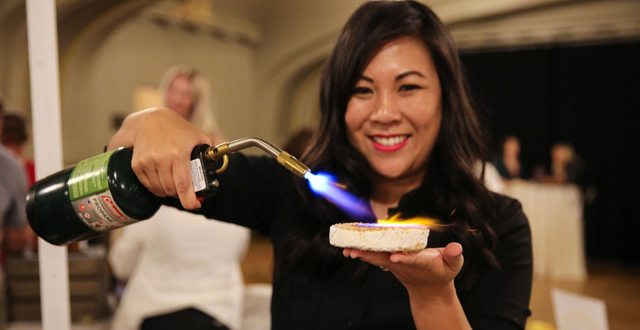 Attention cheese lovers, the fourth annual SF Cheese Fest returns! This September 15 & 16, get ready to expand your cheese knowledge, taste a variety of dreamy cheeses, get down with some games, and attend a seminar or two. All proceeds are going to the California Artisan Cheese Guild, a statewide nonprofit dedicated to the education and support of artisan cheese making.
Saturday's tasting event at Social Hall SF is presented by 24 Guild-member cheesemakers from across California. There's also a 4 x 4 theme in honor of the 4th Annual SF Cheese Fest and a focus on cheeses made with 4 types of milk; cow, goat, sheep and water buffalo. Yes, water buffalo. There will also be a collection of crackers and other appetizers, as well as beers, wines, and ciders to pair perfectly with your favorite cheeses.
Sunday is set to be filled with fun and educational seminars from cheese experts, split into three seminar sessions throughout the day. There's a lot more to know about the technical side of the cheese world than "damn that was delicious"—and here's your chance to get schooled. The seminars will be held at the Cheese School of San Francisco's new location in Ghirardelli Square from 11 am to 9 pm.
New to SF's cheese school the California Artisan Cheese Guild? This is a nonprofit dedicated to keeping the art of artisan cheese making alive and well. Throughout the year they offer educational classes and events for those cheese novices interested in learning the basics about cheese making, as well as for trade professionals and dedicated cheesemakers ready for the next level.
 SF Cheese Fest
Saturday and Sunday, September 15th and 16th
Saturday's Events: Social Hall SF – 1270 Sutter St, 6pm to 9pm
Sunday's Events: The Cheese School of San Francisco's new Ghirardelli Square campus (900 North Point St), 11am to 9pm
Tickets, Saturday, $84 General Admission, Sunday seminars $69 – $79, depending on the seminar
All photos by Ellen Cronin, courtesy of SF Cheese Fest