It's that time of year again when the free, BYOB, Fall music festival, otherwise known as Hardly Strictly Bluegrass Festival, comes to Golden Gate Park. Hardly Strictly Bluegrass welcomes rock, soul, country, bluegrass, indie and folk artists to perform on six different stages.
"Located among eucalyptus groves in Golden Gate Park's urban oasis… this is the kind of festival that thrives on a cross-pollination of ideas, favoring the purity of expression over the purity of genres as we might conceive of them." – Paul Bonanos, No Depression
This year's festival is hardlier strictlier bluegrassier than ever.
Just Announced: Lindsey Buckingham and Hurray for the Riff Raff will be on our season opener from the Hardly Strictly Bluegrass Festival this weekend!
August 28 Update: The entire lineup was announced (see below), 80 musicians will perform across six stages, including highlight acts such as two-time Rock and Roll Hall of Fame inductee- Graham Nash, East Los Angeles rock band Los Lobos, American rock, country and folk group Steve Earle & the Dukes, along with alternative rockers Ween.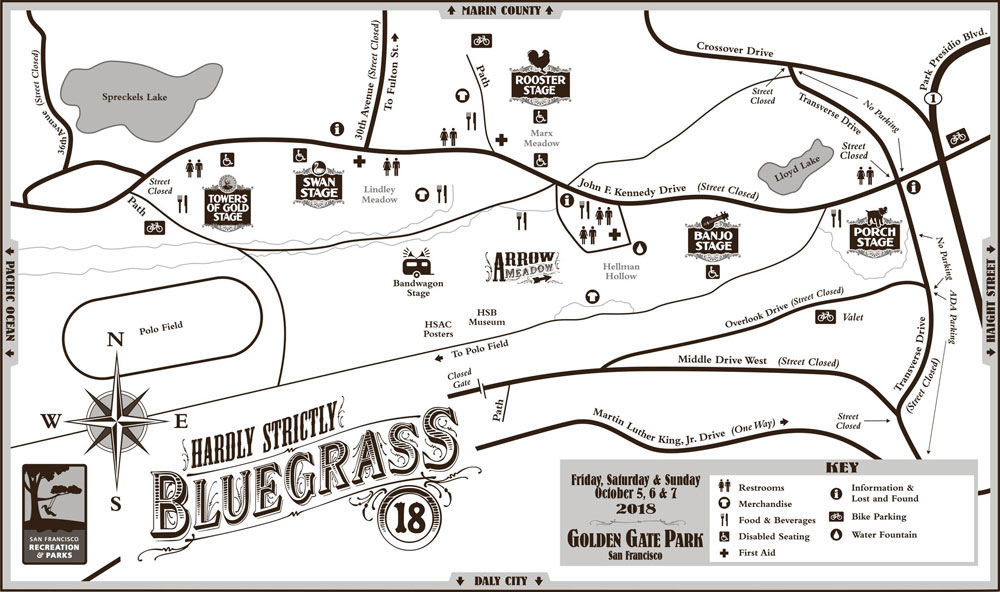 Daily Artist Lineup (Alphabetical)
FRIDAY OCTOBER 5
ALISON KRAUSS
5:45 – 7:00PM
ANA TIJOUX
12:30 – 1:15PM
DAVE ALVIN & JIMMIE DALE GILMORE WITH THE GUILTY ONES
2:45 – 3:35PM
DAVID BROMBERG QUINTET
12:00 – 12:40PM
DAVID LUNING
12:20 – 1:05PM
DRY BRANCH FIRE SQUAD
1:20 – 2:05PM
GREGORY ALAN ISAKOV
4:15 – 5:15PM
THE GREYBOY ALLSTARS
3:05 – 3:55PM
LANGHORNE SLIM AND THE LOST AT LAST BAND
1:35 – 2:25PM
THE LETTERBOXERS FEAT. SF MIDDLE SCHOOLERS
12:45 – 1:15PM
"LIVE FROM HERE" WITH CHRIS THILE FEAT. LINDSEY BUCKINGHAM & HURRAY FOR THE RIFF RAFF
4:00 – 7:00PM
THE MASTERSONS
2:10 – 2:40PM
MATADOR! SOUL SOUNDS
1:45 – 2:35PM
MAVIS STAPLES
4:15 – 5:05PM
PATTY GRIFFIN
2:55 – 3:45PM
SERA CAHOONE
3:40 – 4:10PM
TIM BARRY
5:10 – 5:40PM
TRAMPLED BY TURTLES
5:45 – 7:00PM
SATURDAY OCTOBER 6 (11am – 7pm)
ANI DIFRANCO
6:00 – 7:00PM
BUDDY MILLER'S CAVALCADE OF STARS FEATURING: THE CAVE SINGERS, TRACY NELSON, MOLLY TUTTLE, THE WAR AND TREATY, BUDDY MILLER
4:30 – 5:15PM
THE CAVE SINGERS
PART OF BUDDY MILLER'S CAVALCADE OF STARS
12:30 – 1:10PM
COURTNEY MARIE ANDREWS
5:05 – 5:40PM
DON WAS & FRIENDS
3:00 – 4:00PM
EILEN JEWELL
3:45 – 4:30PM
EVOLFO
5:00 – 5:40PM
THE FAMILY CREST
6:10 – 7:00PM
THE FLATLANDERS
3:50 – 5:00PM
FOUR YEAR BENDER
11:00 – 11:45AM
GLORIETTA
11:00 – 11:45AM
THE GO TO HELL MAN BAND
11:00AM – 12:00PM
GOMEZ
2:10 – 3:00PM
GRAHAM NASH
5:00 – 6:00PM
HIP SPANIC ALLSTARS
11:00 – 11:40AM
HURRAY FOR THE RIFF RAFF
11:45AM – 12:35PM
I'M WITH HER
12:35 – 1:25PM
JEFF TWEEDY
5:45 – 7:00PM
KACY & CLAYTON
2:35 – 3:15PM
KEVIN & DUSTIN WELCH
11:50AM – 12:25PM
LAURIE LEWIS & THE RIGHT HANDS
12:30 – 1:20PM
LIZ BRASHER
1:25 – 2:00PM
LOS LOBOS
4:00 – 5:00PM
MARCO AND THE POLOS
3:10 – 3:45PM
MOLLY TUTTLE
PART OF BUDDY MILLER'S CAVALCADE OF STARS
2:30 – 3:10PM
RODNEY CROWELL
2:05 – 3:05PM
SAMMY BRUE
12:10 – 12:50PM
STEVE EARLE & THE DUKES
5:45 – 7:00PM
STEVE FORBERT
1:20 – 2:05PM
TRACY NELSON
PART OF BUDDY MILLER'S CAVALCADE OF STARS
1:30 – 2:15PM
THE WAILIN' JENNYS
1:25 – 2:10PM
THE WAR AND TREATY
PART OF BUDDY MILLER'S CAVALCADE OF STARS
3:30 – 4:15PM
SUNDAY OCTOBER 7 (11am – 7pm)
AARON LEE TASJAN
1:25 – 2:15PM
AKI KUMAR
12:10 – 12:50PM
ANDREA GIBSON
5:05 – 5:40PM
BO & LEBO WITH FRIENDS
11:45AM – 12:30PM
BOOKER T. JONES STAX REVUE
3:50 – 5:00PM
THE BROTHERS GIBB
11:50AM – 12:25PM
DALE WATSON
6:10 – 7:00PM
DARLINGSIDE
12:10 – 12:55PM
THE DEAD SOUTH
11:00 – 11:40AM
DEER TICK
4:45 – 5:50PM
DEL MCCOURY BAND
3:00 – 3:55PM
EMMYLOU HARRIS & THE RED DIRT BOYS
5:45 – 7:00PM
HOWLIN RAIN
4:55 – 5:40PM
JD MCPHERSON
3:55 – 4:45PM
JON LANGFORD AND THE STURDY NELSONS
11:00 – 11:45AM
JUSTIN TOWNES EARLE
12:30 – 1:20PM
KIERAN KANE & RAYNA GELLERT
1:20 – 2:00PM
THE LONE BELLOW ACOUSTIC
4:05 – 5:10PM
MOONALICE
1:20 – 2:10PM
NANCY & THE LAMBCHOPS
1:25 – 2:00PM
NICK LOWE'S QUALITY ROCK & ROLL REVUE WITH LOS STRAITJACKETS
2:45 – 3:35PM
PETER ROWAN
12:30 – 1:20PM
PRAIRIE PRINCE PRESENTS "TOMMY"
11:00 – 11:45AM
RAISE YOUR VOICE
3:10 – 3:45PM
ROBERT FINLEY
2:10 – 3:00PM
ROBYN HITCHCOCK: ELECTROSPECTIVE
3:40 – 4:25PM
ROKY ERICKSON
5:40 – 6:45PM
SONGCATCHING HAZEL FEAT. ELI WEST, ISMAY & PAPER WINGS
2:30 – 3:10PM
TIM O'BRIEN
2:05 – 3:05PM
VETIVER
11:00 – 11:45AM
WEEN
5:50 – 7:00PM
Hardly Strictly Bluegrass
October 5-7, 2018
Golden Gate Park