Papa Lu Brings SF Underground to Barbados, Talks Kazbah & New Party Series 'No Place Like Home'
Word has just begun to spread across the globe about Vujaday, a first-year, destination festival and experience "like nothing you've ever seen or felt before." What felt like an impressive turnout in company, looked like one thousand sun seeking Vuja-ttendees hailing from far and away—Toronto, Boston, Australia, South Africa, even Germany. The five-day fest commandeered five breathtaking venues scattered across the Caribbean island of Barbados and featured top international talent on the Vujaday lineup, including Justin Martin, Green Velvet, Francesca Lombardo, and Desert Hearts' Mikey Lion & Lee Reynolds. Also on the bill was the Bay Area's very own, Papa Lu, a seasoned vet of San Francisco's hip-hop and house music underground.
After Pirate's Cove watched Green Velvet spit live vocal tracks into his headphones to recreate throwback favorites—"Those aren't just ordinary balloons…Ha..ha..ha"—attendees were perplexed as to how the second night could possibly get better. Then just after sundown, at the stunning Plantation House, Papa Lu set the night on fire with disco and soul tracks mixed over chugging techno bass stabs. While he mixed old school bangers like "The Way We Used To" by Cevin Fisher, a mermaid was spotted splashing around the pool just over the hedges. With the help of Papa Lu and the majestic water maiden, Vujaday Music Festival was off in the right direction to pull off the unthinkable. After passing the reins to the Crew Love gang (Wolf & Lamb, Nick Monaco, Fitness & Pony, and Lonely C of Soulclap), Papu Lu stepped down to tour the grounds with SF Station.
"I actually had a completely different set planned for today," Pape Lu admitted, "but I had to flip it. In my mind, I thought it was still going to be daylight out. I thought it was going to be more chill, melodic…was thinking I was going to have this majestic tropical island sunset. So, I had this really sexy set planned. But when I got here it was dark as shit and Jeff Kirkwood was really hitting it hard. So, I couldn't take it down." 
Born and raised in Berkeley, Papa Lu cut his teeth in San Francisco over the past fifteen years, producing hip-hop events at DNA Lounge while attending SF State. Booking quality artists like Digable Planets and Digital Underground, Lu quickly made a name for himself.  Though hip-hop was his foundation and first love in music, Papa Lu also had a history with the disco and raves.
"The first rave I went to," he told SF Station, "was at 2nd and Jackson (Oakland) when I was sixteen. I knew right away I loved house, as soon as I stepped into the house room. Second and Jackson had a big main room with a massive wall of sound. I loved to post up on that wall and just feel the energy. I didn't know there was another room! When I found out there was a second room, I fell in love. I wish I could remember who was playing but they were spinning old school disco re-edits in house form. Disco was already familiar to me because my parents would play those records when I was growing up."
Lu recalls his parents' record collection to include anything from Bob Marley to Donna Summer, a collection which planted the seed that would eventually alter his path just enough to land him–decades later–on the decks of a five-day tropical island music festival, amongst the ranks of some of the hottest DJs around today.
Back when Papa Lu was producing Hip-Hop events, a weekly house music party was going off at the same venue. It was only a matter of time before Lu was lured and hooked.
"While I was working at DNA, I discovered a house music party called Remedy, every Friday. They were bringing old school legends of house—Derrick Carter, Mark Farina, Miguel Migs; and Kaskade was playing house back then and killin' it. Since I was working at that club I would go to check it out, study the DJs, and that's when my connection with house music deepened."
Lu's experience running his hip-hop series, combined with the influence of Remedy, prepped him for the full-time shift to house music, which dropped on beat with the opening of a new club in SF, late 2011. That club was Monarch and as soon as their doors swung opened, Lu was promoting house DJs from the SF underground with a series called Night Moves. But only one and a half years into Night Moves, one of Papa Lu's best friends caused a second major shift in his career path. "For years people had been telling me, 'you gotta go to Burning Man, you gotta go.' But I brushed it off. I was apprehensive…no one had given me a strong enough nudge."
Until it happened. "Well in 2013, Jeff [Mcdermott], who's one half of Acid Boyz and a good friend of mine for a long time now, was the one who finally gave me that nudge I needed. He told me he knew some guys who were starting a camp called The Kazbah. We all met at BPM Festival that year and became friends. One of the guys had a pyramid-shaped lamp we decided to model our DJ booth after. We drew up the design then put it together literally three weeks before the Burn. I had initially thought I was going to Burning Man this first year just to feel it out. But I was totally enamored by the way it turned out—building a sound camp with a stage, DJing in it, and meeting all those cool people. It's become something so much bigger than I ever expected."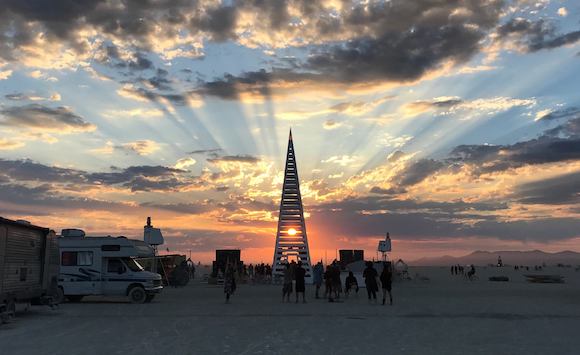 The Kazbah at Burning Man '17
After Papa Lu and the Kazbah's first year on the playa, he continued Night Moves for just over a year. "All of a sudden, Kazbah just took on this whole other energy. I eventually stopped producing Night Moves to focus on the Kazbah and to DJ other people's parties, since by that time I was getting a lot of requests. It simplified life a little bit." The Kazbah, even the pyramid itself, then began to evolve.
"In the beginning, the pyramid was only 32 feet," Lu recalled. "We put it on top of a stage so you could dance next to the pyramid, which was kinda cool. For the next year, however, we thought it would look better flush on the ground, more eye-level to the crowd. We also built it bigger to 48 feet.  Then, in the fourth year, we added visual projection mapping to the pyramid. That's something we're still fine-tuning." 
Now, five years after inception, The Kazbah has brought its pyramid and Papa Lu to new locations like Lightning in a Bottle festival and the Great Northern's "It's A New Day" New Year's Day block party. According to Papa Lu, the Kazbah is only just getting warmed up. As the gang aims to bring the pyramid to major cities across the country, Papa Lu has big plans of his own, as well.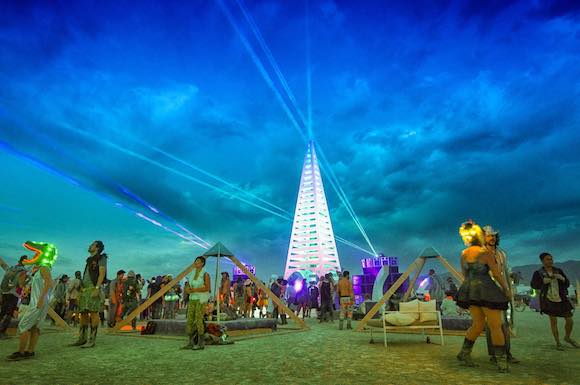 The Kazbah at twilight – Photo: Roshi Littlelight
Fifteen years after his first parties at DNA Lounge, Papa Lu has just forged a couple of new partnerships which are bringing him both back to his old promoter life and forward into new terrain.
"I'm working on a few EPs. I have a [music] production partner who goes by Foreign Language. We work really well together and we're actually in the process of building our own label. I feel like if you build a small label, you get to be pretty particular about what you put out, as well you should. Everybody has such a particular taste. It just makes sense for us to do it ourselves."
At the same time, Papa Lu has just teamed up with fellow local DJ, Alex Sibley, to bring a new independent, no-frills party called "No Place Like Home" to Audio SF, every first and third Thursday.  "We're booking locals we like from San Francisco, or even from places little further out like Chicago. The party is going on as we speak. Alex is DJing with Manics. The next one is on April 19th with Shane One of PillowTalk."
Through all the shifts and quakes San Francisco's underground nightlife has experienced during Papa Lu's evolving career, he maintains a refreshingly positive outlook. "It's changed a lot over the last fifteen years. With Night Moves, I was taking chances booking lesser-known DJs. Now I feel like more and more promoters are taking those chances. I acknowledge and respect that risk in putting the money down to book someone you really like, versus the artists you know are just going to sell tickets. There are a lot more promoters with their own taste and a passion for what they're doing. Before it seemed like everyone was booking the same people over and over. Now people are taking more chances on keeping it fresh."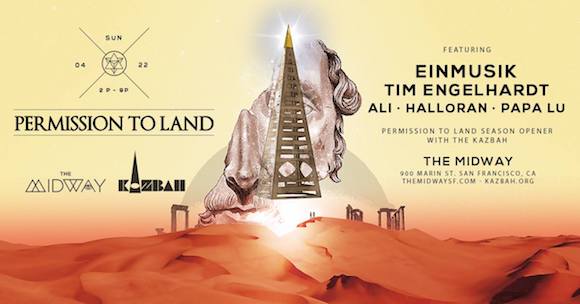 +++Catch Papa Lu and the Kazbah crew spinning under the pyramid on the Patio at Midway SF for the season opener of the open-air summer party series called Permission To Land, on Sunday, April 22nd.