This Thursday, March 8th, 1015 Folsom takes attendees on a euphonic journey across electronic styles to honor the social, economic, cultural and political achievements women have made throughout history for International Women's Day.
The event will feature ten female DJs and producers who fuse together an eclectic blend of hip-hop, funk, world, bass, house, and techno. Showcasing the richness of Bay Area talent, the show will also help to raise awareness of ongoing gender parity issues.
Event organizer and participating artist Regan Parrish (femmelectric), crafted a multifarious lineup that includes herself, DJ Umami, Symonne, Lily Ackerman, Rachel Torro, Arula, ALIA, DJ Dakini, FELA KUTCHii and Ray Reck, from a growing pool of talented artists she's met since moving to the Bay Area.
Proceeds from ticket sales will go entirely towards supporting migrant farm workers through Alianza Nacional de Campesinas, a national organization which arms women with decision-making tools to improve economic justice, hinder workplace discrimination and prevent abuse.
Women's History Month caught wider attention this March amidst disputes over feminism, equality, and race in mainstream media. Recently, the organization made headlines after it drafted a letter of solidarity with Hollywood actors against gender-based violence and helped transform the Times Up movement.
International Women's Day has been celebrated globally, perhaps most notably in Europe, as early as the 1900s. With that in mind, Parrish decided it was time she made a greater effort to salute the creative women working in her field.
Upon moving to the Bay Area from Florida, Parrish had "zero" music-producing friends who were women. Struggling in a male-dominated industry, she didn't feel very hopeful about her musical career up until recently.
As Parrish explains, "I grew up thinking that, as a musician, you're either born with it or not. I didn't grow up in a musical family so it was always more out of reach for me."
These days, she's increasingly connected to more female artists, and plays out shows with a dynamic blend of house music, fused with global rhythms and soulful vocals, as well as a dash of disco and techno.
Both the sharing economy and the popularity of music production software have allowed her to become more inspired about pursuing her passion, and similarly adept at mixing in the occasional old-school track.
Building the set list for the event was a little like keeping up with Nicolas Jaar—an artist she credits with helping nurture her talents. "He's not a people pleaser; I love artists who challenge listeners to hear something that isn't traditional."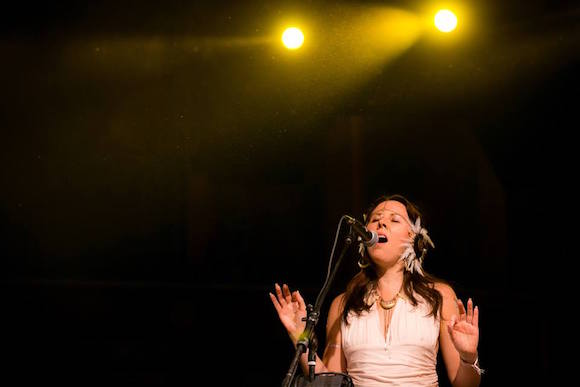 "The Sonic Shamaness" performing (Photo courtesy of ALIA)
Many of Thursday's attending artists are also involved in projects that help to quash the "boy's club" image the electronic music industry exudes. ALIA, who integrates bass-heavy electronic dance beats with ethereal feminine vocals, is currently working on a film called Amplify Her, which brings to life stories from more than twenty-one female creators across North America.
First a graphic novel and animated motion comic, this new documentary explores the role women play in the electronic music industry and the resurgence of "the feminine" in Western culture.
By choosing a more eclectic lineup for International Women's Day, Parrish has stayed true to her style to bridge both audience and genre.
"The whole reason I moved to San Francisco (it sounds cheesy now) is it celebrates diversity, Parrish said. "It celebrates the diversity of how many things you can find here in harmony and that's just a small slice of why I love the Bay Area."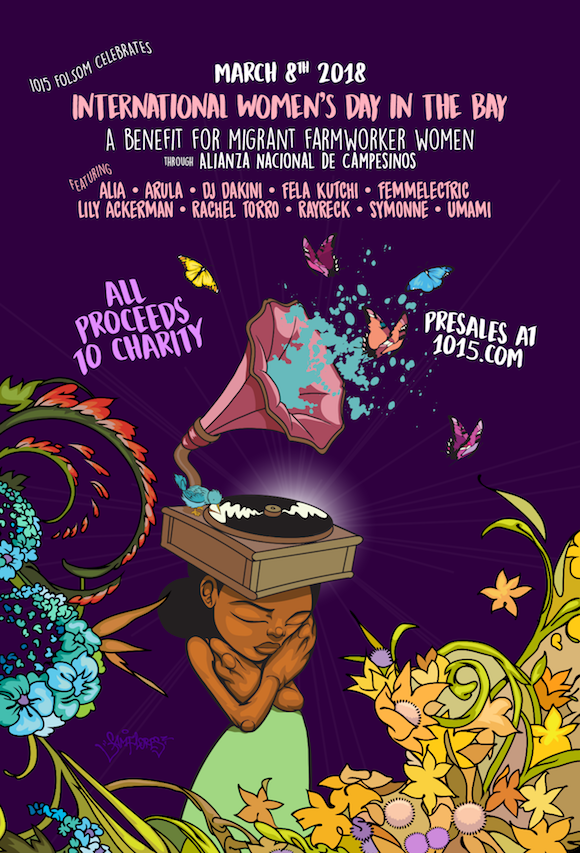 More information and tickets to the event can be found here. The event runs from 9pm-2am at 1015 Folsom Street in San Francisco.