Bloggers of the Bay Area: Aimless Walks & Fancy Coffee with Aimee Rancer (Western Addition & NOPA)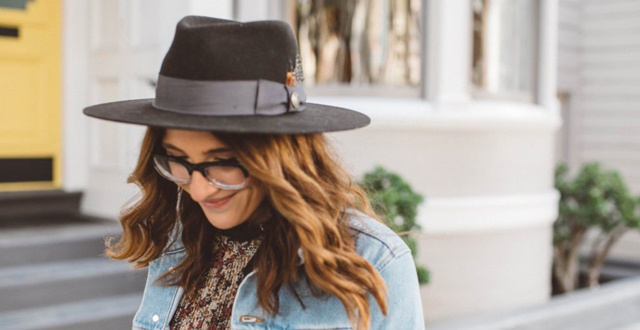 Originally from Ohio, Aimee Rancer of the Ohio Transplant brings a cool, effortless tone to the local blogging scene. Approachable, smiley and proudly ginger, Rancer loves to try local spots and support affordable brands, when she's not flying around the country as a strategist for Pinterest. If anyone knows a cute coffee shop or a funky date spot, that would be her. Here are Rancer's Western Addition mainstays and tips for exploring the modest hood.
How long have you lived in Western Addition?
It's been a relatively short time–three months! But I've lived in San Francisco for almost seven years.
What do you love about living in this neighborhood?
There's so much to say about this neighborhood! I'm right on the cusp of Western Addition and NOPA, but who really knows the difference these days? I love Western Addition's charm and character. The neighborhood has a deep connection with the city's jazz scene and I love how it's starting to mix old and new. For instance, I love how the historic Fillmore music venue is situated on the same street as The Progress, Boba Guys and my favorite bagel shop in San Francisco – Wise Son's Deli!
What's a good walk in your neighborhood?
One of my guilty pleasures is a good walk without a clear destination, just ask my boyfriend. I've always found such joy in wandering aimlessly in San Francisco and then stumbling upon some really fun locations. I love a walk up and down Divisadero.


Where do you get your coffee and why?
There's a ton of amazing spots in the neighborhood, but finding a good cup of hazelnut coffee in this city is unusually hard. Luckily, Bean Bag Cafe is only a few steps from my apartment and has some killer hazelnut. If I'm feeling "pretentious" I like going to Matching Half Cafe on McAllister–it's such a cute, cozy spot! Another coffee shop that I find myself going to at least once a week is The Mill. I love their beautiful, handmade mugs and interior design–the perfect mix of functionality and fashion!
What's your favorite neighborhood bar and why?
I really love Fat Angel Libations. They have wine on tap, a gift from the heavens, in my opinion, and a delicious menu that's perfect for snacking before a concert at The Fillmore. The place is small, but that only adds to its a charm. Oh yeah, it's a pretty epic date spot, too!
Where do you like to eat in the neighborhood and why?
Honestly, one of my favorite places in San Francisco is Green Chile Kitchen! They specialize in New Mexico cuisine and I can't get enough. Their ingredients are creative and fresh, making for an epic Sunday brunch session with friends.


Describe the perfect Western Addition day
My perfect day starts off with homemade coffee and listening to a podcast in my apartment. Then emerging mid-morning for a run or hike around the neighborhood. Afterwards, another coffee with friends, at Matching Half, while admiring all the dogs waiting for their owners outside. To round out the afternoon or the evening, I'd take a candlemaking class from Workshop SF.
What do you wish people knew about your neighborhood?
That there's so much more to do than just stuff on the main streets. Some of the most charming things are tucked away in Western Addition and there's so much history behind it all. If you're looking for an epic education, read Cool Gray City of Love that will show you the transformation of the neighborhood (the good, the bad and the ugly). Also, music was, and is still, such a big part of this neighborhood. If you get a chance, check out a show at the Fillmore or the Boom Boom Room.
Where is the best Instagram photo-op in the neighborhood?
Can I say Alamo Square? Whether it's the side facing the Painted Ladies or the side facing Sutro Tower, you get a solid view regardless. Some of my most favorite memories are sitting in the park, facing Sutro Tower, watching the sunset with a beer (and Bi-Rite) in tow.