Video Clip Mashups, Satanic Panic & Psychedelic Hilarity Head to Alamo Drafthouse & New Parkway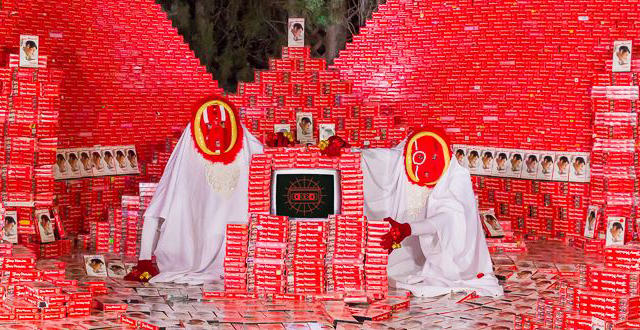 Everything is Terrible! is an art collective that takes clips from VHS movies of the 80's and 90's and then imagines up a new narrative, sizzurps it up to high heaven, and creates an entirely new low-brow masterpiece out of it. Now the Los Angeles crew is back at it with another full-length feature, The Great Satan, which mashes up the era of "Satanic Panic" and over 2,000 clips, of D-horror VHS tapes and religious kooks. The film premiers in San Francisco at Alamo Drafthouse on February 8th and Oakland's New Parkway on February 9th.
Be ready for an unconventional video experience. The live show is more interactive than stuffing your face with popcorn. Previous successes include Doggiewoggiez! Poochiewoozies!, a 2012 remake of The Holy Mountain, using nearly 3,000 dog-related clips, and the infamous "So Your Cat Wants a Massage?" video that accrued more than four million hits on YouTube and propelled its original creator, Maryjean Ballner, back into pop culture with an appearance on the Late Show with David Letterman.
Everything Is Terrible! is the internet sensation video collective responsible for some of this millennium's most intriguing and mind-melting videos.
The misfit duo behind Everything is Terrible! (EIT) is Dimitri Simakis and Nic Meier, aka Ghoul Skool and Commodore Gilgamesh, who met while attending college at Ohio University. They stress that they aren't looking to ruffle any religious feathers with the film or demean anyone or any particular scene. Instead they poke fun at how Satan was portrayed, evoking sympathy towards those who legitimately lived in perpetual fear. "It's about celebrating people," says Dimitri, one of the original founders. "If everything is terrible, then nothing is. We love the world that we're in. It's nostalgic."
Simaki and Meier make films that would appeal to a niche audience but also look to be all-inclusive, finding that they too have not found how they fit exactly into either the art or comedy worlds. As Simakis puts it, "We love the art world, but we find it very pretentious. We love comedy, but also kind of hate it and find it pretentious. It's that feeling like you're not quite a part of any of these clubs."
Simakis sums up their films like this: "As a whole, it really is this soup of a fever dream of everything that you kind of remember from your past, but not really, cause the stuff you really remember is forced on you and you know it's there, but then there's a weird part of your brain when you thought this was an actual dream."
On top of screening thousands of insane video clips at a whirlwind pace, creating its own form of truly psychedelic comedy, EIT! gives the audience an unforgettable sensory experience. EIT operates like a rock band, with a rotating door of cast members and volunteers, as they embark on a two-month show tour. During the film, they act in characters, dreamt up in their twisted brains accordance to the film, in handcrafted costumes with puppets and other props as they interact with the audience.
Their repertoire and reputation have grown legs over the past decade as they continue to release daily videos and have since curated festivals and art installations. They've been endorsed by celebrities like Conan O'Brien, Reggie Watts, Erykah Badu, Snoop Dog/Lion, and Mike Judge, to name a few, and have been hailed on networks like Wired, MTV, Fox, Time, BoingBoing, Buzzfeed, WFMU, Videogum, BUST, The Onion, Chicago Tribune, Tiny Mix Tapes, Paste, Jezebel and many more.
EIT is also currently accepting donations for perhaps their most ambitious idea yet, the resurrection of an architectural monument, the Jerry Maguire Pyramid Project. A pyramid risen in the American desert filled with over 15,000 Jerry Maguire VHS tapes collected over the past seven years, it pays tribute to attractions like the World's Biggest Ball of Twine in Cawker City, Kansas, or the Cabazon Dinosaurs in Cabazon, California.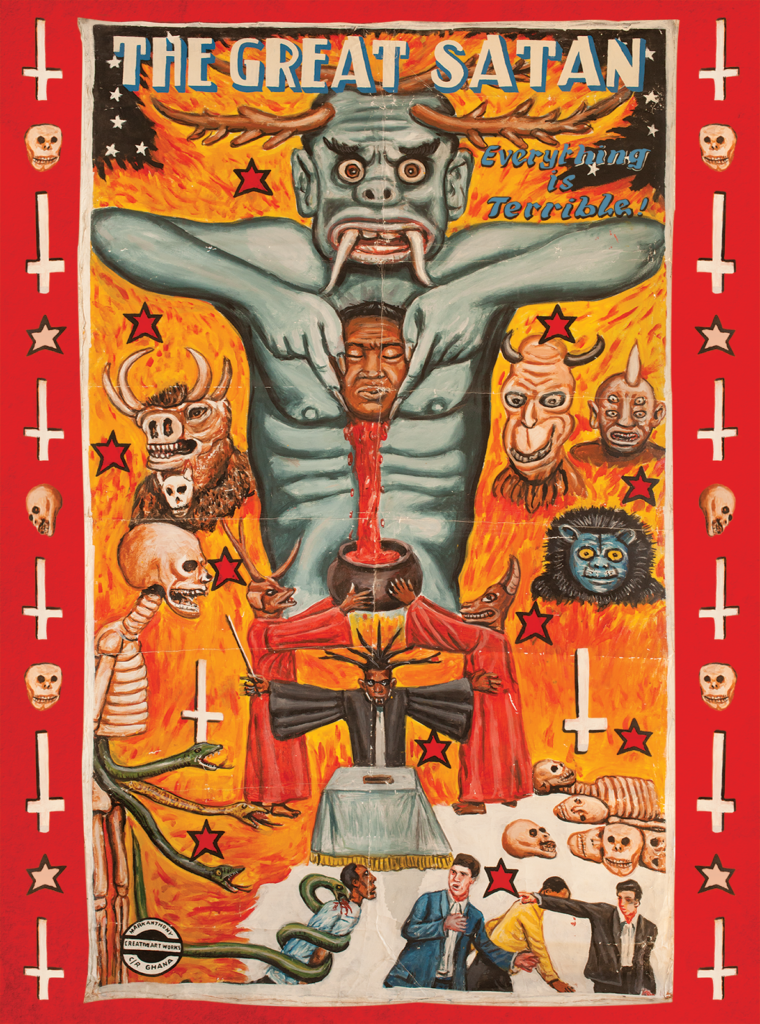 Everything is Terrible
Alamo Drafthouse, Thursday, February 8th
New Parkway, Friday, February 9th