Meet the Board, SoMa's New Sandwich Mecca by Deli Board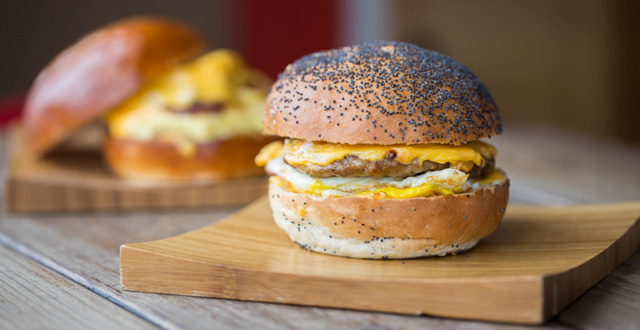 The Deli Board's Adam Mesnick is expanding his sandwich footprint in San Francisco. Mesnick, who's been serving loaded sandwiches at Deli Board in the SoMa, for what seems to be forever, and who previously fed hungry folks new-Jewish fare at the now-closed Rye Project, is adding The Board to his list of projects. And good news—the first day to grab one of these decadent sandwiches of pure joy is today.
The small, colorful spot, also in the SoMa, will highlight Mesnick's love for the mighty sandwich with new offerings, like the bagel sandwich, the hot dog and more. The menu will change frequently, but nevertheless, prepare to crave the Breakwiches, featuring life-giving choices like the everything bagel, sausage patty and cheddar combo, to lust after the lunch sandwiches, among which the oozing cheesesteak is already a favorite, and to munch endlessly on the Board rolls, combining pepperoni, provolone and marinara, fried in an egg roll wrap.
Vegetarian options, like the falafel pita (in a pita by Frena, arguably San Francisco's most authentic Israeli bakery) and a veggie salad, as well as a selection of hearty soups, will be available, making The Board an all-around agreeable lunch spot for surrounding offices.
 1077 Mission St