February Film Screenings Outside the Mainstream Variety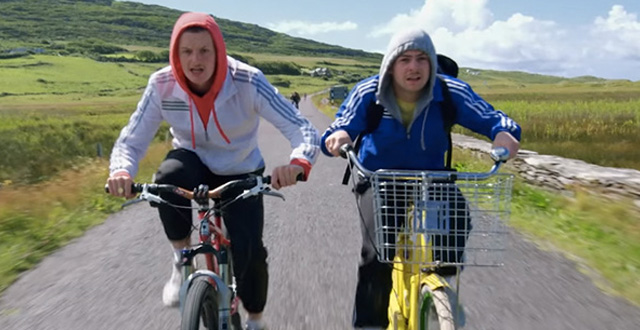 February is notoriously a month full of Valentine's Day expectations. With the 14th fast approaching, this month's movies are suited for special date nights as well as some less romantic alternatives. For those seeking a rendezvous with ambiance, try dinner and a movie in the cave of a winery. A recommendation for the unattached crowd includes Harmony, a funny film about getting out of a post-breakup funk. And for those who choose not to acknowledge the theme of the month at all, there is Andrei Tarkovsky's ominous, The Sacrifice, filmed on a remote Baltic Island.
But first up to set the mood is some Latin music.

Zoé: Panoramas
Thursday, February 1, 2018
7:00pm
Roxie Theater 
This docu-film takes us behind the scenes with one of Latin America's top alternative-rock bands, Zoé. It's presented in Spanish with English subtitles, but the music is universal. Zoé is a long-standing band with 15-years worth of awards and international touring. If you aren't already familiar with their music, you might take a listen before heading to the theater. For example, here's their version of Besame Mucho.

Modern Cinema: Claire Denis: Seeing Is Believing
February 1 – 18, 2018
SFMOMA's Phyllis Wattis Theater
"Modern Cinema, co-presented by SFMOMA and SFFILM, is an ongoing film series exploring the dynamic forces interacting between cinema's past and present." This season Modern Cinema features the work of French film director Claire Denis. From February 1st to the 18th a retrospective of her best work will be shown, from her latest to her early assistant directing classics.
One must-see double screening is on Saturday, February 3, 2018:
Paris, Texas, 2:30pm 
Claire Denis served as the Assistant Director to Wim Wenders. Sam Shepard wrote the screenplay. And Harry Dean Stanton and Nastassja Kinski play an odd couple in this colorful yet desert-set story.
Let the Sunshine In, 6:00pm
Juliette Binoche provides an emotional yet sometimes funny profile of a Parisian artist and her search for love. Claire Denis directs this 2017 release, and once again, her longtime cinematographer, Agnès Godard, helms the camera.

SF Independent Film Festival (SF IndieFest)
February 1 – 15, 2018
Roxie Theater, Victoria Theater and 518 Valencia Pop Up Theater
The 20th San Francisco Independent Film Festival takes place between February 1-15, 2018. While this annual festival is local, it showcases the best in independent, alternative, and subversive cinema from around the world. The films scheduled are too numerous to mention, and you might need to actually chart out which ones you want to see and that you can attend. But for now, here's a head start on a couple of the film presentations.
Cruise
Friday, February 9, 2018
7:00pm
Roxie Theater
The director of Cruise is Robert D. Siegel, who is also known for writing the screenplays for The Founder and The Wrestler. Cruise takes place in the Summer of '87. The story takes off when Gio, an Italian kid from Queens meets Jessica, a nice Jewish girl from Long Island. The film takes a nostalgic look back at the youth culture of perhaps a more innocent time.
Harmony and Me
Saturday, February 10, 2018
3:00pm
518 Valencia Pop Up Theater
Director Robert Byington somehow makes the life of a sad sack stuck in a dark hole after a breakup into a lighthearted comedy. If you can't laugh at heartbreak, then you'll never love again. This film might not help you get over your ex, but at least you might laugh about love for a bit.

Mostly British Film Festival
February 15 – 22, 2018
Vogue Theatre
It's been a 10 year run for the Mostly British Film Festival, and this year won't disappoint with twenty-five films, new and old classics from the UK, Ireland, Australia, India, Canada and New Zealand.
Since the opening night event is already sold out, I would jump on securing tickets early.
On February 19th, there will be a special series on British New Wave Films of the 1960s. Two slick key figures of that film era are Michael Caine and Julie Christie with their 60s British-take on charm and dating on a whim. The three films in that series are Darling, Alfie and the controversial A Taste of Honey. But the festival is upping the night with a tasting of Hendricks Gin.
February 19, 2018:
Darling, 4:00pm
Alfie, 6:45pm
A Taste of Honey, 9:00pm 

"Sip, Snack & Cinema" Film Series
Friday, February 23, 2018
6:30pm to 9:00pm
Rutherford Hill Winery
A drive up the coast to Rutherford Hill Winery could be well worth it on February 23rd. That night their cave grotto will transform into an intimate setting, serving up selected Rutherford Hill wines, a casual dinner, and gourmet popcorn when the movie begins. This night's cinema selection is Chocolat. But why end the night at 9pm? This could inspire a whole weekend outing.

Film Screening: The Sacrifice
Friday, February 23, 2018
4:00pm
Berkeley Art Museum & Pacific Film Archive
For those seeking a dark, perhaps more thought-provoking experience, then Andrei Tarkovsky's last film, The Sacrifice is the ticket in Berkeley. Although the storyline may be bleak with the subject of war and survival, it was beautifully shot in Sweden by famed cinematographer, Sven Nykvist. And coincidentally, Claire Denis was the Casting Director.