5 Winter Trips from the Bay Area: Bring a Jacket and Your Bae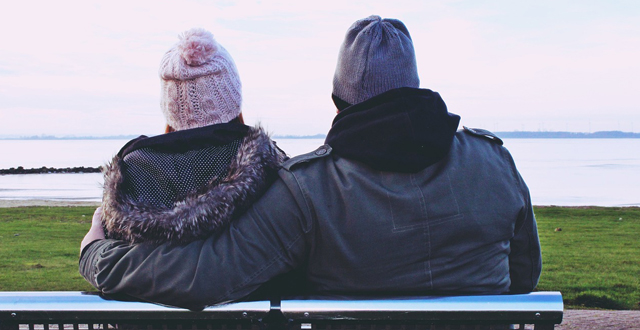 Picture this: you're nestled up together—sprawled out on a faux sheepskin rug next to a crackling fire. There's a mug of hot cocoa in your toasty hands and a sparkle in your eyes.
If you live in San Francisco, you know this kind of romantic tomfoolery doesn't always apply to city folk. But that doesn't mean you should get lazy or complacent about not having chestnuts to roast on an open fire. That's all the more reason to dust off your puffy down jacket, brace the frigid weather, and embark on a trip that will melt that ice cold heart.
After all, there's more to the season than lamenting all the times you didn't drive to Tahoe to hit the slopes. I mean, you know, sometimes it still snows in March.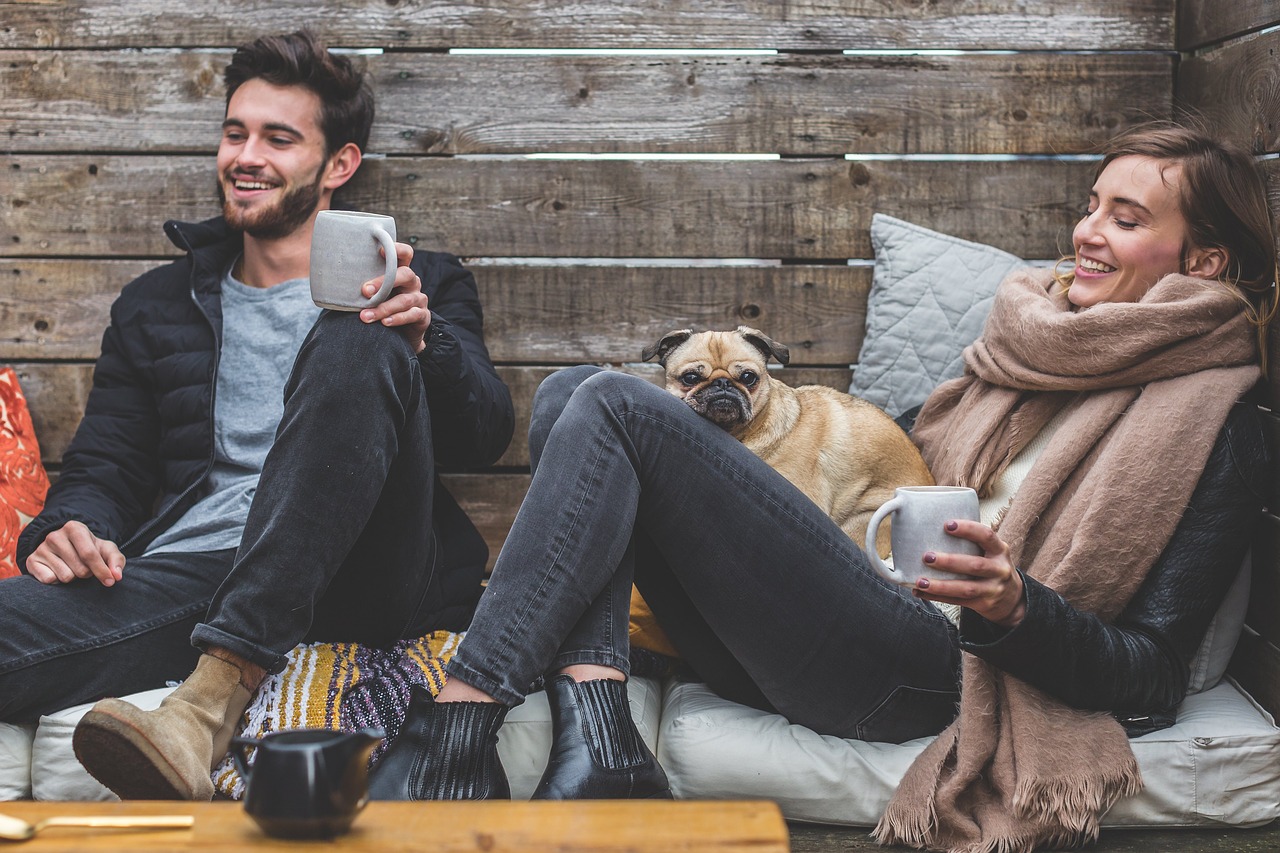 There's something to be said about persevering through the frosty air and escaping to a winter wonderland paradise to pack in some holiday cheer. So, what are you waiting for? Grab your partner and impress them with your idea for a romantic getaway in the gloom-filled dead of winter.
If they aren't buying into your road trip adventure fantasy, you can always try reminding them there's absolutely nothing more practical than cuddling up to avoid catching frostbite in the bitter cold. Honestly, there are few things as sensible as that.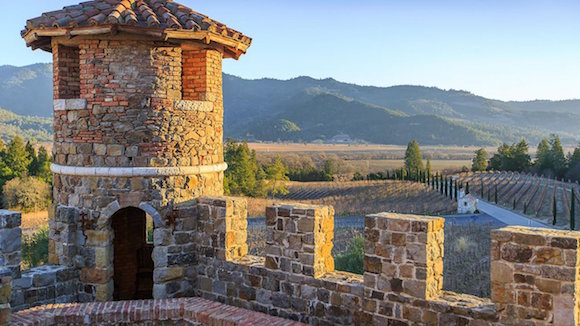 View from the top of the grounds at Castello di Amorosa (Photo by Wine Train)

Get Toasty in the Hills — Calistoga, Napa Valley, CA
Fall is arguably the most beautiful time of year to visit the famed Napa Valley to see the scenery turn from green to red. Although the recent California wildfires destroyed many sections of the valley's vineyards, still hundreds of areas were left unscathed and are eagerly welcoming visitors. Castello di Amorosa, modeled after a 13th-century Tuscan castle, is one of them—and definitely the perfect setting for a history lesson made more tolerable by a high ABV. This vineyard is just one destination in a line of stops along the way, once you've hopped on the local Wine Train, which is undoubtedly more fun than any inebriated Uber or Lyft ride you could ever take in the city. You can also find plenty of modestly priced and adorable inns nearby to crash for the night.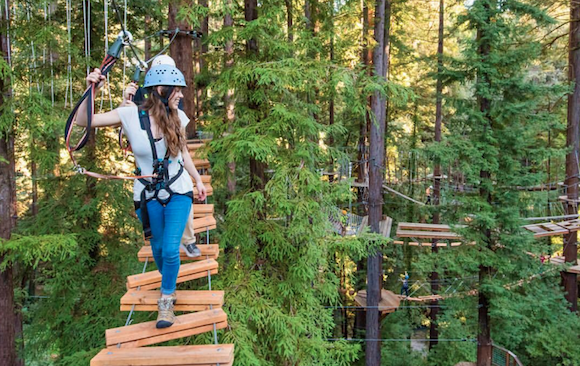 Zip-line walking at Red Canopy Tours (Photo by Mount Hermon Adventures)
Take a Break From Adulthood — Felton, CA
What's better than being in nature among towering redwoods? Soaring 30-80 feet above the ground through lighted trees on an evening zip-lining adventure! Mount Hermon Adventures is just one of several spots across Northern California where you can buckle up and temporarily feel like you can fly. You can also catch an afternoon train ride in the trees at Roaring Camp Railroads, which will have you feeling like Christmas came early this year. There are also a number of kitschy bed and breakfast joints along the way or you can brave the cold and pitch your tent in neighboring Henry Cowell Redwoods State Park.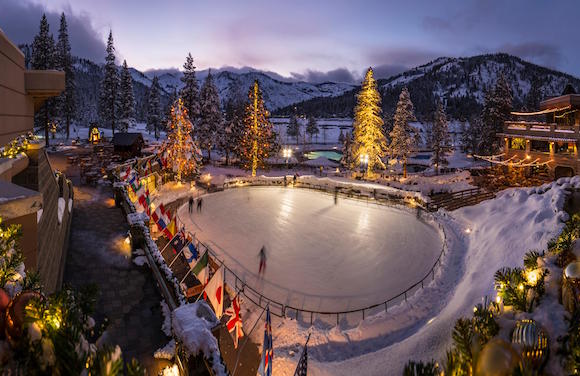 Ice-skating rink overlooking Tahoe (Photo by Resort at Squaw Creek)
Slip Into Small Town Charm — Carmel-by-the-Sea, CA
Don't be fooled, Carmel-by-the-Sea is just as darling as it sounds and it almost always feels like the holidays with ornate window displays decorating the stores year-round. There's something about dimly lit cobblestone streets and precious cottages that look like they just fell out of a magazine promoting the Scottish countryside. It was also ranked one of the World's Best Cities for Romance at one point. Clint Eastwood used to be the mayor of this small town, so if you didn't know any better you might think you were stepping onto the set of a Wild Wild West-themed village.
There's a multitude of bed and breakfasts to choose from where you can warm your feet by the fireplace after you've taken that long walk to Carmel Beach to catch a pretty epic sunset. There are plenty of art events happening throughout the year and a handful of tasty local restaurants within walking distance of wherever you decide to stay.
Take a Break From the Slopes — Lake Tahoe, CA
You can't really beat the hiking around Lake Tahoe, with it gorgeous views of the pristine blue water below. However, it can get a little tricky to venture off the map when the snowfall starts being measured in feet. If you want to take a break from the usual monotony that brings visitors to the area from all over the world, you can opt for a more relaxed trek through the elements at one of the surrounding resorts, like Squaw Valley, which has a Moonlit Snowshoe Tour & Dinner package that's perfect for couples who want to strap on awkward footwear and get a little exercise trudging up the mountainside.
While there are plenty of fancier lodgings that will have you feeling like a cabin regular who's just missing a flannel and a hatchet, there are also some other options to soak up an arctic chill. At Grover Hot Springs you can take a dip in one of the hot spring pools nestled deep in the forest at 6,000 feet up and also camp on-site for the night.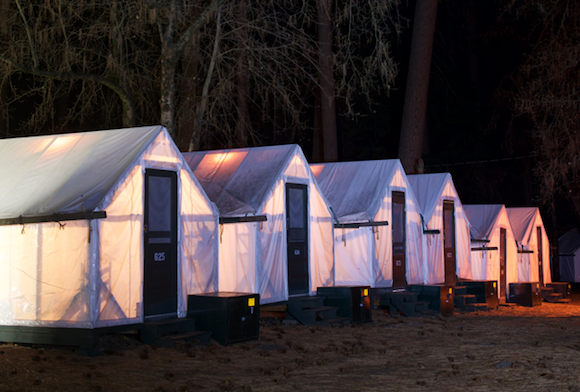 Cabins at Half Dome Village in Yosemite (Photo by Yosemite National Park)
Get Moving in the Elements — Yosemite, CA
While most people associate a trip to Yosemite with hiking and rock climbing during the summer months, you'd be hard-pressed to deny the draw of catching a glimpse of the snowy peaks atop Half Dome from the Half Dome Village (formerly Curry Village). There's an ice skating rink here and nearby cabin rentals. You can also ditch the skis and snowboards and hop into a snow tube for a thrilling slide down the mountain. If you're feeling less scrappy, you can have your bed made for you daily at the impressively decorated Majestic Yosemite Hotel, which is registered as a National Historic Landmark.
adventure, area, Bay, best, Cabin, california, Christmas, city, cold, couple, Drive, Fire, frosty, Fun., game, getaway, holiday, hotel, ice, idea, jacket, landscape, Local, lodge, Love, monterey, nature, New Year's, outdoors, partner, road, Romantic, San Francisco, Season, skii, Tahoe, top, Trip, Vacation, winter, wonderland