Star Wars Trilogy Heads to the SF Symphony for Live Score Performances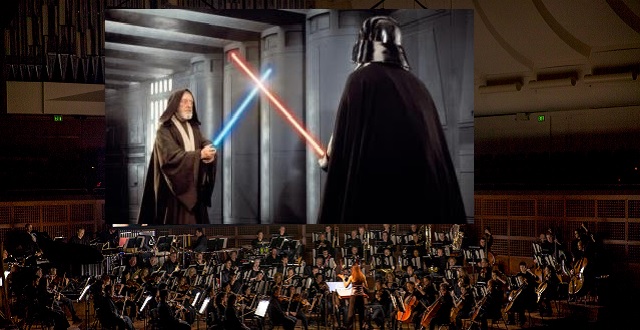 George Lucas' first three Star Wars films will return to the big screen in 2018 above the Davies Symphony Hall stage, accompanied by live performances of the soundtrack from San Francisco Symphony.
This announcement is part of its 2018 Summer with the Symphony series and comes as the hype builds around the latest Star Wars movie, The Last Jedi, which arrives in theatres on December 15. The intense cinematic sounds of starship battles in space coupled with the exemplary orchestral notes throughout should make for an unparalleled live experience.
Performances of A New Hope take place July 19–21, followed by The Empire Strikes Back, July 26–28, and Return of the Jedi, July 29–August 3. John Williams' legendary score for the first film received numerous accolades, including an Academy Award for Best Original Score in 1977, as well as multiple Grammy Awards.
Tickets for all three films, which range from $50 to $165, will go on sale for the general public December 13 at 10am. See below for the full calendar of screenings.
In case you missed it, the SF Symphony also announced this season's film series, which includes North by Northwest, Home Alone, West Side Story, Batman, and Amadeus. These shows begin in December and run through next April.
Star Wars – Episode IV: A New Hope (1977)
Thursday, July 19, 2018 at 7:30pm
Friday, July 20, 2018 at 7:30pm
Saturday, July 21, 2018 at 7:30pm
Star Wars – Episode V: The Empire Strikes Back (1980)
Thursday, July 26, 2018 at 7:30pm
Friday, July 27, 2018 at 7:30pm
Saturday, July 28, 2018 at 7:30pm
Star Wars – Episode VI: Return of the Jedi (1983)
Thursday, July 29, 2018 at 7:30pm
Friday, August 2, 2018 at 7:30pm
Saturday, August 3, 2018 at 7:30pm
RELATED: SF Symphony Film Series Returns, Plus SHN's Harry Potter Live Orchestra Performances Announced
RELATED: Win 'Star Wars: The Last Jedi' Opening Night Movie Tickets & Super7 Prize Pack