6 Hotel Bars Locals Can Enjoy During the Holidays & Beyond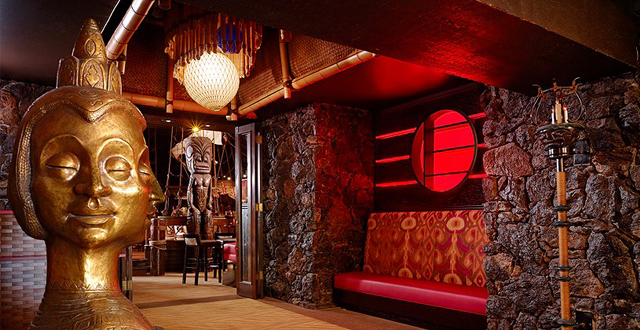 For those looking to branch out, past their usual neighborhood bar, an interesting drinking experience has been taking shape in cities across the U.S—hotel bars where locals are more than welcome. Drinks at a hotel can feel oddly transformative and comforting; it's like having an adventure and still being able to grab a quick Lyft home. It could mean a chance encounter with some curious and fabulous foreigners. Or a chance to feel vacation vibes without packing bags, finding pet-sitters, and stamping a passport.
As San Francisco experiences its biggest hotel boom in years, the timing couldn't be more fitting. Here is your game plan for stylish hotel drinking around the holidays or pretty much whenever.
The Pied Piper at Palace Hotel
A classic hotel, and in it, the most majestic of bars. Pied Piper has old-school charm and a whole lot of history. Take a moment to admire the huge Maxfield Parrish painting the bar was named after. Then situate yourself, next to a favorite someone, on the blue velvet couches, and order up a strong drink—like the aptly named, Last Cocktail. The food menu holds its own with satisfying dishes like Wagyu hamburger and Tahitian Tuna Poke.
Fun fact: The "Pied Piper" painting has remained in the Palace Hotel bar for over a century with only three exceptions. During prohibition, the painting was moved to the Rose Room. In 1989, it was transferred to the de Young Museum and displayed while the hotel underwent a major renovation. The third time was in 2013 for a restoration. Upon its return later that year, the city's mayor named August 22nd Pied Piper Day in San Francisco.
 2 New Montgomery St
Charmaine's at Proper Hotel
The brand-new, Kelly Wearstler-adorned Proper is very of-the-moment, getting people highly optimistic about the city's boutique hotel future.  Go past the colorful wallpaper, brocade armchairs, and impressive floor tile, and check out the rooftop bar and lounge. Cocktails by Josh Harris and Morgan Schick of BVH Hospitality (Trick Dog) are divided into categories easily applicable to Bumble dates ('High and Bubbly', 'Tall and Fun') and bites by chef Jason Franey round out the evening in style. Then, when properly tipsy, go ahead and use that wallpaper for a selfie session.
1100 Market St
Cityscape Lounge at Hilton Hotel 
Head to the centrally located Hilton Hotel for a meet up with friends or an evening for two. If you've never been here, the holiday season, Christmas lights and all,  is a good time to amend that with a stylish visit to the Cityscape Bar and Lounge, which offers some of the best views in town. Take turns pointing out San Francisco landmarks—start with the easy ones, like the Golden Gate Bridge and Coit Tower, then name drop some obscure ones from there. You can see it all on a clear day.
If you're lucky, the plush sofas can be all yours, and if you're smart, you'll arrive at sunset, order then charcuterie plate the and Pineapple Express cocktail, and experience the city like a tourist, in the best possible sense.
333 O'Farrell St
The Tonga Room & Hurricane Bar at the Fairmont Hotel
Too iconic to miss, this list would not be complete without mentioning this oldie but goodie. Awarded left and right for their surprisingly reasonably-priced happy hour menu, this place is cheeky, fun, and a little reminiscent of the Tiki Room at Disneyland—minus all the singing parrots.
950 Mason St
Bar Via at Hotel Via
Hotel Via is a recent addition to the city's expanding offering of photogenic accommodations, and its rooftop Bar Via is already a favorite destination for birthday parties, promotion celebrations, and other festivities in need of city views and drinks. The decor is part futuristic part disco era, the raw bar stocks impressive amounts of oysters and the sparkling wine selection is enviable. What more could you ask for?
138 King St.
More stylish hotel drinking:
Burritt Room at the Mystic Hotel (Film noir-inspired cocktail bar and tavern)
Top of the Mark at the Intercontinental Mark Hopkins (Killer views, plus a seasonal Holiday Tea offering straight out of your childhood dreams)
Marianne's at Hotel Zetta (Delicious bites and stylish, bohemian living room-like vibes)