A Look at SFAI's Colorful New Fort Mason Campus with 160 Art Studios for Students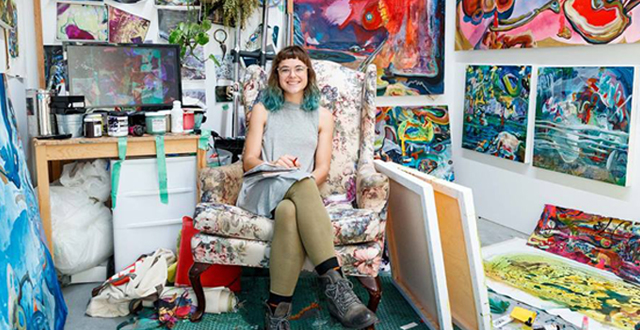 This past Friday, San Francisco Art Institute (SFAI) opened their second campus location at the Fort Mason Center for Arts and Culture (FMCAC). SFAI is ready to usher in a new era of artistic prowess and has reinvented the 67,000-square foot pier, formerly known as the Herbst Pavilion. Its new home is set to house over 160 art studios for students, faculty, and visiting artists and 4,300 square feet of new public exhibition space, open to the public and free of charge, including a flagship gallery, a graduate student-run gallery, and performance space.
To kickstart the creative spirit, they are also unveiling their latest exhibition, In Around Beyond, which will be on display from November 11—January 6th, at both campuses. For this show, SFAI has commissioned artists to share new works in, around and beyond the building, that focus on the role the artist plays in society and the historically-charged dynamic between the Institution and the public realm.
The new SFAI space is located next to the Festival Pavilion and has housed all types of events; everything from craft spirit conventions and theater performances to musical concerts and galas. The complex sees over a million visitors each year. It will still house the Cowell Theater and continues with the mission to foster creativity.
As Gordon Knox, SFAI's President, echoes, "SFAI is an engine of civic culture built around a school…turbo-charging the core role that art plays in the nature of San Francisco and enriching the city's living, breathing ecology of artists and art-making."
More than a dozen artists will debut work, including Keith Boadwee, María Elena González, Mads Lynnerup, Postcommodity, Jon Rubin, Sans façon, and Mel Ziegler.
SFAI alumna and faculty member Alicia McCarthy has also created a large-scale mural installation that will adorn the heart of the new building. It will be in place for two years and will be the first in a line of biennial commissions.
In January, world-renowned sound designer Bill Fontana will re-present a work he brought to Pier 2 back in 1981, entitled Landscae Sculpture with Foghorns. Originally installed on the Eastern wall, it will now overlap with the modern soundscapes of the San Francisco waterfront.
FMCAC is a nonprofit in the Historic Landmark District, which hosts a consistently evolving program of performance art, gallery installations, educational courses and cultural events. The space vehemently supports the Bay Area artist community with the help of annual grants.
Founded in 1871, SFAI is one of the oldest and most notable institutions dedicated to the study of contemporary art, preparing students for a life in the arts and skills for critical engagement with the world.
San Francisco Arts Institute
Pier 2 at Fort Mason, 2 Marina Boulevard, SF
Art, artist, bay area, campus, Culture, event, exhibition, food, fort mason, gallery, golden gate, Herbst Pavillion, Performance, San Francisco, sfai, space, Studio, Theater, theatre, Venue, wine