Riot Grrrl Miranda Morris on Keeping College Radio Alive and New KUSF Zine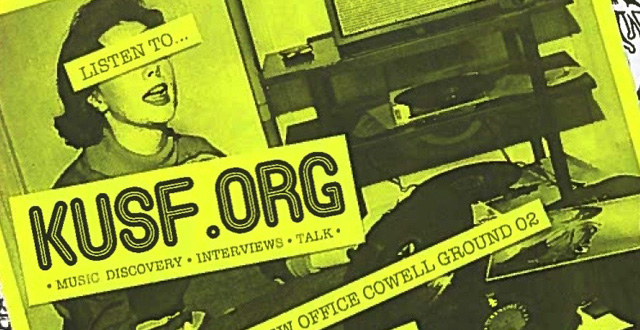 Known for being one of the first radio stations to play punk rock, local SF college station, KUSF, is keeping indie and alternative music alive and well. We recently sat down with KUSF's manager, Miranda Morris, to learn more about this student run organization and the release for their brand new fall zine.
Read the full interview and flip through the fall zine in the gallery below!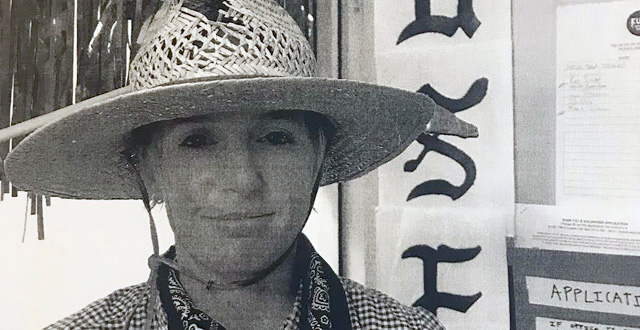 How did KUSF get started?
The station started in the 60's as an AM carrier current and it was student driven and a club. In the early 70's they petitioned, ya know, wrote a big formal letter to the president saying that they really wanted to buy a radio station, they kinda got their ducks in a row and then in the early 70's, Simpson bible college wanted to get rid of their frequency 90.3 FM and it was a non-commercial educational license. The students at USF did get the approval from the president and bought this FM frequency from the Simpson bible college for $2,000, something very minimal. The bible college didn't enjoy the radio station because they thought the students, they just thought it was too idk, they just though it was too not bible collegy. It took the KUSF students until 1977 to actually go on the air.
1977 marks when it went 24 hours a day, 90.3 FM and it was pretty much a full fledged station at that point. And then KUSF just road the left of the dial as being one of the first stations to have really kind of have really kinda heavier and alternative programming in the middle of the night. I want to say it was called "Nocturnal Emissions" It was broadcast really late at night and then next thing you know here come the 80's and punk rock and really like music that you wouldn't hear anywhere else on the dial KUSF was picking up on and bands like ya know Siouxsie and the Banshees and ya know The Misfits or whoever, would, when they came through town they would come by KUSF and be on the air.
There are pictures of Lemmy from Motorhead and all sorts of people. Tom Waits, I mean, you name it. Pretty much when you were putting out an album in the 80's and it was considered indie or alternative you stopped at KUSF as well as KALX over in Berkeley. So in the 80's, early 90's KUSF was really at the forefront of where to find alternative music and find out what was going on in town.
They also had a lot of community programming which was, it was really diverse, they had from 8-12 languages being programmed with different programming. It was notorious for Chinese Star Radio Monday-Friday at 6 o'clock. From 6-7 KUSF switched to Chinese Star Radio and a lot of the Chinese population in San Francisco tuned in everyday. You would just be walking through town and you would hear the KUSF alternative music switch into Chinese Star Radio so they would maybe have caught idk a little bit of Tangerine Dream before they slid into their Chinese Star Radio. So that was pretty much the "heyday".
They have been talking about this recently about college radio like "When did alternative and indie music peak?" and especially college radio was definitely like 90's, like early 90's and then when the internet started becoming more accessible and more prevalent in society, you didn't necessarily have to tune in to a college radio station to find, ya know, independent bands like low key bands. You know now, people are digging through bandcamp and college radio definitely held the flame of like the course ya know. So you picked up your free weekly, you read zines, you went to book stores, you looked at flyers, you listen to college radio and then the internet put a whole different platform in networking. And it's not that it's killing college radio it's just that college radio became not the only source – it became one of the sources.
I think that right now it's definitely a conversation amongst college radio like "How do we stay relevant?" "What are we doing" "We're not the only source of alternative music in town" But I definitely think if anything were just ya know still promoting new music, were still giving away tickets, and we're still doing everything we should be doing but with ya know other sources combined.
READ: KUSF FALL 2017 ZINE
What is the inspiration for the Zine?
Our goal is to each semester publish a zine and it kinda of is a little capsule of ya know what kind of music we're into, DJ profiles, maybe top 10 list so that when you're looking back in 3 years you can be like, "Oh look, they were really into King Gizzard and the Lizard Wizard" and things like that and also I think also it brings some of the station together in one platform where we have multiple collaborators.
I realize that in the digital age you can use social media as a tool, it's great and all but this is, it's a little bit art, and personality, and we can also use it on social media because it looks really good visually so we can use our pages from the zine onto social media but also have something physical to pass out.
I definitely came out of zine culture. I collected zines back ya know in the Riot grrrl movement. Thats how you put your poems and your weird thoughts out there before there were blogs and social media.
San Francisco was huge on DIY zine culture and some of that still lives on in stores that do sell zines like Needles and Pens and like in East Bay there's a store called Issues. So theres definitely still still community and/ or cultural interest in zines and zine making. People want to pick up these hand made artifacts about a moment in time.
So it was kinda like how do I keep a program guide but make it a zine and then the first time I got really frustrated making something with the software and then I was like oh screw it and I just started copying it, cutting it up, using glue. And a kid came in and was like "Oh I love zines!" (laughs). Because I thought that people would look at it like thats so "oh you don't know how to use In Design do you? Because you're cutting it out and copying it and gluing it down." I was just like this is faster, easier, I like the handmade look. There's a place for In Design and clean lines but this is a college radio station. So guess the takeaway was I realized how much the students enjoyed doing it. Because they are looking at computer screens and using all these software computer programs so sometimes it just nice to make art that's accessible and fun.
So how did you assemble the zine?
I worked with the promotions director right here, Jenelle. We just kinda of sketched an outline of what kind of theme we were going for. since we do one a semester we usually just title it fall or spring and the year of that but we definitely have like a theme. We were noticing that this semester we have a lot of females who are in charge. The WIC the women in charge. So we kinda of just gravitated towards doing a Bruja theme in highlighting some of the female DJ's with the kinda of fall and Halloween theme. What we have really actually found is that we are incorporating some of our interviews, transcribing them.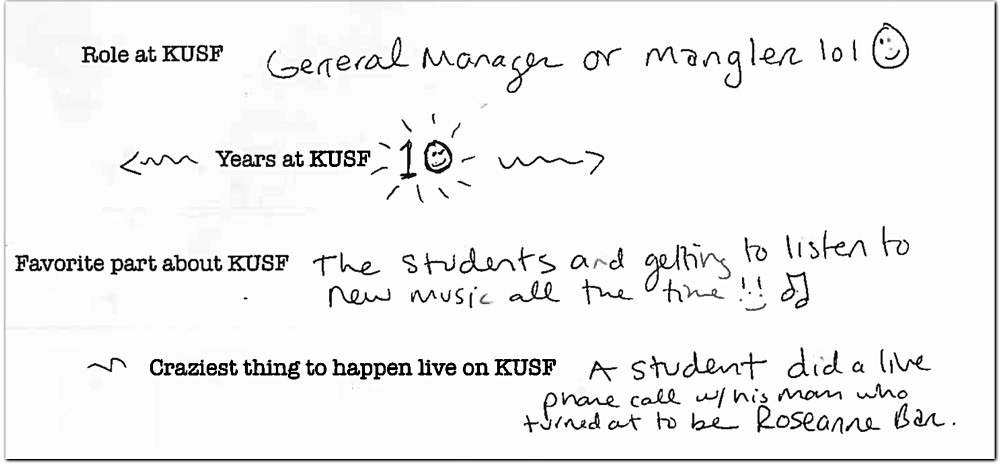 Who did you interview for the zine this semester?
So the promotions director Jennelle interviewed La Witch. and she interviewed them at The Chapel so she took he recorder down there and then the other interview was by DJ Fresh Brothel with Vagabond and she's on a local label. She was playing at Swedish American Hall and he also went there and did the interview with her.
Yeah we just kept with the theme because LA Witch is an all girl band and they definitely have a good Halloween name and then Vagabond is a female band too so it daintily fit in with our female artists. She's also on a label called Father Daughter – a local San Francisco woman started so it just kind of fit.
But my hope is that ya know in 10 years, what if LA Witch is a huge band and we're like oh my god they got as big as the Black Lips and we interviewed them". That would be so cool. We could dig up our zine and put it up like hey they were in our studio during when first album came out. Thats what I feel like kinda what KUSF is doing. We're interviewing bands with the first album or who are playing the more indie circuit. and who knows where they will be in 10 years. Will they be around? Will they be a big star? Who knows. We're just celebrating where they are at right now.
If you could dedicate one page of the zine to a band who would you chose?
I would dedicate a page to Ty Segal and also feature Emily Rose, one of his drummers when he was first starting out because she had a show on KUSF much longer than Ty Segal but they're definitely both really good examples of alumni. I think thats really important that there are alumni out in the world doing things that inspire them, fun jobs. Not just ya know like I'm going to go be a lawyer or whatever. They have had to create their own jobs in the media industries. So not just famous people but regular alumni too. Also a lot of their alumni are still musicians and they might not be as famous like headlining The Fillmore but definitely still playing music.
Listen in 24 hours a day at http://www.kusf.org/