Au Revoir! SF Symphony Director Michael Tilson-Thomas Announces Plans to Leave after 25 Years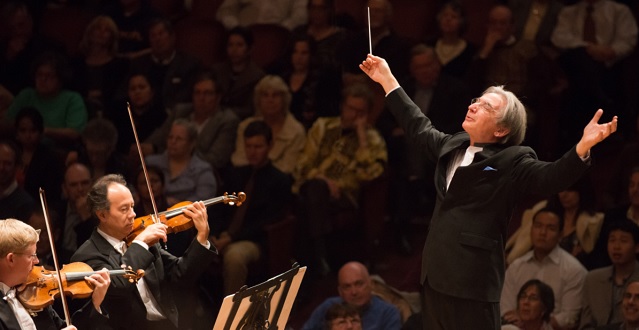 Earlier this week, SF Symphony Music Director Michael Tilson-Thomas (MTT) announced that he will step down from his post after the 2019-20 season, marking 25 years in his current role, and perhaps an end of an incredible chapter for the symphony.
MTT's creative influence and musical prowess has helped to build the SF Symphony into one of the top orchestras in the United States with a strong international presence.
Among the California native's most noteworthy innovations are the creation of an in-house label to release the orchestra's award-winning recordings. The label's latest project is a complete cycle of Schumann symphonies conducted by MTT in Davies Symphony Hall which comes out next week. He also started the SoundBox nightclub experiment for avant-garde programming, the New World Symphony for premier orchestral training, the American Mavericks festival, and the Keeping Score educational project.
In terms of specific programming, MTT introduced more theatrical music to the SF Symphony with semi-staged performances of works like Richard Wagner's "Flying Dutchman," Benjamin Britten's "Peter Grimes" and Leonard Bernstein's "On the Town." His recordings have earned him 11 Grammy awards, the National Medal of Arts, and Chevalier dans l'ordre des Arts et des Lettres of France.
Beyond the accolades, MTT makes symphony performances accessible and entertaining to all with his humor and enthusiasm when introducing performances. It's easy to see his passion by the gusto and selflessness he exudes while on stage.
MTT became the SF orchestra's 11th music director back in September 1995, and in December 2019, he will celebrate his 75th birthday. Prior to joining the SF Symphony, MTT was the director of the London Symphony Orchestra from 1988-1995 and began his director's career in Buffalo from 1971-1979.
Thankfully, MTT will remain with the SF Symphony in the newly created position as "music director laureate." He is committed to conducting at least four weeks every year and will be involved in a variety of special programming projects. The 2017-18 season is currently underway, with a handful of upcoming performances conducted by Michael Tilson Thomas.
Now that this news is official, the search begins to find a worthy replacement, which will certainly be a tough act to follow!