Foreign Cinema Celebrates 18th Anniversary with Plans for New Mission Street Wine Bar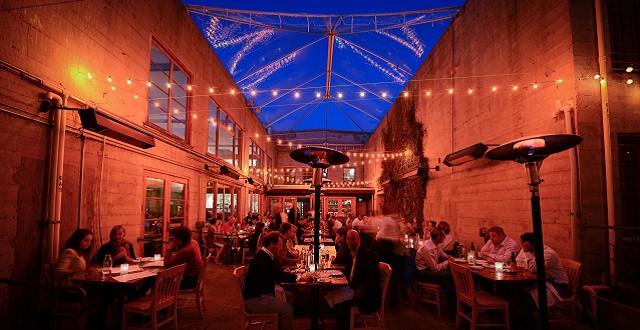 Foreign Cinema recently held a fundraiser to celebrate 18 successful years of operation in San Francisco. During this event, where proceeds went to the local chapter of the Human Rights Campaign that advocates on behalf of the LGBTQ community, more intriguing details emerged about the construction of a new and unnamed wine bar across the street at 2540 Mission St.
The currently empty portion of the building will soon transform into a wine bar operated by Foreign Cinema, showcasing a diverse and extensive wine program. The wine bar will be located on the opposite side of Foreign Cinema's sister bar Laszlo, and will fit close to 55 seats, a kitchen, and space for public and private events. The address has no restaurant history and, for the last three years, it was being leased as storage space.
The food menu has yet to be announced, but it will surely retain the local, sustainable practices of the current Foreign Cinema menu. Interior design specifics are unclear at this moment, but the Foreign Cinema crew said to expect a similarly European feel with marble and stone along with exposed beams.
Foreign Cinema continues to expand its wine selection since the arrival of general manager and wine director Shannon Tucker, who increased the restaurant's wine list total from 200 bottles to around 2,000. Foreign Cinema owners Gayle Pirie and John Clark also own their own 15,000-bottle cellar. For the upcoming wine bar, expect a heavy dose of French selections, Burgundy in particular, as well as some unique, small producer-centric wines from California, European, and around the world.
Last year, Foreign Cinema reopened Laszlo bar and earlier this year it received some worthy renovations, including a new platform and improved sound system for DJs, booth areas on the bar's mezzanine, and better lighting. We'll keep you posted as more news about this new location unfolds.
Cheers to Foreign Cinema!