5 Tapas & Spanish Restaurants to Spice Up a Chilly San Francisco Night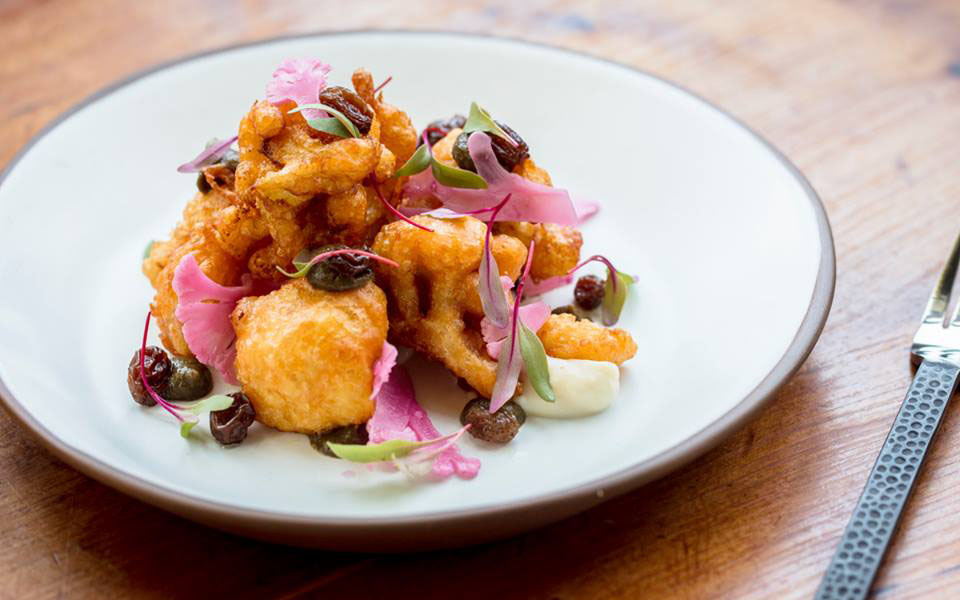 As fall fast approaches, the allure of warm, Mediterranean flavors becomes stronger and stronger. Lucky for us, the local food scene meets this craving with new and worthy Spanish restaurants, while established institutions keep traditions alive. Hearty paella, spicy pulpo and boozy sangria can all be found across town, from the buzzing Hayes Valley tapas spot to the "get-it-while-you-can" pop-up restaurant, complete with crafty cocktails.
Barcino
The newest installment from the Absinthe Group (Comstock Saloon, Arlequin), is this pleasant tapas bar focuses on the Catalan region, specifically the culinary mecca of Barcelona. In the menu, you'll find an impressive raw bar playing with salmon, tuna and octopus, Suquet (a rich seafood stew), and rotating rice dishes, as well as Sangria Blanco on tap. Another Hayes Valley win.
 399 Grove St
'Este Oeste' at Over Proof
Over Proof, ABV's sophisticated, reservations-only cocktail bar, has chosen Spanish cuisine as a theme for its third culinary pop-up. The concept at Over Proof change every 3 months, including menu and decor, each offering a focus on drinks made with one type of spirit, accompanied by (not necessarily paired with) food from that area where the spirit is made.
Right now Este Oeste, which runs until October 27th, focuses on gin and sherry. It brings in all the usual suspects; paella, octopus, gazpacho—but with an added contemporary Californian twist. Try the paella with chanterelle aioli, the heirloom tomato toast adorned with fermented jalapeño. Plus a gin and sherry cocktail to top off the occasion, of course.
3174 16th St
Birba
More of a wine bar than a restaurant, Birba is as low-key as they come. And sometimes that's all you may want after a long day. With a focus on European wines, this tiny place creates dreamy food and wine pairings. With on-point tapas-inspired dishes like boquerones (marinated white anchovies) and 'drunken shrimp toast', Birba is not traditionally by-the-book Spanish, but full of charm nevertheless.
458 Grove St
Bellota
Only a handful of San Francisco restaurants offer a true sense of celebration, and Bellota is definitely one of them. Spacious and inviting, this is a place to gather friends and fill the table with colorful Spanish dishes, from authentic jamón to bravely spiced potatoes bravas and photogenic pan-roasted sea bass. Sherry flights and homemade sangria are on the menu as well, if the celebration is in need of a boost.
 888 Brannan St.
Coqueta
If there was ever a reason to visit the Embarcadero, Coqueta might be it. While it opened only four years ago, the place already feels like a local institution, cozy and buzzing with conversation, over dishes like Gaucho steak and Gambas Negras. Unlike many other establishments, it's also open for lunch (read: ocean views and occasional rays of sunshine).
Pier 5, The Embarcadero
Bonus: Spanish-Cantonese menu at Hakkasan:
Between October 2-22nd, Hakkasan Group's Executive Chef Tong Chee Hwee and Chef Dabiz Muñoz, owner and Executive Chef of StreetXO in London), join forces on a special menu celebrating the Chinese festival of Golden Week. The menu, combining Cantonese and Spanish influences, will include dishes like  Spanish tortilla dim sum with truffle and quail egg, and Stir-fry rib eye beef with gnocchi and lily bulb.
1 Kearny St.
Bonus 2: Tapas for Two at Novella:
Starting November 4th, the cozy cocktail bar Novella will be offering a Saturday-only, 10-course small plates dining and drinking experience set to a Spanish soundtrack. Highlights include bacon wrapped dates with manchego mousse, Spanish charcuterie and more.
662 Mission St