Best Bay Area Paellas for Cozy Winter Nights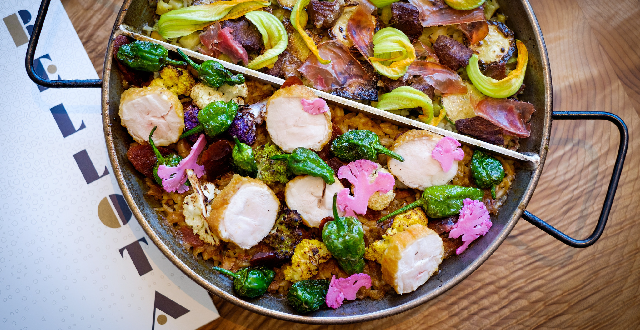 If the huge, Danish cozy comfort trend hygge was born Spain, an image of paella would have been right next to it in the Urban Dictionary. The cozy, homey, warm rice dish is a comforting as winter food gets, without ever losing its edge. New interpretations, toppings and twists are always welcome when it comes to this dish. It's also mega-versatile; catering to carnivores, vegetarians and fish lovers, all in a turn of the iron skillet. And if you can't decide on one? Paella makes for great leftovers. Just in time for more rain in the forecast, we located the best Bay Area paellas to warm your soul.
Bellota
San Francisco's new and shining Spanish star is all about modern takes on the tapas game and indulgent paellas. The vegetarian Setas paella, brimming with roasted wild mushroom, kale sprout & leaf, black garlic and pepita peppers, is a winner, but so is the Pollo, with plancha-roasted chicken, cider braised apple, broccolini and sausage. The solution? Order the Dividida, a two-in-one option, and try both.
888 Brannan St #110, San Francisco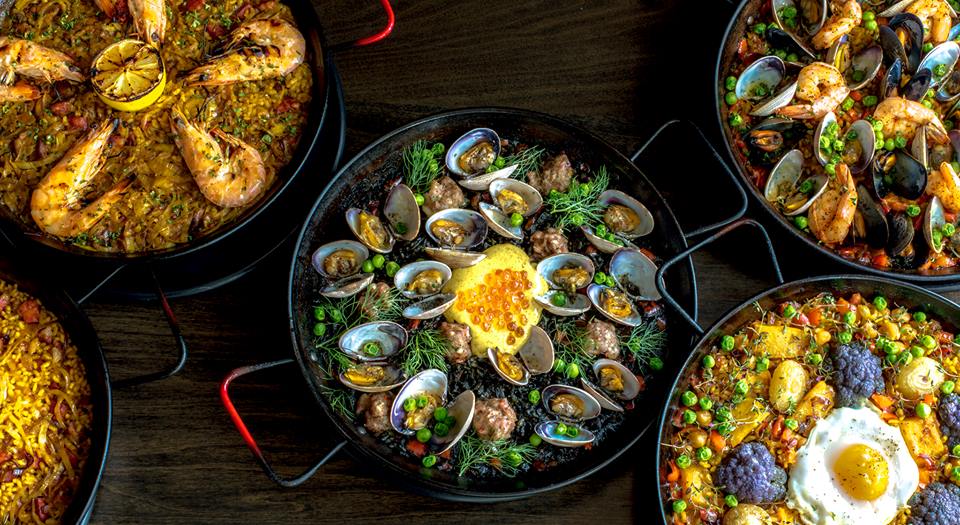 La Marcha
Ever since opening last year in Berkeley, La Marcha is a local hit, and rightfully so. Show up on a Tuesday night, when a solo guitar player (and occasional flamenco dancers!) accompany the meal, and opt for the irresistible Arroz Negro; a sticky, delicious mixture of bomba rice soaked in squid ink and adorned with mussels, fennel sausage, peas, anchovy breadcrumbs, truffle aioli and salmon roe.
2026 San Pablo Ave, Berkeley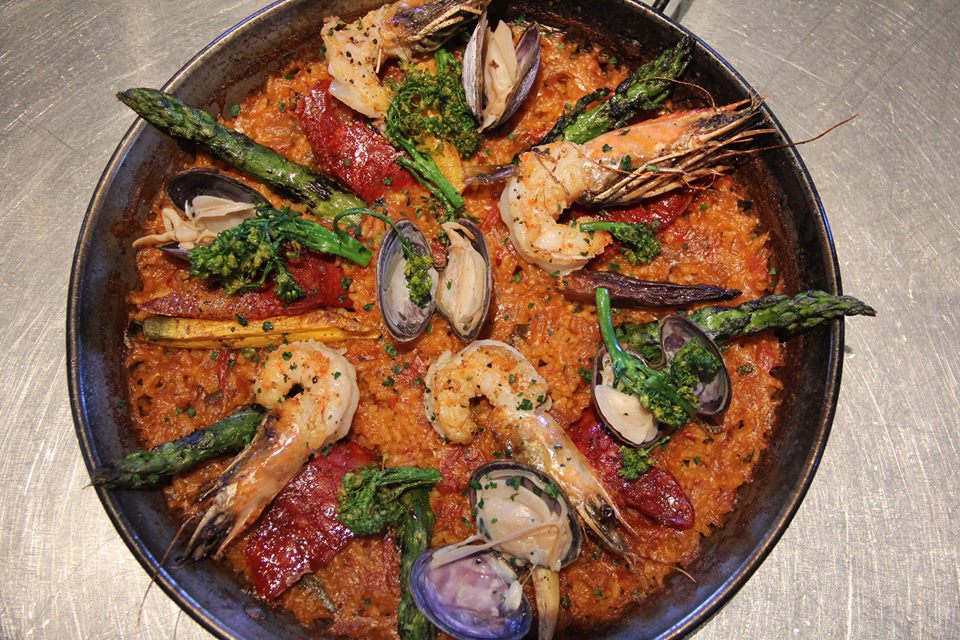 Coqueta
Michael Chiarello's waterfront establishment offers a hearty, classic bomba rice paella, which never goes out of style. The dish is filled with goodies such as chorizo, clams, pickled garlic and gulf shrimp, served with bright lemon alioli sauce and ready to feed 3 hungry folks with leftovers.
Pier 5, The Embarcadero, San Francisco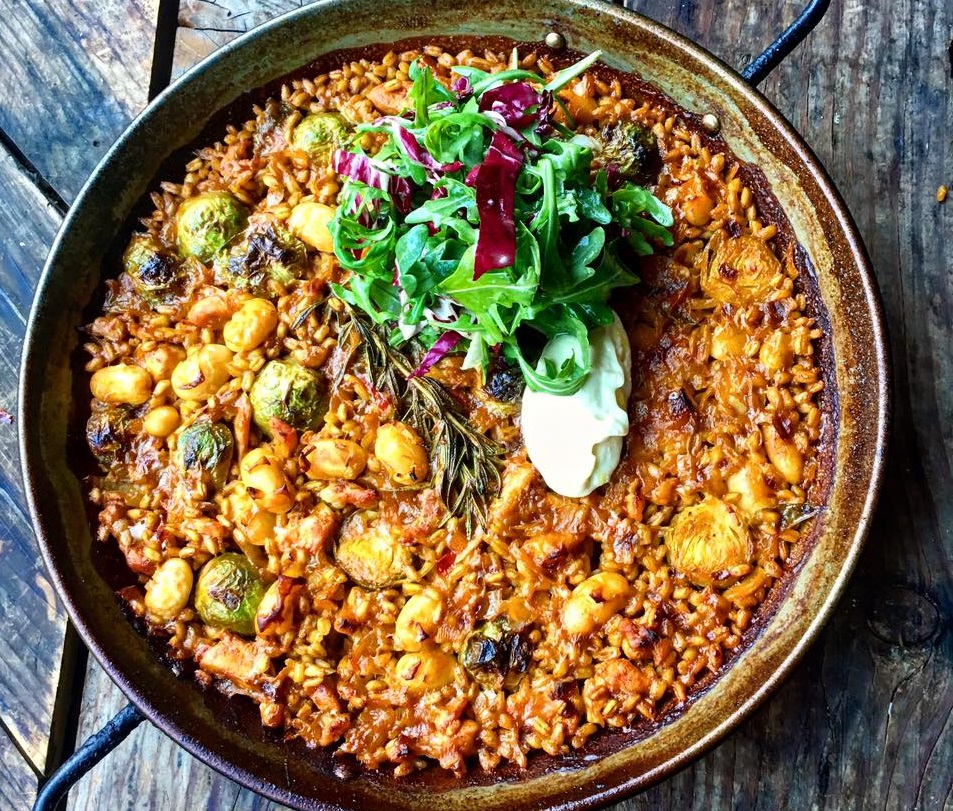 Duende
In a central Oakland alley, Duende spins sexy tapas and strong cocktails, but its dark, seductive atmosphere is perfect for paella sharing. The Fideua, a pasta take on the classic paella, is always interesting, but try the 'carne' paella with farro instead of rice, complete with rabbit, gigante beans and Brussels sprouts. The dish has never been more adventurous.
468 19th St, Oakland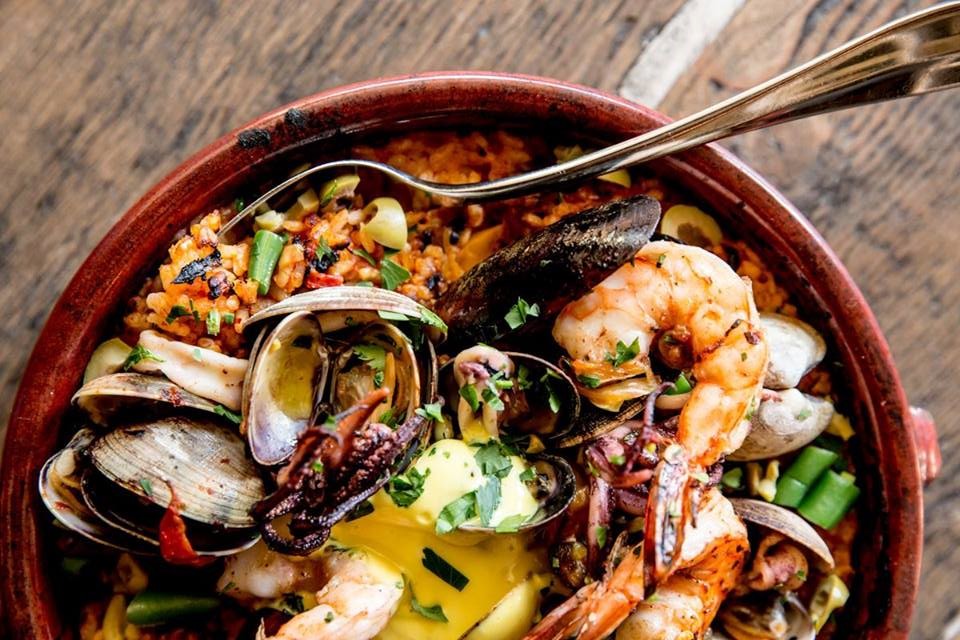 Shakewell
At this Oakland Mediterranean-inspired  institution, the paella is made in a wood oven, which translates into extra crispy bits and deeper flavors. Out of all the options, the most thrilling one is currently the wintry chicken and prawns paella, with green beans, picholine olives, aioli, fino sherry and parsley. Coziness on a plate.
3407 Lakeshore Ave, Oakland