Family-Style Establishment Buca Di Beppo Closes its SoMa Location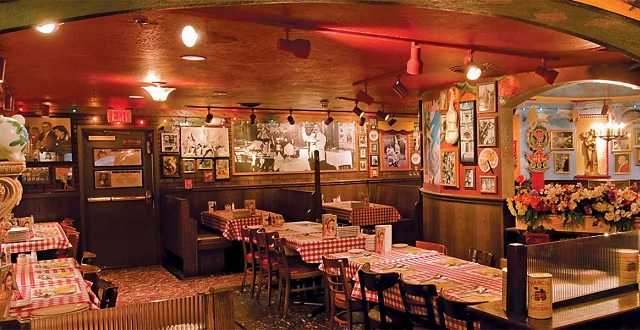 Two weeks ago, an unexpected sign appeared taped to the glass window of the building at 855 Howard Street announcing that the family-style Italian restaurant chain Buca Di Beppo officially closed.
The SoMa district location, like all locations, served portions of pasta, bruschetta, and other traditional dishes large enough to feed a small army or a large family. The SF establishment had a 20-year run and was known for its glitzy interior decor-which is said to be "intentionally hideous."
The restaurant is part of a chain brand owned by parent corporation Planet Hollywood. Buca Di Beppo currently still has four open restaurant locations in Northern California: Palo Alto, Campbell, San Jose, and Sacramento. In total, there are 92 Buca Di Beppo locations worldwide, with 87 being company-owned and 5 franchises in the United Kingdom.
It is unclear what exactly led to the restaurants closing, but a recent permit filed with the city of San Francisco suggests the 12,000-square-foot building that housed the restaurant will be transformed into a new office space. The building is currently zoned for development up to 130 feet in height, but that could change depending on the upcoming remodel.
The Orlando, Florida-based restaurant chain made similar moves for two more locations in Georgia and in Santa Monica, California. This indicates that the changes are part of a larger strategy and not just linked to rising rent prices in SF. Regardless, it's unfortunate the restaurant will not be replaced by another dining option.