7 San Francisco Restaurants to Finally Try While Everyone's at Burning Man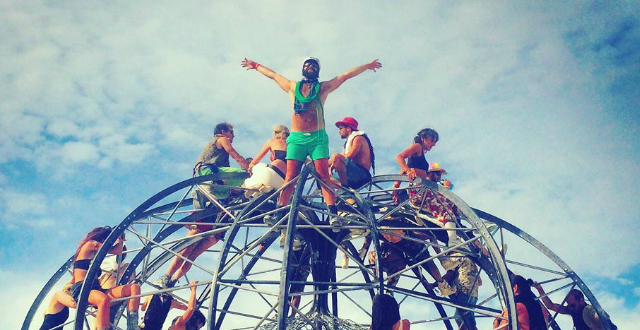 Art cars are in the final stages of beautification, feathers and fake furs are pulled out of storage, and campsite dramas are being put to rest as everyone is getting ready to head out for Burning Man…yet again. Beating all the flooding concerns, the festival of dust, fun and skimpy clothes is back at it, ready to welcome all the tired parents, bored office workers and yoga enthusiasts that the playa can handle.
For those who aren't going to Burning Man, the days during and around August 27 through September 4 provide an excellent opportunity to finally nab a spot at one of San Francisco's busiest, newest and most elusive dining spots. Here are a few suggestions.
The Morris
The discreet yet excellent Outer Mission spot has only been open less than a year, and prime time reservations are hard to come by. Similarly, their weekday oyster happy hour is often very busy. Make the most of San Francisco's quietest week and book a table on a weekend night, then dive into charcuterie board heaven, devour the off-the-menu hamburger and enjoy a cocktail or two in perfect tranquility.
2501 Mariposa St
Liholiho Yacht Club
To this day, Liholiho is one of San Francisco's hottest tickets. Tired of not being able to reserve a spot and are you done with storming the restaurant at opening time to hopefully nab a spot at the bar? Use this time while you can. Even tourists, who make up a good percentage of the Hawaiian restaurant's busy clientele, go to Burning Man.
871 Sutter St
Rich Table
Along with its team's new venture, RT Rotisserie, Rich Table is a highly popular destination. Booking a seat here on a weekend, especially for a big group, can be difficult. But the small plates on this clever menu are just begging to be shared, so go all out and try the restaurant with a bunch of friends, finally. You might fight over the grilled avocado and the pierogies, but at least you won't have to fight over a table.
199 Gough St
Hitachino Beer and Wagyu
Since its opening in February, Hitachino Beer and Wagyu has been permanently busy, lining up hungry citizens at its door. The $78 tasting menu is a hit, and with the recently added a la carte menu, trying that delicate beef has been nearly impossible. With Burning Man on your side—run, don't walk, to the miniature spot and dig into the wagyu donburi and tataki.
639 Post St  
Dumpling Time
Who doesn't love delicious, authentic dumplings? Especially when it's Dumpling Time's perfect offerings we're talking about. While others are scoring free vegan sandwiches on the playa, enjoy a savory moment of bliss and know that you won at life.
Finn Town
Trying to sample Finn Town's new brunch menu? Good luck, as this is a Castro hotspot. The busy tavern's comfy chairs and booths are perfect for boozy decadence of eggs, hashes and burgers, which, thanks to Burning Man, can be eaten in peace come late August. Throw in a couple of Bloody Mary cocktails, and make a toast to the best week of the year.
2251 Market St  
Related article: 9 Best Foodie Spots to Try While Everyone Is Away at Burning Man (The 2016 Edition)