15 Biggest Moments from Outside Lands 2017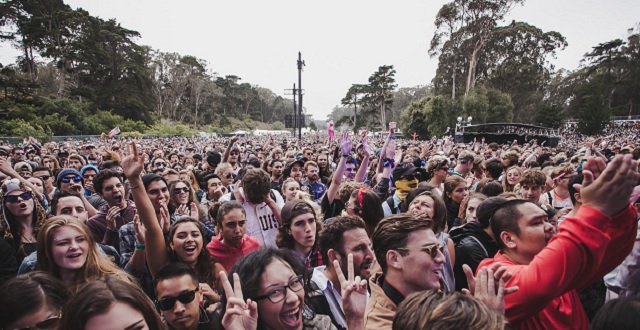 After three whirlwind days, Outside Lands concluded with a triumphant bang. Similar to previous years, each day had its own personality and weather. Despite the ever-changing conditions of Golden Gate Park and some musical lineup reshuffling, the people on and off stage, plus the variety of entertainment made for another sublime, end-of-summer festival.
In an attempt to summarize and recap everything that was Outside Lands 2017, we put together a chronological list of some of the biggest moments. From surprise appearances to fireworks, there were plenty of highlights worth revisiting.
All Photos by Abe Coloma
Friday kicked off strong, with early afternoon sets by Oliver Tree, who rallied the Panhandle stage. Then pop group Electric Guest amped up a lively afternoon crowd with its contagious dance moves and emotive vocal hooks.
The festival food options at Outside Lands are unrivaled, spanning the carnival-style essentials like the corn dogs and funnel cakes by Endless Summer Sweets to the exotic and always ostentatious donut cheeseburger from Straw. A particularly tasty choice was the miso pork ramen and fried chicken gyoza served up by Executive Chef and owner Kyle Itani of Itani Ramen.
One of the more unique and entertaining activities in the park was a three-hole mini golf course called The Back Wine. Conceived by Healdsburg-based wine company Cannonball Wine Company, visitors could get in on some mini-golf, paired with a wine sampling at each of the holes.
RAC stepped up and played a surprise early set on the main stage Friday after it was announced that A Tribe Called Quest would not be performing. A peak moment was when the remix masters delivered a masterful rendition of Odesza's "Say My Name."
A Tribe Called Quest was one of the biggest acts scheduled to perform on Friday's lineup. The group temporarily postponed their set to Saturday only to then cancel again 20 minutes before they were expected to take the stage due to "further travel complications."
Gastro Magic, the festival's culinary stage, had a strong stage lineup throughout the festival. Friday's cancellation by A Tribe Called Quest did not keep Jarobi White, the chef and former member of A Tribe Called Quest, from making his guest appearance alongside San Francisco chef Chris Cosentino. The culinary stage spiced it up with Del the Funky Homosapien making kimchi with Roy Choi and Dan the Automator. And later Action Bronson cooked meat and threw pieces into the crowd. (Hopefully only minimally offending any vegetarians that might've been nearby.)
Thundercat impressed during his groovy performance, pulling out a custom, bright cherry wood six-string bass, while Real Estate effectively navigated a lo-fi surf rock set for a decently sized audience early on Saturday. Overall, the vibes were much more mellow during the daytime on Day 2.
Since the opportunity presented itself, Claude VonStroke, fortunately, moved his performance from the Sutro Stage to the Twin Peaks Stage to fill in the void for the lack of A Tribe Called Quest. It was a great decision because of the large crowd that showed up specifically to catch the latest from the Dirtybird beatmakers.
Two standouts from Saturday were Kaytranada, who dropped a thunderously, beat-heavy remix of Janet Jackson's "If," which shook the crowd to its core. As well as two-piece hard rockers Royal Blood who furiously hammered guitar chords during "Lights Out."
If it weren't for Empire of the Sun's cosmic theatrics and genre-mixing set on Saturday night, Day 2 could have ended on a downer, for those caught up on Tribe's second cancellation. But the Australian rock duo brought a full-on performance, complete with half-a-dozen costume changes by their onstage dancers. They even gave a tremendously important shoutout denouncing the recent violence on the East Coast. "Walking on a Dream" was their best moment, and they closed the night with "Alive" followed by a slow, deep-space exit into the back of the stage through the fog.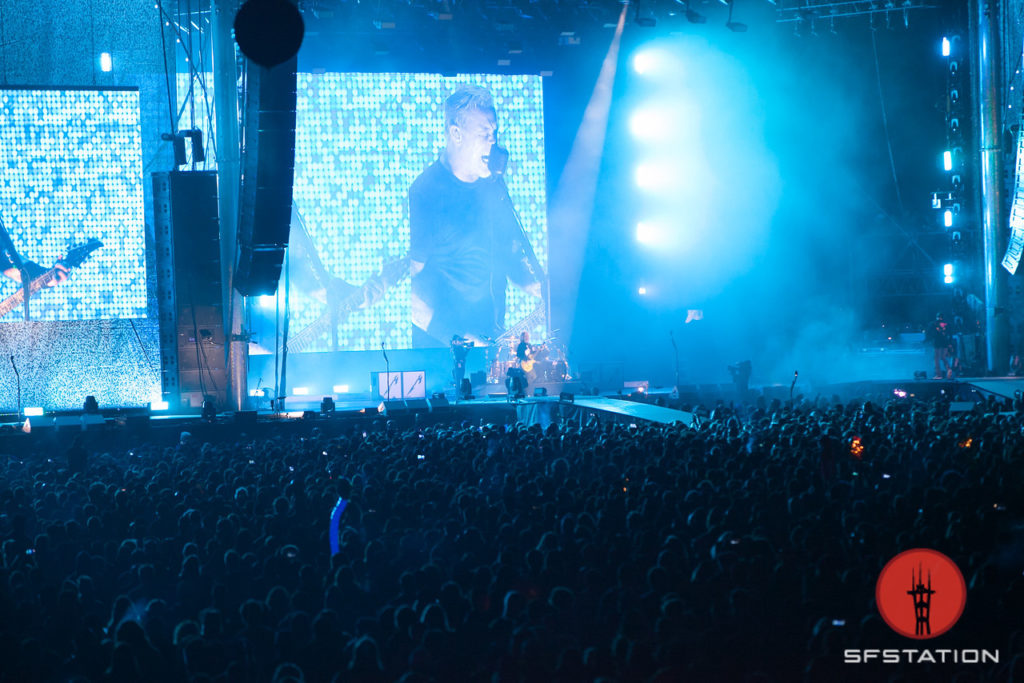 Metallica, one of the most successful Bay Area bands, brought a massive pyrotechnic setup to their Saturday closing set. Those that might have branched off to catch Tribe reconvened for the Metallica set, adding to a larger-than-expected crowd. Either way, the energy was there and the evening ended with "Enter Sandman," a perfect way to wrap up Day 2.
On Day 3, the mood was set early by maestro Lee Fields, who brought afternoon funk and soul, while folk-centric singer-songwriter Maggie Rogers gave a powerful and heartfelt shout out to her dad. She looked genuinely stunned at how many people were singing and dancing along to her live show at the Sutro stage.
Immediately after Maggie Rogers crushed her hit single "Alaska" to close out her set she then zoomed over to the Twin Peaks Stage to collaborate with New York house music duo Sofi Tukker. This unexpected pairing kept the crowd jumping.
Lorde effortlessly showcased her chilling vocals and puzzling dance skills. She rattled off all her prior shows in the Bay Area, thanking fans for following her through the years. The Auckland, New Zealand-based songstress entertained with "Tennis Court" and "Royals," plus tracks from her new album Melodrama such as "Liability," "Homemade Dynamite," and "Green Light." She even brough Bleacher lead signer Jack Antonoff on-stage to do a Paul Simon cover of "Me and Julio Down By the Schoolyard."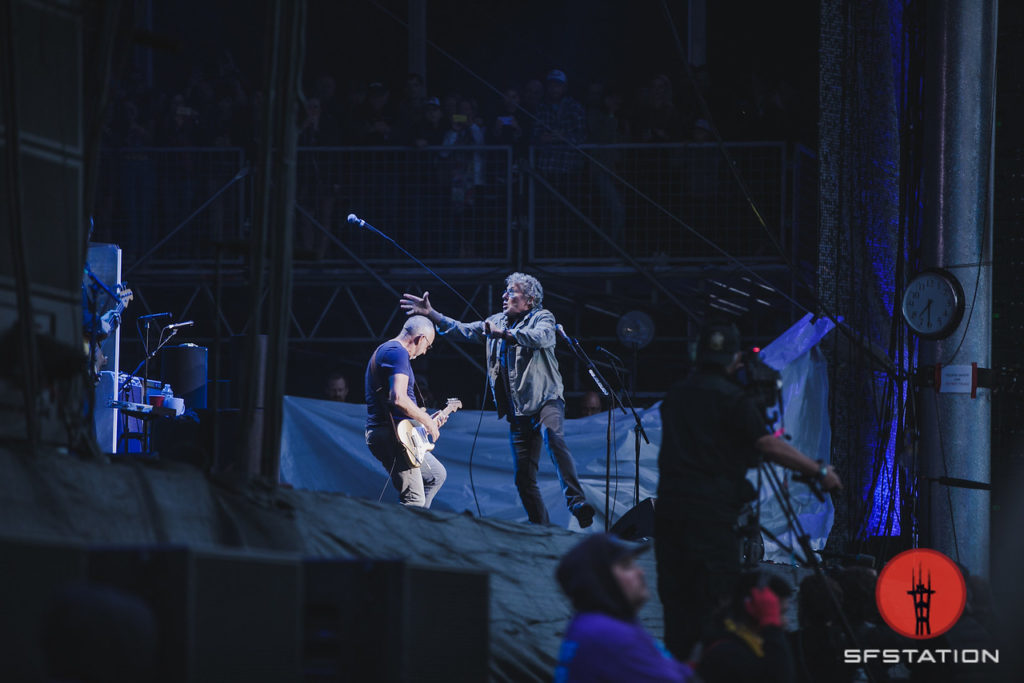 The Who have been rockin' audiences for more than 50 years and showed that their classic hits still translate to the modern music audience. "My Generation," "The Kids Are Alright," and "Behind Blue Eyes" were warmly received through the dark and foggy evening haze. They flexed their classic rock muscles and added playful dialogue in between tracks, with top quotes like "this guitar kills fascists" and "Thank you, San Francisco, for your pot…I'm high as a fucking kite."