Just as the final San Francisco performance of Hamilton is about to take place, producer Jeffrey Seller announced its plans to return in early 2019. The first national tour of Hamilton opened in San Francisco on March 10, 2017 and the final SF performance is Saturday, August 5th at the SHN Orpheum Theatre.
The whirlwind American musical has received a record-setting 16 Tony nominations, winning 11, including Best Musical, and was also the recipient of the 2016 Grammy Award for Best Musical Theater Album and the 2016 Pulitzer Prize for Drama. It now takes the action down to SoCal with performances at the Pantages Theatre in Los Angeles, starting on Friday, August 11th. A second national tour will begin in Seattle, starting in February 2018.
To comfort those who weren't able to attend the highly-coveted show, the 2019 dates come as some good news. But sit tight, the exact 2019 show dates, times and information on how to purchase tickets are yet to be announced.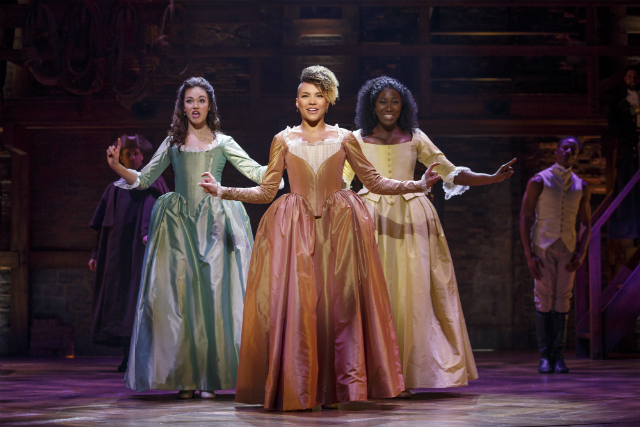 Solea Pfeiffer, Emmy Raver-Lampman & Amber Iman – HAMILTON National Tour (c) Joan Marcus, Courtesy of SHN
For more info visit the Hamilton website.
Related:
Milpitas: 'Hamilton' cast member visits middle school