Oakland's Modern Izakaya and Ramen Restaurant Shinmai Opens its Doors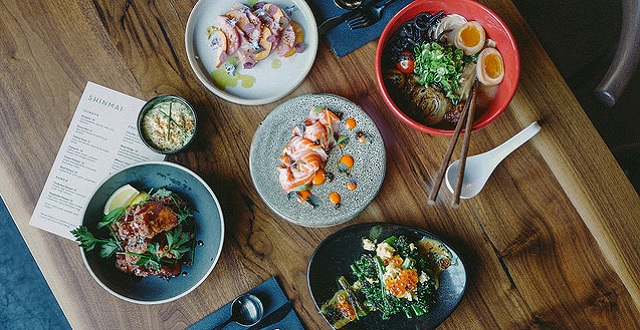 Shinmai just recently opened a 100-person Japanese dining space in Uptown Oakland. The new spot offers both izakaya and ramen, two of Tokyo's most popular culinary offerings. Patrons can order a series of casual bar bites, small plates or a steaming bowl of noodles, all of which contain a comfortable blend of traditional and unexpected ingredients.
We checked the Yelp review and, after nearly 30 reviews, the restaurant still has a 5-star review. Which isn't a huge surprise considering the team behind the new restaurant.
Credit: Jeremy Chiu
Executive chef Jerrod Doss previously worked in the kitchens of Aziza, The French Laundry, and Chez TJ. Co-owner Andy Liu recently returned from two years in Japan learning the art of ramen and as a result is the lead ramen chef. Fellow owner Yingji Huang adds his flare of inventive dishes, thanks to his prior experience with Kakui in Oakland's Montclair neighborhood.
Sample dishes include $13 fried chicken, which consists of fried ginger Worcester-marinated strips drizzled with gochujang barbecue sauce, topped with herb salad and served with miso tartar dipping sauce, in addition to the vegetable ramen, which is prepared with egg, lotus root chips, king trumpet mushroom, cherry tomatoes and negi.
The cocktail program is a collaborative effort between Adam Stemmler of Farm League Restaurant Group (also from East Bay Spice Company and Drake's Dealership) and Shinmai bar manager Brian McMillan.
+++ Shinmai
1825-3 San Pablo Avenue, Oakland
Open Monday, Wednesday, Thursday & Sunday 5-10:30pm, Friday-Saturday 5-11pm