BARTable's Epic Staycation Giveaways #2: Off Market Street, Outside the '9 to 5' Hustle and Bustle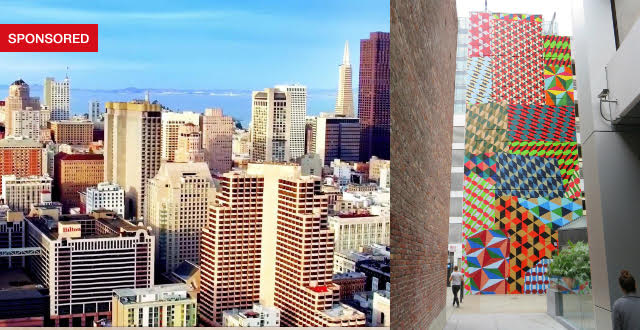 Staycations are for the spend-savvy who want a stress-free escape—without the flight frenzy and extra driving. And this month BARTable has made the whole staycation concept event sweeter by giving away some bonus items for the adventure.
Here is a look at the second of five BARTable giveaway packages (valued at $935). Plus some other things to do in this downtown San Francisco area—all within walking distance from BART, of course!
BARTable Giveaway #2
3-night stay at Hilton SF Union Square ($600 value)
2 tickets to the Contemporary Jewish Museum with Roz Chast Book ($45 value)
2 tickets to the Asian Art Museum ($30 value)
2 tickets to SFMOMA ($50 value)
2 $30 BART tickets ($60 value)
Golden Gate Park Segway Tour (Electric Touring Co) ($150 value)
The Hilton SF is located just a few blocks from Powell Street Station and there's an outdoor pool here (a rare sight in the city).
I'm always surprised at just how many locals have never taken a ride on the cable cars. If you haven't done it, do it already! For everyone else, we're off to the museums, drinks, shops and sightseeing.
Also included in the giveaway are some tickets to some of the city's most loved museums, including the San Francisco Museum of Modern Art (SFMOMA), Contemporary Jewish Museum (CJM) and the Asian Art Museum.
Looking for even more BARTable destinations in downtown San Francisco? Here are some of our favorite locations…all less than half a mile from BART.
Eats & Drinks
Want all the ice cream goodness without heading out to Ghirardelli Square? There is a Ghirardelli Ice Cream & Chocolate Shop located just steps from Market Street and New Montgomery. Grab your favorite person and split a whopping chocolate drizzled sundae. It's heaven with a cherry on top.
2 New Montgomery Street, Closest BART Stop: Montgomery Street Station
For a relaxed dinner or brunch option check out Perry's at Embarcadero. This place is date-worthy but not over-the-top American fare. Perry's has multiple locations in San Francisco, with the original location being on Union Street in the Marina, which has been open close to 50 years. Our favorite location has to be this one though. You can't beat the sparkly view of the lighted Bay Bridge at dusk and their potato skins are a can't-go-wrong classic. Note: Burgers are half off on Monday. Bottles of wine are half off on Tuesdays and Saturdays. Cheers!
155 Steuart Street, Closest BART Stop: Embarcadero Station
For bars with personality, there are a couple of places that immediately come to mind. 111 Minna doubles as a gallery which is an immediate conversation starter and point of interest. Novela is the sexy librarian of bars with its cleverly literary-themed cocktail menu and Local Edition, located on the basement level of a historic Hearst building, rich with live music, strong old-timey cocktails and newspaper history.
For you seasoned SF locals, try the Natoma Cabana, if you haven't already. It's down the narrow Natoma Alleyway, right before that area where the construction never seems to end. This spot is a little more hidden but still packed after work. Come in on an off hour and you should be able to find a nice seat in their plant-filled urban oasis. There are 15 specialty cocktails on the menu and zero that I wouldn't try. The mural-covered front is worth seeing. It's painted by Ian Ross, who also used to run the Ian Ross Gallery, an urban and contemporary art space in SoMA. This space was later named the Rocha Gallery which held it's last show there in 2016.
90 Natoma Street, Closest BART Stop: Montgomery Station
Arts & Culture
Located across from the SFMOMA and the Jewish Museum you'll find the Yerba Buena Center for the Arts. They are currently showing work by Damon Rich and Jae Shin, partners in the design studio Hector. Hector is an urban design, planning & civic arts studio serving both private, public & non-profit clients. The show is part of "The City Initiative" which focuses on architects, designers, planners and artists creating new and provocative urban environments. For extra culture points, check the calendar to for films being shown while you're in the area.
701 Mission Street, Closest BART Stop: Montgomery St. Station
Sites Unseen Project has created a bit of a scavenger hunt for local art fans. Head to the Moscone Center Garage, located near the SFMOMA. Once you spot the colorful patterned work of the well-known artist, Barry McGee, you'll know you're in the right spot. Head up into the six-storied parking garage. Hidden in the interior of the garage and on the rooftop are Barry McGee installations.
Moscone Center Garage, 255 3rd Street, Closest BART Stop: Montgomery St. Station
The Grand Newsstand is a tiny newsstand stocked with predominantly local publications, ranging from art, zines, politics, DIY, music, poetry, and other topics of today. This traditional newsstand is an unlikely sight among the Goliath glass buildings that largely make up the Financial District—which makes it all the more charming.
On Market Street & Steuart Street, Closest BART Stop: Embarcadero

The Official Details:
BARTable Summer Sweepstakes runs July 6-31st.
To enter the promotion, vote for your favorite staycation package ideas.
5 winners will be chosen at random on Aug 1st.
Stay tuned for details on the other packages coming later within the month.
Related Article: Giveaway #1: 5 Epic BARTable Staycation Giveaways: First Up, Downtown SF