Candlestick Mural Unveiling: Local Art Collectives & Midway Gallery Combine Creative Forces in Bayview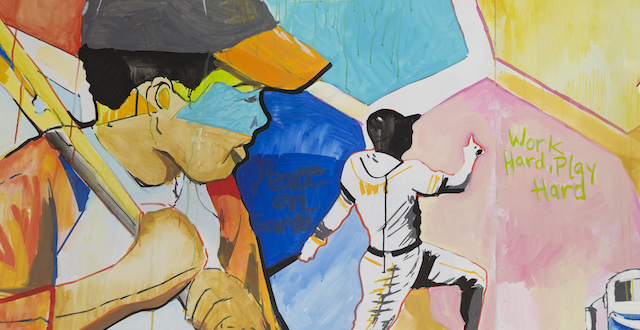 The Midway Gallery will be unveiling a selection of fourteen sizeable murals from Bayview artists and youths. The event serves as a celebration of the history and future of the transitioning Bayview-Hunter's Point neighborhood and will take place this Saturday, June 10.
Participating street artists include Cameron "Camer1" Moberg, Joseph Colmenares, Josue Rojas and Malik Seneferu—a mix of artists painting large-scale urban pieces and working closely in youth development and community engagement throughout the 7×7 area.
Expect to also see interactive installations from Imprint.City and ArtSpan, two organizations work closely with residents to connect artists and spark development of city cultural programs. The event will also include a documentary screening from BAYCAT (Bayview Hunters Point Center for Arts & Technology) following the mural painting process.
Each of the pieces aims to capture the vitality and distinctiveness of the districts surrounding Candlestick Park, which has seen a number of major changes over the years. Most notably, the windy stadium site for both the 49ers football team and Giants, prior to the late 90s construction of AT&T Park.
Bay Area psychedelic soul group Monophonics will provide a dreamy soundtrack to the event. Complimentary beer, wine and BBQ will be provided by local purveyors Auntie April's Chicken-n-Waffles, Radio Africa & Kitchen, Native Sons BBQ and in-house The Midway Culinary.
The public artwork will find its home at the historic Candlestick Park, an area which has development plans underway for a residential complex that would include designated areas for retail, dining, leisure and the arts.
The Bayview/Candlestick redevelopment plan is being led by FivePoint, a pioneering developer of mixed-use and planned community projects across coastal California, which also headed recent construction of the SF Shipyard.
Together, the two projects consist of over 750 acres of building land, 350 acres of which is designated for park use. Working to meld tradition with modernization, the streets bordering Candlestick will take on the names of the legendary stadium's heroes and form a central hub where residents come together to live, work and play.
Like The Midway art gallery space, which doubles as an educational space, music venue and meeting place for emerging technologies and the culinary arts, the Candlestick site will provide for its residents in more ways than one.
The spokesperson for FivePoint said the inventive redesign of Candlestick is put in place to embrace co-creation with the community and encourage curation. "Candlestick will be a conduit for connecting new neighborhoods with old; established businesses with innovation; and new opportunities with local energy," it said.
Artist Moberg, now a resident of the 94134 zip code, grew up visiting friends in Bayview. He's worked on a number of art projects there and even helped to lay the gym carpet at the local YMCA back in the day.
While he acknowledges that sometimes it feels there are two separate worlds coexisting in the neighborhood, he also sees art as a unifying force for building a more collectively diverse future.
"I'm hoping it can be a place where the generations long before us still have a place to call home. I hope it's a place they can thrive," he said. "A place where the stories of old aren't lost but laid as a foundation for collaboration. A place that is welcoming to the new but strong in their foundation."
+++ The Midway SF (900 Marin Street, with parking available along Marin, Michigan and Cesar Chavez Streets)
The event is free and open to the public from 11am-4pm.