Sample Your Way Through the Bay Area's Finest Foodie Offerings at Eat Drink SF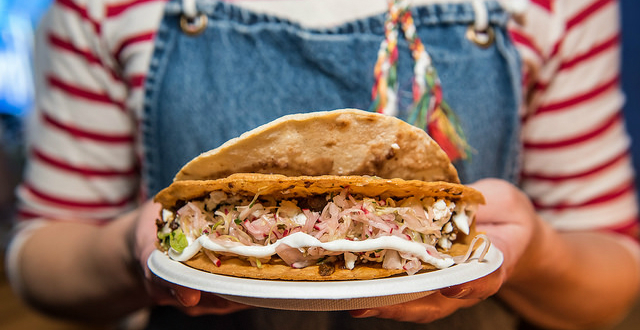 San Francisco's premier food and drink festival, Eat Drink SF, has returned with four glorious days of delicious programming. The event brings together Bay Area's top-tier chefs and restaurants, plus everyone else who will be swooning over the chance to get their hands on some of these delicious, decadent, and sometimes experimental dishes.
Oh, and don't forget the drinks! With more than 70 bars, distilleries, breweries, and wineries headed over to Fort Mason for this event, there will be plenty of tastings and batch cocktails to go around.
Eat Drink SF, formerly known as SF Chefs, will kick off with a legendary Taco Knockdown. More than 15 chefs, including past winners, will compete with their most creative take on the taco. Anything that's foldable and pays homage to the legacy of the taco is fair game. This friendly "competition" is in its third year and marks the start of the festival weekend.
All guests get to try every taco, wash them down with a full selection of beer, wine, and creative margaritas (included in the ticket price), and cast their vote for the People's Choice Winner, alongside a panel of expert judges who award the Best Overall winners.
After the Taco Knockdown, four signature Eat Drink SF Grand Tastings sessions are set to take place throughout the weekend. Tickets for this indulgent food lovers' haven includes all food and drinks, along with the opportunity to meet and eat with the chefs and culinary personalities that make the Bay Area a world-class dining destination.
Each Grand Tasting features over 30 different top Bay Area restaurants that rotate at every session. While you're there, learn a thing. Catch culinary demonstrations and presentations on the main stage and attend drink-focused programming in the beverage classroom, presented by the San Francisco Wine School. The full programming details for Eat Drink SF will be announced later this summer.
VIP tickets are also available for the Grand Tasting Sessions, which give guests early access (45 minutes before general admission), entry to a private lounge with exclusive food and beverage options. Early bird tickets go on sale May 23. Ticket prices will increase incrementally as the event gets closer.
+++ Taco Knockdown Kick Off Party at The Pearl (601 19th St.)
August 24 from 6:30-9:30pm (Early Bird: $69 | Regular: $79)
+++ Eat Drink SF Grand Tasting Sessions
August 25-27, 2017 at Fort Mason Festival Pavilion (General Admission Early Bird Tickets: $99 | VIP Early Bird Tickets $189)