Ever year, the public has the opportunity to vote for a hardworking individual and an organization to be honored at the SF Pride parade and celebration. All of the 2017 nominees for SF Pride Community Grand Marshal have contributed to the strength, beauty, and complex fabric of the LGBTQ communities in the Bay Area through their advocacy efforts.
Voting is currently live and ends on 12pm on Tuesday, March 7, so if you have a pick, let it be known!See below for the complete list of nominees. To cast your vote and read more about the details of each nominee, visit the SF Pride ballot website. The 2017 San Francisco Pride Celebration & Parade is scheduled for the weekend of June 24th and 25th, with the Parade and March happening downtown that Sunday.
Nominees – Individuals
– Dr. Marcy Adelman: psychotherapist and pioneer in the field of lesbian and gay aging
– Judy Appel: activist, attorney, advocate, and parent who spent 11 years as the Executive Director of Our Family Coalition
– Blackberri: song stylist, songmaker, poet, writer, photographer, health educator and community advocate
– Chris Carnes: activist, fundraiser, event producer, and philanthropist
– Billy Curtis: community activist and advocate, and current director of UC Berkeley's Gender Equity Resource Center
– Sean Dorsey: transgender dancer, activist, and community organizer, and the Aristic Director of Sean Dorsey Dance
– Jewelle Gomez: author of eight books including the Black, lesbian vampire novel, The Gilda Stories, winner of two Lambda Literary Awards
– Amy Sueyoshi: educator, activity, and leading scholar in queer Asian American History
– Tom Temprano: LGBT activity, small business owner, and elected to the City College Board of Trustees
– Alex U. Inn: advocate for justice and equality, named to sainthood by the Sisters of Perpetual Indulgence, and winner of 32 gold medals at the Gay Games/Gay Olympics
Nominees – Organizations
– El/La Para TransLatinas: the organization's mission and vision is to work to build a safe world where translatinas feel protected, loved and able to develop themselves
– HealthRIGHT 360: gives hopes, builds health, and changes lives for people in need by providing primary medical, mental health, substance abuse disorder treatment, and re-entry services
– National Center for Lesbian Rights: national legal organization committed to advancing the civil and human rights of lesbian, gay, bisexual, and transgender people and their families
– Our Family Coalition: advances equity for LGBTQ parents/caregivers, and prospective parents through direct support, parent and community education, and statewide advocacy
– San Francisco Gay Men's Chorus: a powerful mix of extraordinary musical excellence and mission-driven activism for 40 years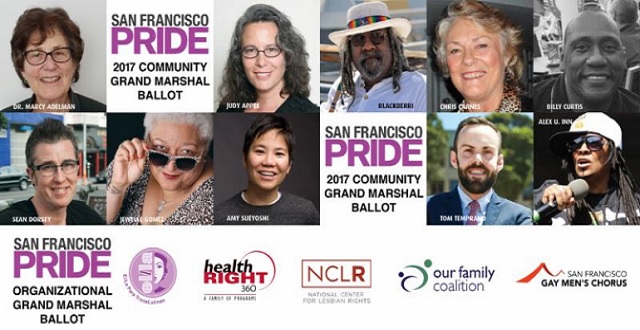 The theme for this year's Pride event is A Celebration of Diversity. "Our theme of inclusion, and the significant anniversary of the Summer of Love, could not come at more critical time," says George Ridgely, Executive Director of the San Francisco Pride Committee. "As our communities face an uncertain future at the hands of the new Presidential administration, it is more important than ever to reaffirm our core values of inclusion, diversity, and equality, and resist intolerance in any form. San Francisco has always been a beacon of these values."
The San Francisco Pride The Celebration, a rally and festival at Civic Center Plaza in San Francisco, will feature keynote speakers addressing pressing issues facing LGBTQ communities, performances, live entertainment, and over twenty community-produced stages and venues. The Celebration is free to attend, with organizers requesting a $1 donations from each attendee.