Chinatown Adds Mega Grocery, Retail, and Multi-Restaurant Space 'China Live'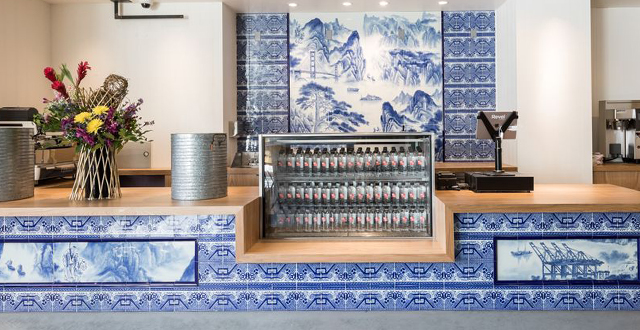 A $20 million, 30,000-square-foot space called China Live is now open in Chinatown. After three years of development and hiring 90 employees, the massive project, created by veteran restaurateur George Chen (Betelnut) and his partner Cindy Wong-Chen, is ready for primetime. As of March 1st, a couple quick steps off Broadway and Columbus and you're at the doors of this new market megaplex.
At the moment, only the first of three floors are open for business and operating hours are 5-10pm. Upon entering China Live, flowers from Frank Lo are sold by the bunch, followed by Oolong Café, which serves grab-and-go tea and pastries. Be sure to take a look at the urban-inspired blue tile work here; the Oakland cranes painted in a super classic style feels hip and unexpected. The majority of the first floor is taken up by the Market Restaurant, a 120-seat, full-service restaurant with a daily-changing menu of dim sum, Chinese barbecue, salads, noodles, rice bowls, seafood, soup, stir fry, dessert, and more.
At this restaurant, there are four counters surrounding a walk-in-only seating space, each dedicated to different cooking styles: barbecue and grilling, wok and seafood, dumpling and dim sum, and dessert. Food will only be available at the tables, but dessert can also be ordered for take-out. Besides buying products, the retail area offers tastings, classes, and videos projecting traditional Chinese cooking techniques onto the walls.
There are also two bars made from large, Chinese river rocks that are dedicated to tea and soy sauce. The high-end tea costs as much as $1,000 per pound and can be purchased by the ounce. Also available for purchase are a variety of ground spices.
The second and third floors of China Live are expected to open in the spring. Floor two will have an upscale, seasonal eight-course Chinese tasting menu restaurant, Eight Tables by George Chen. In addition, there will also be a 40-seat, "sensuous" craft cocktail bar that overlooks the street, along with The Gold Mountain Lounge, a 32-seat lounge for drinks and private dining.
The third floor will serve exclusively as a private event space for up to 200 people.
At some point, the rooftop will include a bar and herb garden, but there is no timeline yet for completion.
China Live, 644 Broadway (near Columbus Ave)