Now in its 17th year, the two-evening event at the Regency Ballroom beckons thousands of party-goers to indulge in costumed theatrics and Victorian-era hijinks exploring the life work of author Edward Gorey.  There are few events as grandiose or eccentric as the San Francisco's annual Edwardian Ball.
The Edwardian Ball events have received worldwide attention, gained backing from the Edward Gorey Charitable Trust, and expanded its inventiveness each year to new cities like Los Angeles and, for the first time this year, New Orleans.
This year, Mad Dog Madigan, the Edwardian Ball's Art Director, takes the idea of cosplay to the next level with its very own Social Registry, a social media-style platform that allows attendees to craft profiles for the persona they'll embody come event night. Kind of like a Who's Who of the Edwardian epoch.
Taking after a different short story each year, both upcoming nights explore the imagination of Edward Gorey, who helped defy the boundaries between the macabre and whimsical in gothic literature. With their immersive repertoire, they celebrate an author most recognizable by his long fur coat and fluffy white beard, and best-known for an anthology that depicts scenes of the absurd and unusual.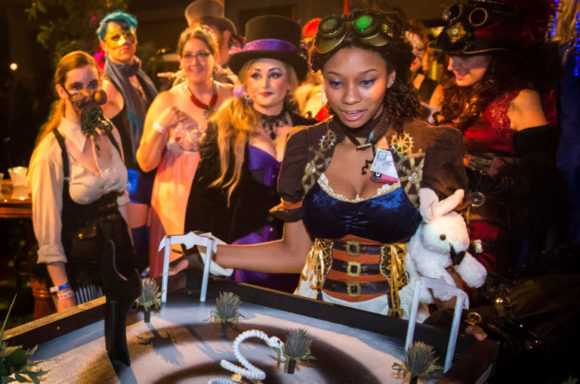 Photo by Marco Sanchez
"This is like the Cotillion of San Francisco, everybody shows up for this," Madigan said. Each year, he said, the number of participants has grown—one of the reasons the original Saturday evening event expanded to also include Friday nightand larger groups have started to embrace the characters behind the costumes.

Making a debut this year will be a small in-house theater playing a rendition of "The Deadly Blotter," an alphabetical murder mystery, as well as a miniature LED-lit diorama of "Edward Gorey's Dracula," which won him two Tony Awards on Broadway–one for Best Costume Design and also Best Scenic Design.
Like many stories, the Ball's inception started with a hint of inspiration: one that Justin Katz, co-founder of the event and longtime member of musical ensemble Rosin Coven, came up with, among friends in a martini bar in the middle of the desert (think Burning Man).
At the time, Katz's band was already inching towards infusing other elements to their sound, such as acrobatics, dance and dramatization. Not long after their humble beginnings playing at SoMa's Cat Club venue space, Rosin Coven teamed up with Vau De Vire Society, an avant-cabaret collective which now guides all on-stage extravagance at the event.
"I think the ethos is very San Francisco," Katz said. "There's been a lot of Bay Area cultural and musical events that have evolved to include collaborative participation. People co-creating. That was something that has always been very important to us."
Today, the Edwardian Ball is a port-of-call for historical period devotees and anyone who's drawn to the obscure and mystical. Two nights of enigmatic charm (most everything is left a surprise until you get there), hold the promise of steam machinery, absinthe elixirs, elaborate sideshows and dark parlour games.
Costumes breed ostentatious characters that feel part flapper-steampunk, part railroad tycoon-femme fatale. Katz says there "really is no dress code," as long as everyone chooses to dress outside their own norm.
On-site vendors peddling nonsensical wares and rarities are both repeat and varied, with longtime vendor Dark Garden Corsetry & Couture serving as a muse for much of the garments that grace the halls of the Regency.
The staircase plans to feature excerpts of "The Deadly Blotter" so participants can begin to make sense of the story as they reach the top–a foreshadowing tactic likely akin to what Gorey would have wanted for his audience.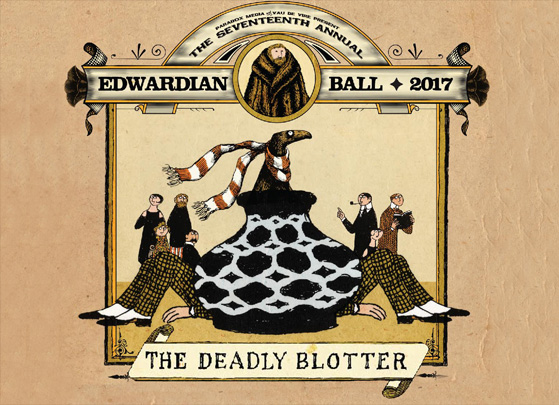 The Saturday Afternoon Tea in the Museum of Wonders and Saturday's Edwardian Ball tickets are already sold out, however, tickets for Friday's Edwardian Ball are still available here. There is also a Daytime Edwardian Ball Vendor Bazaar on Saturday.