Fantastic Negrito Keeps on Rolling With New Record & Tour with Temple of the Dog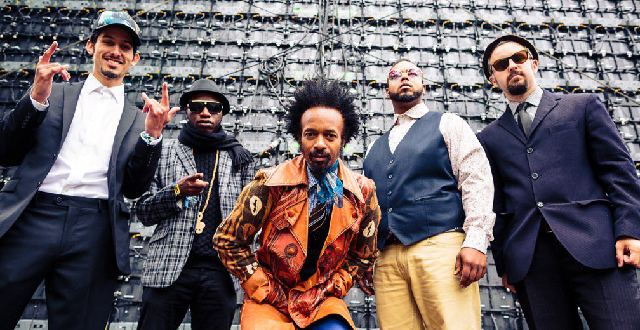 Oakland's Xavier Dphrepaulezz is brainchild/mastermind/creator of Fantastic Negrito, the winner of 2015's NPR's Tiny Desk Contest. The singer, who was once signed to Interscope Records in the '90s, has now taken advantage of his second wind with a sense of unforgiving righteousness and honesty. After a big year that included performances at Outside Lands, Bottle Rock and Hardly Strictly Bluegrass, Fantastic Negrito find themselves doing big things again, hitting the road with '90s one-off supergroup, Temple of the Dog with shows at the Bill Graham Center on Friday, November 11th and Saturday, November 12th.
I interviewed Xavier about a year ago while he was recording the album version of "Lost in a Crowd," now featured on his latest record The Last Days of Oakland. When our interview ended, he said "here we are, a couple of strangers talking like we're old buddies." That quote resonated with me–not only because I agreed, but because that type of connection, that real communication between strangers, has become increasingly rare over the past decade. This type of attitude is one that Xavier and Fantastic Negrito embodies without any apologies.
The band's mission is told by storytelling, through Xavier's eyes, a perspective that has been humbled, once jettisoning to the top while plummeting even faster back down. This time around, the difference is honesty, with himself and the world around him, daring and provoking authentic conversation. I caught up with Xavier once again to chat about his recent success and linking up with Temple of the Dog's Chris Cornell.
So last time we spoke, you were recording the song, "Lost in a Crowd," which landed you the win for NPR's Tiny Desk Contest. Now it's been released on your latest record, The Last Days of Oakland. Was this a lengthy recording process?
I had like two months to record it, and the whole process took about three months. I get really involved when I write. You wanna get in there and have a solid team to help you accomplish what you want to get done. I like my albums to have that raw sound with a sense of anticipation and sense of urgency. You have to be in a certain mode, lyrically, to get things as honest as you can get it. 'Lengthy' is a good word, it's a deep process so you don't want to overdue it. You wanna keep the sense of urgency and freshness.
I agree. Often times our first thoughts and first takes are the most natural.
Music is a spirit of human expression, you can't rehearse that too much. The music we all love that's meaningful, it has that magic. With Tiny Desk, it was one take. That's what I like and what I love about live performances. The "Honest Man" [vocal track] was one take. The song "About a Bird," they just rolled out. I live for that moment. As an artist, you just tap into that magical energy. All the money in the world can't produce that energy, and when people can relate with you, nothing is better than that, making that connection.
It seems like this record is very honest and very relevant with what's going on in society today.  
I'm surprised the legs that it's grown. It just keeps on going. I thought I'd be recording a new record but people are still interested in it globally and still discovering it. I can feel it out there.
It definitely seems to be relatable not only to the Bay Area, but globally, as you said.
It's got legs. I was speaking with people internally and they were like 'do not record another album.' It's been consistent, we even hit number four in the blues category on the billboard charts, so I'm like, let's keep going. It's pretty relevant.
We did a video "In the Pines (Oakland)" that made us some friends, and made us not have friends, too. I basically turned it into a nine minute movie.
I'm not in the business of winning a popularity contest.
People who were close were like, "you should take this out, you should take that out" but I rewrote the lyrics for a reason. I changed the key and added a bridge. It was personal to me, and for women who had to bury their children due to gun violence. This has happened in my family and these women were the strongest people I've ever known. So it has to do with gun violence and police, and people want to turn away from that on both sides.
One of the great things is that you play this bluesy, black roots style of music that's fun and groovy, and yet your lyrics carry a strong message without getting too political. You're still a musician, not an activist trying to spread a message through music.
I'm not an activist or a politician. All I'm doing is saying, 'hey this is where I am.' I don't want to be a political musician, I have no interest in that shit. I'm trying just to just connect to people and you can't do that if you're just pissed off at everybody. It takes a conversation, but you're not gonna win everyone's heart. And if you wanna do that, you're gonna be unhappy. If you wanna be liked by everybody, that's terrible. I don't wanna be a pop star. I'm about expression and humanity. If you caught me twenty years ago, I wanted to all that stuff.
How did you connect with Temple of the Dog for this upcoming tour?  
I hooked up with Chris Cornell and he took me to Europe with my guitar. I learned a lot and when it was over I thought, 'that was great. Bye Chris, you are amazing.' And then he called me again and asked if I wanted to play the North American and Canadian tour. I took my guitarist and did that. And thought, 'Man, Chris, we are brothers. We're family now.' And then boom, he hits me with you wanna do the Temple of the Dog tour? And I was like, 'you're shittin' me!'
Just imagine that–him and his guys were all talking about it, and they decided there was no one better. He's been a big brother to me, just amazing…even a teacher. I've learned a lot from him. I'm very grateful for that relationship. He single-handedly changed 2016 for me. All these tours came from him personally, to have me come out there and pick up my guitar. To have me grow as an artist with my guitar, playing for 3,000 people sitting down and staring at you. Admittedly, I had to see Chris and how he did it. I just added that to my arsenal. I have a soft spot in my heart for that guy. When you see the show it all makes sense. On paper, you're like 'I don't know?' I was so well received by his audience, and it's a testament to stripping down your songs. You think your songs are good? Then open up for Chris Cornell with just your guitar.
I have to admit, I was a little surprised to see you billed as the opener for Temple of the Dog, but there is a rawness in your music that's similar to old Soundgarden and Pearl Jam.
They were like the rebellious raw people of their time, and I was like some older dude coming with this rawness. He told me himself, 'I pressed on your link and was like oh this is it.' But what matters in the end is how good your song is. You think this album is good? Get up here and sing it in front of people who don't give a damn.
Chris Cornell has also been humbled in his career, having to reinvent himself with Audioslave and his solo material.
I think he's a chameleon, and whatever he does is pretty damn good. If it's not gonna be Soundgarden, it's gonna be something else. That just shows the genius of his ability to stay alive. He's been received by different people. If you go to the shows they may not be sound garden people because he's able to recreate himself without a genre. And that's why he's so good. I always say, 'a genre is a good place to hide.'