Athen B. Gallery's Winter Exhibition Showcases Diverse Range of Artistic Mediums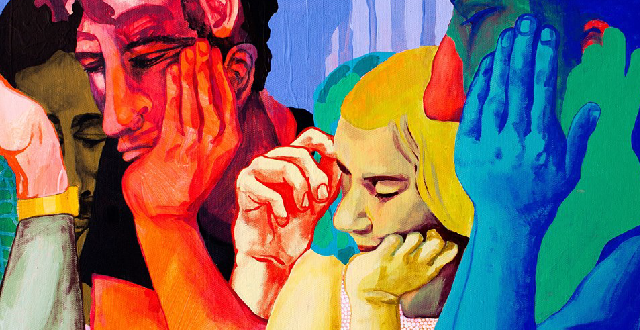 This coming Saturday, Athen B. Gallery will host a reception for its first major group show since opening last July. Entitled, "Winter Group Exhibition", the arrangement will showcase works from over 30 participating artists across a range of mediums, including woven fabrics, oil paintings and sculpture.
Each of the 36 artists were asked to display one piece in a medium that is definitive of their career. The outcome? A widely diverse collection of works by both new and returning creators of the contemporary-focused gallery in Downtown Oakland.
If you've yet to see a recreation of a Persian rug hand-painted with acrylic and ink by Miami-based Jason Seife, or the eccentrically methodical abstractions that have come to characterize work by local artist Heather Day, the upcoming show at Athen B promises that and more.
Several of the artists have already paid a visit or two to the gallery since it's opening. Both Beau Adams, whose work experimented with satirical post-religious settings in his series "Opus Die" (and who boasted no website, social media accounts or gallery shows for over six years), and Bunnie Reiss, whose hair-themed portraits were covered here last September in the all-female show "4%ERS", have debuted work at Athen B in the past.
We also ran an article last year featuring Woodrow Wilson, son of the puppet master behind 80s cult classic TV-show Pee-Wee's Playhouse, who now joins the slew of artists at the gallery this month. 
Full artist list:
ADRIAN LANDON BROOKS
ANDREW BARNES
BEAU ADAMS
BRETT FLANIGAN
BUNNIE REISS
CHRISTOPHER BURCH
DAN HAMPE
DANIEL SEGROVE
DAVID BRAY
DAVID MARC GRANT
ERIN M. RILEY
GAGE OPDENBROUW
GRADY GORDON
HEATHER DAY
IAN JOHNSON
ILEANA TEJADA
JASON SEIFE
JP MCNICHOLAS
KATE KLINGBEIL
KELLY TUNSTALL & FERRIS PLOCK
KEVIN UMANA
KIT KING
LAUREN NAPOLITANO
LEIGHTON KELLY
LYNNEA HOLLAND WEISS
MARSHA ROBINSON
MAX KAUFFMAN
MONEYLESS
MUZAE SESAY
NICOMI NIX TURER
SADDO
STEVE CHELLIS
TROY LOVEGATES
WINNIE TRUONG
WOODROW WHITE
WORD TO MOTHER
+++The "Winter Group Exhibition" opens Saturday, November 12 at 7pm at Athen B. Gallery, 1525 Webster St, Oakland, CA
Related Article: Fecal Face Debuts All-Female Art Show: Guerilla-Style
Related Article: Puppet Master Wayne White (Pee-Wee's Playhouse) Ass Kicking Contest Show