Best Bay Area Bars to Watch the Golden State Warriors on Opening Night (and All Season Long)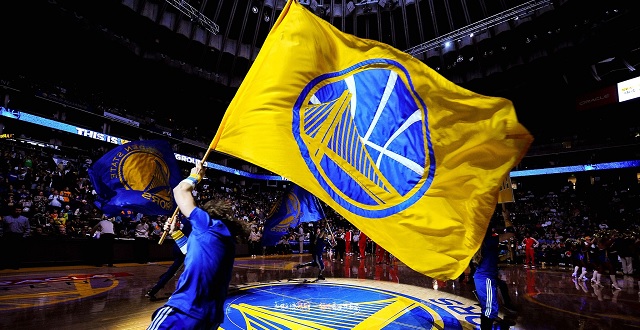 Following an NBA record-setting year for the most regular season wins, a heartbreaking loss in the NBA Finals, and the fourth of July signing of superstar Kevin Durant, the Golden State Warriors have elevated their status to must-see entertainment every night they play basketball. Expectations for this year's squad are even higher than last year and the team is perhaps even more motivated by their championship round collapse. Thankfully, the Oakland-based, soon-to-be San Francisco team, represents the entire Bay Area, rather than an adversary.
To get fans excited for the upcoming season, we put together a round-up of some of the best places to watch the games in the Bay Area—from San Francisco, to Oakland, to the Peninsula.
Opening night of the Warriors regular season begins tomorrow, Tuesday October 25 against the San Antonio Spurs.
San Francisco
Ted's Sports Bar – 312 Harriet St. (SoMa)
Lots of booths for seating with prime viewing, along with a pool table in the back surrounded by flat screens. Tons of sports memorabilia on the walls from all the local teams. Cheap pitchers of beer, plus get down and dirty with the popular grilled, spicy and sweet chicken wings.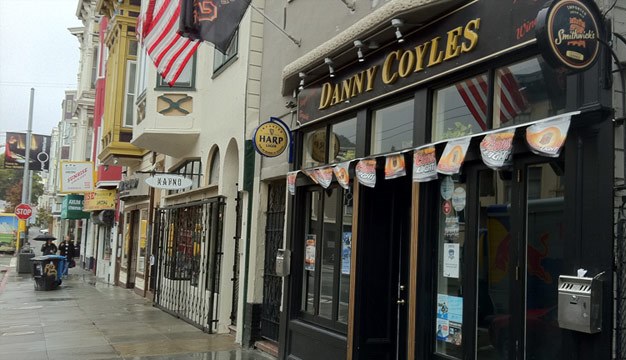 Danny Coyle's – 668 Haight St. (Lower Haight)
This place has many TVs and a huge projector in the back. It's pet-friendly and they allow patrons to bring food into the bar to eat while watching the games. The beer list is decent, plus a $6 shot of Jameson whiskey and Tecate deals are a flowin'.
Valley Tavern – 4054 24th St. (Noe Valley)
Find standard booze selections and no-frills food items like fries, wings, and burgers. For sunny days, there's a big outdoor patio with plenty of TVs for watching games. This bar is super spacious with bar seating, booths and regular tables up in the back.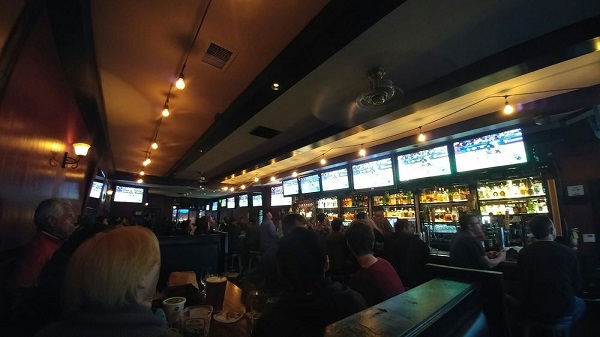 Blackthorn – 834 Irving St. (Inner Sunset)
Highlights include comfortable leather chairs, pool tables, lots of flat screen TVs above the bar area, and a hidden patio in the back. This is a fun place that can get loud in the evening—a great atmosphere to meet some fellow fans. No food served, bar snacks available.
Oakland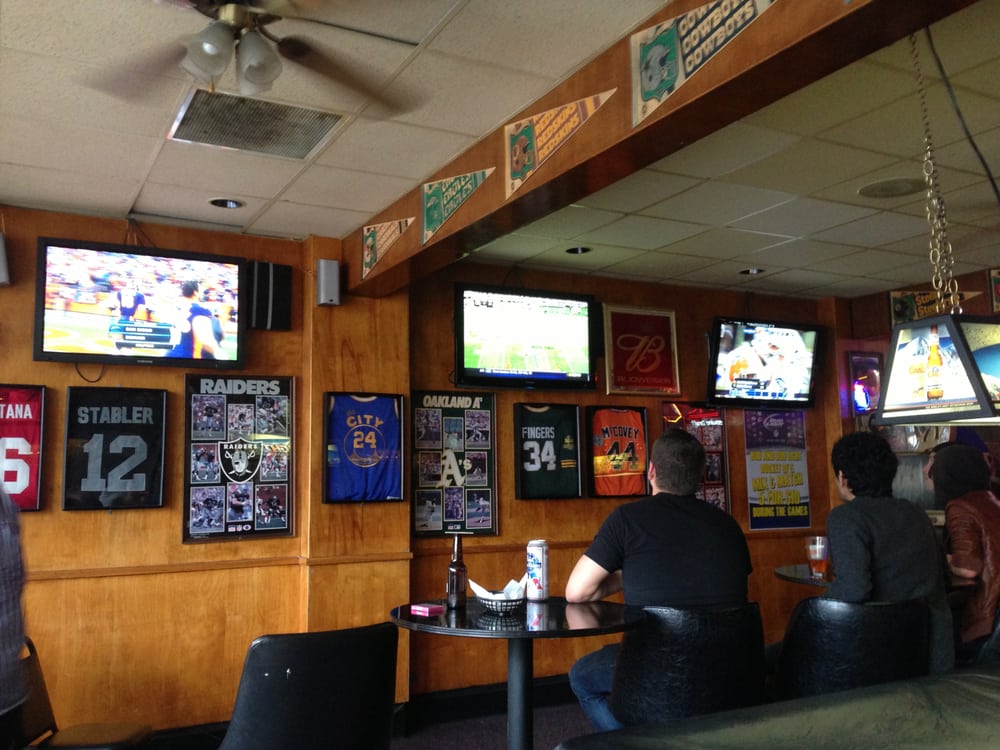 George & Walts – 5445 College Ave. (North Oakland)
This cash only, casual spot has two pool tables, a few arcade games, tons of seating, and TVs almost 360 degrees around. Plus reasonably priced drinks and food, including burgers, fries, and chicken wings.
Philomena – 1801 14th Ave. (East Oakland)
Chalkboard walls plus wood and steel finishing adds a more modern atmosphere to our list. While the noise-level here is taken up a notch, so is the comfort food menu options. Try the garlic knots served with marinara sauce, pork belly pizza, and jalapeño fries.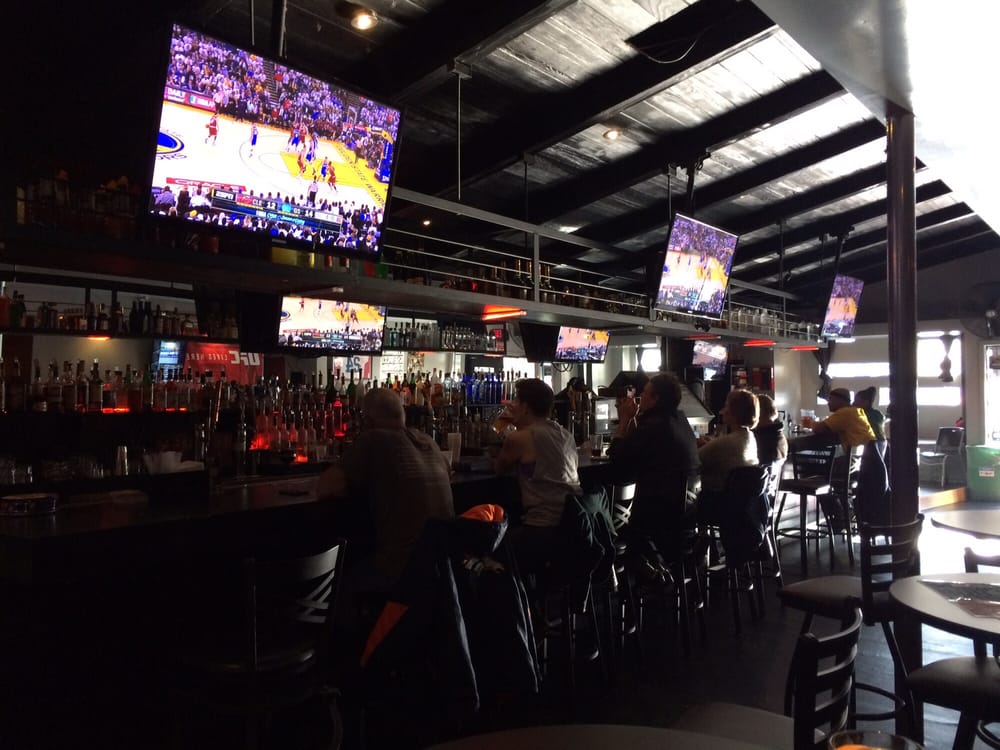 Halftime Sports Bar – 316 14th St. (Civic Center)
You can find lots of TVs and even board games to play at this downtown dig. There's also domino in full effect here, including chances to win some cash money. The atmosphere is also livened up with some DJ action during commercial breaks.
Overland Country Bar & Grill – 101 Broadway (Jack London Square)
Don't be perturbed by this barn-styled environment or performance stage. This restaurant comes complete with  lots of TVs everywhere in this joint, so there are no bad spots for game viewing. Plus the food spans everything from pulled pork sandwiches to Mexican and Asian fusion plates.
Peninsula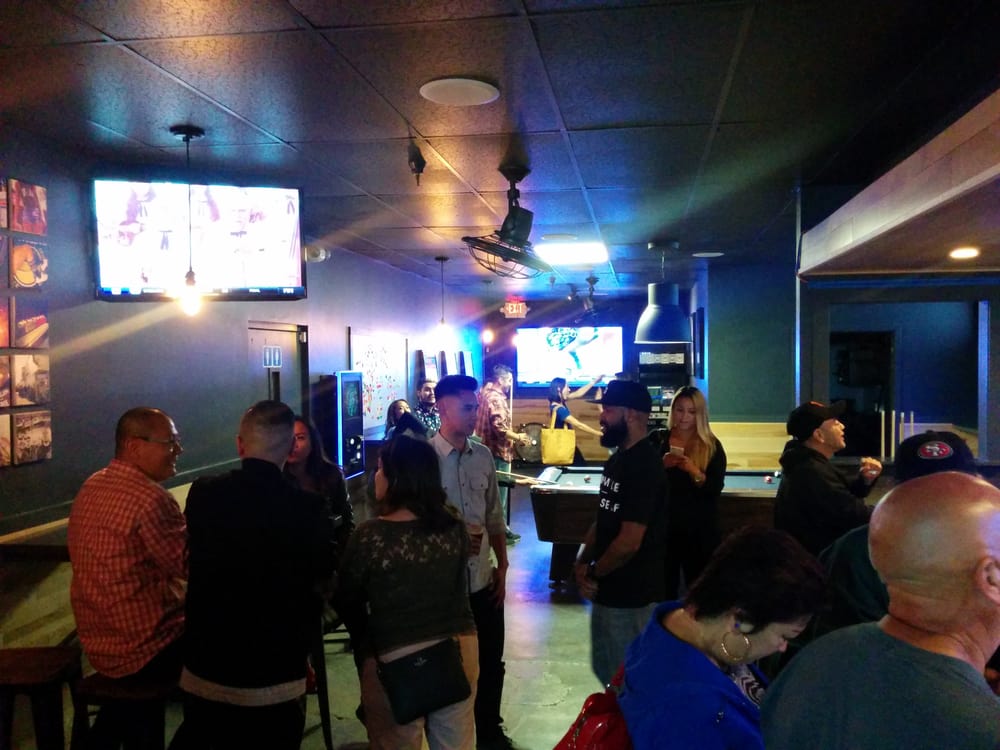 Hometown Heroes – 303 Grand Ave. (South San Francisco)
This newer bar makes for a good after-work happy hour. Giant TVs, a pool table, and even a Plinko game.
Last Stop Sports Bar and Lounge – 6192 Mission St. (Daly City)
This happy hour hot spot has solid and affordable booze and liquor selection. No kitchen means no food, but you can bring outside meals. Their DJs generally play hip hop jams during halftime—maybe this will be your big chance to bust out those mascot moves?
BarrelHouse – 305 California Dr. (Burlingame)
Good vibes, dark wood interiors, and good service are what we think of when we think of this spot. Wine, cocktails, and beer are offered. Hang at the bar area upfront or chill in their small seating area. There are two TVs here, plus an outdoor area shared with a kitty corner pizza joint.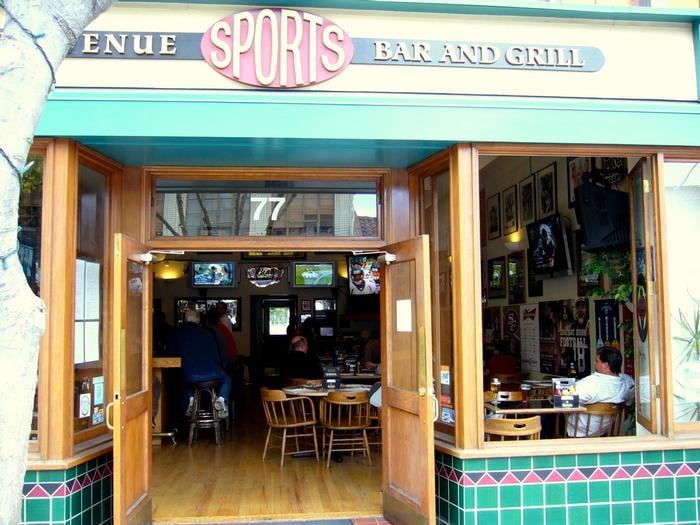 3rd Avenue Sports Bar – 77 E 3rd Ave. (San Mateo)
Solid beer selection, reasonably priced drinks, in addition to burgers and wings options, makes this our main San Mateo go-to spot. This place can seat a lot of people but can also get crowded on big game nights.
In the comments below, feel free to share some of your favorite spots!