The cobwebs are out of the Halloween box and all the oversized arachnoids are hanging out with the rest of the town painted orange and black—and not for the Giants, unfortunately.
Everyone with a fondness for fantasy and a hankering to dance are growing giddy with excitement and already chattering about the best events poppin' off in the Bay this Halloween weekend. True to form this year, San Francisco is offering another overwhelming array of events promising to tickle our fears and provoke our wild sides. Here's just a preview of some of the parties we're about to see come to life.
Insomniac Presents: BOO! SF at Bill Graham Civic Auditorium – October 28th & 29th (~$70 for single day)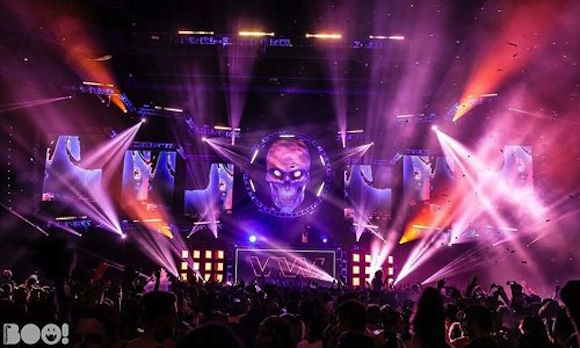 Alison Wonderland at BOO! SF 2015 – Kristina Bakrevski
Insomniac, the organizers of the globe traveling Electric Daisy Carnival, are returning to San Francisco's Bill Graham Civic Auditorium for the bass heavy Halloween rave, BOO! SF. Last year we saw Alison Wonderland rock the bedrock beneath the 7,000 capacity event space, nearly stealing the show from Flosstradamus. This year's two-day event brings Yellow Claw, EPHWURD, and more to throw down on Friday night's ripper, while producers like GHASTLY and KSHMR are set to heat it back up for Showtek, who headlines Saturday night. Insomniac likes their smoke and lasers, and they're expected to bring back the gargantuan skull to oversee the festivities. We strongly recommend fitting this event into your Hallo-weekend plans. Full lineup and tickets here.
Ghost Ship Halloween: Atlantis – October 28th & 29th (~$60 for single day)

This themed, two-day Halloween event of pure madness seems to out-do itself each year. For 2016, Ghost Ship is transforming Pier 70 into the lost city of Atlantis, congregating some of the finest art installations of the festival circuit this year. Among the art will be a giant hand-crafted mechanical squid, along with the Thunderdome (cover photo), a scrappy arena spectators can climb for a view of the American Gladiator-style battlefield within. Attendees are also going to stumble onto the BopIt, a full-sized interactive machine that will spit flames if you can handle its increasing difficulty. By the way, the music lineup is also fire, with Dirtybird DJs, Aaron Axelson, DJ Dials, and so many more. Check out the video recap from 2014's Asylum-themed event (below), featuring footage of the build. Now think bigger, better, and underwater for this year's journey to Atlantis. Full lineup and tickets here.
Deadly Disco at The Armory – October 28th ($70)

It would be a sin for this venue with such gothic potential, and rich history as a National Guard Armory-turned-porn-castle to sit idol while the spirit of Halloween engulfs the city. Good thing Crossroads and Tilt have teamed up to seize The Armory for a frightful Friday night event with Thomas Jack. Also booked to perform is AMTRAC, a RAC DJ set, a silent disco and art cars recently spotted on la playa for this years Burn. Passes for the Deadly Disco at The Armory are set at $70. Doors are at 9pm and the producers have even chartered a booze-friendly Chariot to get you to the event without surge pricing. Grab tickets here.
Come Play With Us: A Midway SF and Modular Halloween Soiree  – October 28th
The writing's on the wall, and it reads "RED RUM!" If you dare, come see The Midway SF transformed into a haunted hotel inspired by Stephen King's The Shining. The Midway SF and Modular have booked Tiga for a live performance, with support from Totally Enormous Extinct Dinosaurs, a B2B DJ set from Martin Buttrich and Guti, and many more to fill The Midway's three massive dance areas with all play, no work. Full lineup and tickets here.
The Night Circus Soirée – October 31st (sold out)
This Soirée is our favorite concept Halloween party and it drops in on a secret location on Monday, Halloween night. The Night Circus is an event based on the 2011 fantasy novel of the same name, who's teaser provides a good idea of what we can expect of the event. "The circus arrives without warning," it reads. "No announcements precede it. It is simply there, when yesterday it was not. Within the black-and-white striped canvas tents is an utterly unique experience full of breathtaking amazements."
Tickets to this event came with the option to sit for the great Midnight Dinner, a specially catered feast with an undisclosed, yet undoubtedly delectable menu. Fortunate ticket holders should expect incredible music, dance, magic, and mystery at this wonderfully unique carousel. Though the event is sold out, Paradox Media—producers of this event and the world-famous Edwardian Ball—are also throwing a separate Halloween party called The Haunted Hourglass, with limited tickets still available.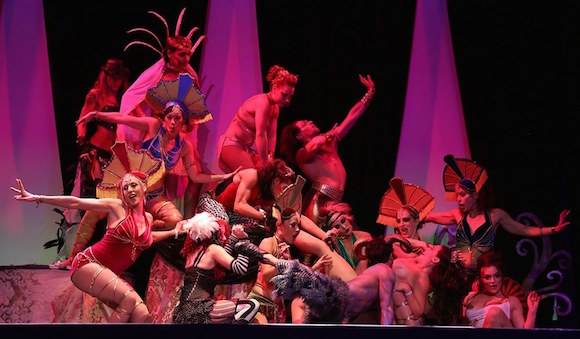 Photo of The Edwardian Ball – Beppe Sabatini
The Haunted Hourglass – a very Gorey Halloween – October 29th ($35-55)
The creators of the acclaimed Edwardian Ball are returning to its dark and intimate San Francisco birth place, the Cat Club, to present this imaginative Halloween event. The Haunted Hourglass will slip patrons through the sands of time to relive the wild mind of Edward Gorey and celebrate 17 years of the Edwardian Ball. Musical performance will be led by Rosin Covan with support from Dark Garden, The Klown, Decay, and many more. This is the party of the weekend for all ghouls in search of an intimate, Edwardian style affair. Find tickets and RSVP here.