Local Business Spotlight: Dorset Finds in Berkeley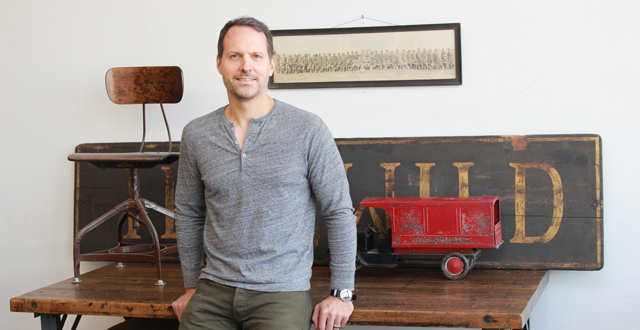 Justin Dorset, both a curator and collector, has lived in Vancouver, Calgary, Sydney, Melbourne, London and New York and has now chosen Berkeley's Gilman-San Pablo neighborhood for his showroom's location, which opened its doors earlier this summer. The new space, Dorset Finds, is full of one-of-a-kind tables, industrial lighting options and other hand-picked treasures, is as eclectic and colorful as Dorset's own life story.
We met up with this man with the plan (& style!) – here are some highlights.
How did you begin collecting vintage and antique items?
Having worked for record labels in Australia, as well as in the UK and the US for 17 years, I never recognized my interest in antiques as anything more than an extracurricular pursuit. It never dawned on me that I could make a living doing the other thing I was really passionate about–but in 2009, after buying an item with the express purpose of selling it–my fate was sealed. Initially, I just bought and sold finds, but I soon taught myself restoration techniques that allowed me to resurrect pieces that would have otherwise been overlooked. In 2010, I launched Dorset Finds.
Why did you move from New York to Berkeley?

My wife and I decided a couple of years ago to look for somewhere else to live. New York is not a city, it's the city. It's the benchmark. That said, once you've lived there for a number of years, the shine wears off. My wife, Virginia, grew up in Los Gatos, so the Bay Area seemed a natural fit, but we didn't want to cover old ground, so our move needed to be a fresh start–somewhere new. Berkeley checked all the boxes: closer to our respective families and friends in California and Australia, better weather, amazing food and a more relaxed lifestyle. It was an easy sell.
Did you make any adjustments in the store's selection to go with the location change?
The items I carry are the same here in Berkeley as they were in Brooklyn: custom-made dining tables, industrial lighting and the best selection of original Uhl Toledo chairs and stools on the West Coast. All the respectful restoration work is hand-done in order to preserve the soul and integrity that naturally comes with a utilitarian item that's been used for decades. My rule is to buy what I love. Whether it's a 1910s Japanned [copper oxidized] desk lamp or a Depression-era pressed-steel toy truck, I surround myself with the things that speak to me aesthetically.
Will you be doing your antique hunting here from now on?

Much of what I sell are artifacts from the industrial age. These pieces often originated in early 20th century factories—most of which were scattered along the East Coast and in the "Rust Belt." That's why it's a lot harder to find my type of inventory in California. Maybe that's why there are so few dealers specializing in vintage industrial here; as far as I can tell, I'm the only one in the Bay Area. I'll be buying what I can here but the vast majority of pieces will be sourced from elsewhere. I have a great network of pickers and dealers who are on the lookout for the things I like to carry at Dorset Finds.
Have you explored the neighborhood yet? What are your favorite current spots?
I'm a newbie and I like being a fish out of water, so I'm still in the early days of exploring. I love the pace of Berkeley. I love the weather and the food. I'm at Monterrey Market a couple of times a week, and I'm still dumbfounded at the glorious range of fruit and vegetables. What is a purple bell pepper anyway? I'm a big fan of Sam's Log Cabin in Albany. Their chilaquiles are to-die-for and the atmosphere is relaxed. It's Tops in San Francisco is also an old favorite for that nostalgic diner vibe. The landscape is changing rapidly and classic eateries like this with their original vintage neon signage are becoming more and more scarce.
What are your thoughts on all the Instagram décor clichés we see around?
I'm not particularly into trends. Never have been. Whatever your style, whether it's the way you wear your hair, your clothes, your music, your décor; put your own stamp on it. There's a huge corporate machine driving consumers toward buying the "now" products. There's always going to be someone telling you that something is wrong, out of style, too this, too that. Follow your gut. The décor that annoys me? The kind that's clearly been lifted out of the pages of a catalog without any reflection on the part of the buyer as to their preferred style or the items' practicality/functionality in their space.
What's the last find that got you super excited?
I'm a self-confessed chair nerd, and specifically, the Uhl Toledo brand. The Toledo Metal Furniture Company started in 1904 by bicycle manufacturers, Clement and Joseph Uhl. I recently purchased an early chair of theirs–possibly a prototype from 1902. It possesses a Japanned finish to the steel frame and a wood seat. What's remarkable about this piece is not only that it precedes the Toledo company by two years, but that the design details are vastly different from what was mass produced in later years.
Why Berkeley and not San Francisco, the big city?
It's pretty simple. My wife lived in SF in the early aughts and didn't want to retrace her steps. I really identify with that too. I've lived in Vancouver, Calgary, Sydney, Melbourne, London and New York and I don't want to move back to the cities I've already lived in, either. Life is too short to backtrack. We share the same philosophy that, so long as we're living in a city, we'll be just fine. No matter what, we'll never live in the suburbs. It's just not who we are. Berkeley is a small city, sure, but there are so many great restaurants and shops we can walk to. And we can easily access Oakland and SF too. Plus, we have kids, and the schools are good here. The great weather, amazing produce and warm people make Berkeley a welcome antithesis to living in Brooklyn. I can't wait to sink my teeth deeper into it.
Dorset Finds, 1201 Tenth St., Suite D, Berkeley, by appointment