Neil Young Invites Metallica, Dave Matthews, Norah Jones & Many More To Play 30th Annual Bridge School Benefit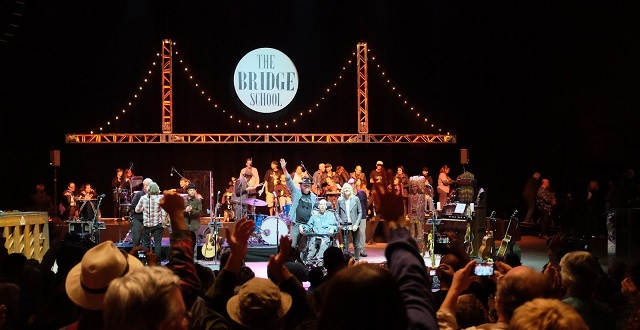 The always impressive lineup for Neil Young's acoustic charity event Bridge School Benefit has been revealed, with Metallica, Dave Matthews, Norah Jones, and many more scheduled to perform. The two-day event this year takes place October 22-23 at Shoreline Amphitheater in Mountain View.
Young will perform with his backing band Promise Of The Real, and he invited many previous acts to return to play at Bridge School. See below for the complete lineup. In addition to the announced musicians, a trailer for this year's concert also teased "special guest" performances. Tickets for this year's show go on sale on Monday, August 29.
The First Bridge School Benefit concert took place back in 1986 and the money raised was used as seed capital for The Bridge School, founded in 1987 by Young's ex-wife Pegi to help children with severe speech and physical impairments. All proceeds from the concert directly benefit the operations of The Bridge School.
Lineup
Neil Young + Promise of the Real
Metallica
Roger Waters
Dave Matthews
case/lang/veirs (Neko Case, k.d. lang, Laura Veirs)
Willie Nelson
My Morning Jacket
Norah Jones
Cage the Elephant
Nils Lofgren
Dave Matthews has played Bridge School Benefit seven times, while Norah Jones and Nils Lofgren (former member of Young's Crazy Horse and current member of Bruce Springsteen's E Street Band) will be making their fifth appearance. Metallica and My Morning Jacket having both performed at the event three times. This will be the third appearance for Willie Nelson.