San Francisco's Super7 Releases First 'Masters of the Universe' Episode in 31 Years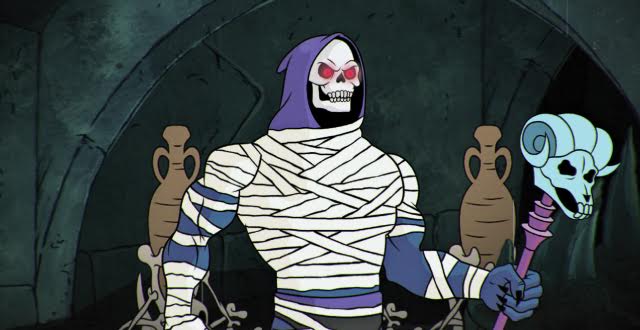 Unlike Vegas' motto, 'whatever happens at San Diego Comic-Con gets shared all over the internet.' True to form, following its standing-room-only premiere at SDCC, The Curse of the Three Terrors, a new Masters of the Universe animation, has been grabbing some major E-attention from the likes of Entertainment Weekly, Times.com, Nerdist and a number of other pop culture blogs. And, while pretty much every kid who owned a TV in the '80s knows who He-Man is, not everyone might know that this was the first animation released through San Francisco-based company Super7.
Super7 is a well-known name among vinyl toy collectors, comic convention goers, and nerd culture fans. They also have two brick and mortar locations in San Francisco–one in the Mission and the other location on Haight Street. While creating their own line of toys, Super7 has also been quietly ramping up on their collaborations with toy giants Mattel to create all things Masters of the Universe–toys, apparel, and now a dip into the world of animation.
The secret project to create a new episode in the classic 1985 Filmation style was in the making for quite some time. It was first announced in July, shortly before SDCC and right after PowerCon (a strictly Masters of the Universe convention in SoCal…and yes, that is a real thing.) Since then, hardcore He-Man fans who were not at the SDCC exclusive viewing of the new animation, have been left in anticipation over whether they're going to love or hate Super7's new addition to one of their most beloved 80s cartoons.
Super7's Brian Flynn and Joshua Herbolsheimer led the production on the project and ensured the aesthetic remained true to the original series while incorporating in some new characters of their own. Alan Oppenheimer, who was the original voice actor for Skeletor, is also in this one. And so, if he's down with this new version, fans of the old-school Master of the Universe should be too.
Downloads became available this week via iTunes and Google Play for $2.99 and so far the buzz has been good and nostalgic vibes intact!
Here's the description released by the company thus far. "'The Curse of the Three Terrors' continues the excitement of He-Man and the 'Masters of the Universe' where the original series left off, following the evil Skeletor, reprised by classic voice actor Alan Oppenheimer, on his continuing quest to defeat He-Man and claim the magical power of Castle Grayskull. In this brand new animation, Skeletor ventures to the Canyon of Spiders where he encounters an unlikely enemy. Will Skeletor's accidental discovery lead to the downfall of Eternia? Find out in the all-new animated adventure, 'The Curse of the Three Terrors'!"