20 Bands and DJs Performing in The Bay during Outside Lands Festival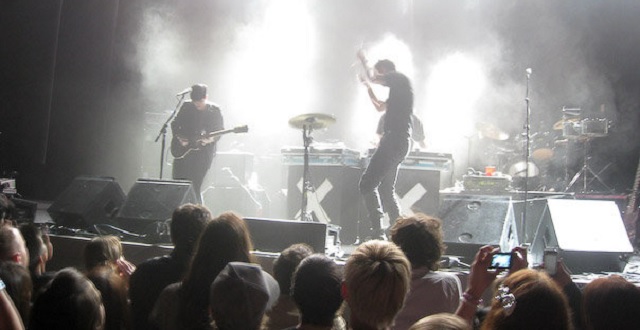 One major benefit to hosting a large music festival like Outside Lands is the multitude of live shows also happening locally. Each  year, many artists who travel here for the multi-day event will book additional shows while fans are also in town for the weekend. In addition, Outside Lands organizers host their own series of night shows for acts on the lineup to play—usuallyat more intimate venues.
Whether you're not able to attend Outside Lands, or you opted out because big crowds gives you hives, or you're just looking to double down on live music—check out our list of the best shows in SF happening around the big three-day festival, August 5-7.

Visit the SF Station events calendar for complete listings.
Thursday, August 4: Marissa Nadler at The Chapel
Gothic folk artist Marissa Nadler brings hauntingly sweet vocals and an acoustic guitar to the Chapel. Leveraging other instruments for ambient, reverb-rich production, the singer-songwriter has depth to her sound and plenty of content with seven studio albums under her belt. Her style can be compared to a downbeat variation of woozy-pop acts like Lana Del Ray and Father John Misty.
Thursday, August 4: Boyz Noize at 1015 Folsom
Having released his latest album Mayday in May, German electronic act Alexander Ridha (aka Boys Noize) will certainly ignite the Thursday night scene with an explosive dose of electro and techno. His new record has plenty of collaborations, including Poliça, Hudson Mohawke, Spank Rock, and Benga, all of which helps expand his live performance from industrial to hip hop and everything in between.
Thursday, August 4: Låpsley at California Academy of Sciences
Hanging out with animals inside the walls of a natural history museum is the perfect way to take in the sounds of British singer-songwriter Låpsley before she hits the big stage in Golden Gate Park. Her lightweight vocals flutter throughout her debut album Long Way Home, which dropped back in March.
Thursday, August 4: Marian Hill at Rickshaw Stop
To be expected, electro R&B duo Marian Hill will play for a sold out crowd when they return to Rickshaw Stop. Producer Jeremy Loyd and vocalist create a unique blend of minimalist beats and shimmering vocals with the occasional dose of sexy saxophone. For more on this high-rising pair, check out our interview with them from late last year.
Thursday, August 4: Poliça at The Independent
Minneapolis alt-rock quartet Poliça combine dark lyrical content and dance enthusiast energy. Their third album, United Crushers (also released in March) comes from the theme of uniting to crush negative forces such as poverty, violence, ego, vanity and rough relationships. Their style exhibits a strange juxtaposition of helpless evil and powerful hope.
Friday, August 5: Hot Chip at Public Works
This show is a sure bet for the weekend. This British electronic music band has six albums and received a nomination for the Mercury Prize in 2006 for the 'best album from the United Kingdom and Ireland'. For their live show, these savvy veterans will bring a fervent, beat-driven energy driven by their improvisations, contributing to an exciting and unexpected atmosphere.
Friday, August 5: A-Trak at Temple
Put on your dancing shoes and hit the club to see turntablist and Fool's Gold label boss A-Trak. The legendary Canadian producer has plenty of tricks up his sleeve to keep the beat alive, including a recent collaboration with Phantogram, "Parallel Lines." His intense rave tunes will pair perfectly with Temple's luscious nightclub vibes.
Friday, August 5: Branchez at Mezzanine
New York DJ Branchez offers chill house vibes and plenty of uplifting remixes, including Tokimonsta, Matt Zo, and Rihanna. His newly released EP 222 is just the beginning of tropical ascension.
Friday, August 5: Vic Mensa at Social Hall SF
Roc Nation member and founder of the hip-hop collective Savemoney with fellow rapper Chance the Rapper, Vic Mensa has been all over the map recently. Beyond his own material, he's collaborated with Kanye West by co-writing "All Day" and appeared on Life of Pablo in the track "Wolves," in addition to working with Australian producer Flume.
Friday, August 5: Hundred Waters at 1015 Folsom
The great thing about indie rock band Hundred Waters is its willingness to experiment. Consisting of vocalist Nicole Miglis on piano and flute, producer Trayer Tryon anchoring the electronics and bass) and percussionist Zach Tetreault alternating between drums and trumpet, the group's savvy blend of organic sounds steadily continued to redefine their style. Throw in an unexpected partnership with Skrillex's predominantly electronic OWSLA record label and previous tours with Alt-J and The xx to cap off the list of early accolades for this promising band,
Friday, August 5: Years & Years at The Independent
This Brit electronica trio plays a sold out before their big Outside Lands appearance as part of the official night show series. Following the release of their chart-topping debut album Communion, frontman Olly Alexander, bassist Mikey Goldsworthy and synth player/beat-maker Emre Turkmen will undoubtedly impress when they perform within the cozy Independent walls.
Friday, August 5: Ra Ra Riot at Rickshaw Stop
Indie rock fans should definitely consider visiting the underrated Rickshaw stop to catch a glimpse of New York quintet Ra Ra Riot. Vocalist Wes Miles leads the charge with help from bassist Mathieu Santos, guitarist Milo Bonacci, violinist Rebecca Zeller and drummer Kenny Bernard. The rising band harnesses a style signified through the use of vibrato-heavy vocals and dance-friendly rhythms.
Saturday, August 6: Psychemagik, Shiny Objects at Monarch
One part London, one part Los Angeles, the dance duo known as Psychemagik will deliver infectious remixes and pulsating original content when they appear at Monarch. The two will get help from rock and beach-friendly band Shiny Objects who also hail from San Francisco.
Saturday, August 6: Jauz at The Independent
22-year-old EDM star Jauz plays a sold out before heading to Golden Gate Park for his Northern California festival debut. The young star from Los Angeles already has smashing collaborations with Skrillex, Tiesto, and Marshmello. His new breed of dance tunes is a force to be reckoned with.
Saturday, August 6: HÆLOS at Rickshaw Stop
It might be hard to comprehend the idea of dance floor blues, but that's the signature sound of British musical trio HÆLOS. Their darkly-shaded and radiant debut album Full Circle has elements of drum n' bass, yo-yo synths, and atmospheric beats.
Saturday, August 6: Snakehips at Mezzanine
British electronic/R&B music group have exploded since their 2015 single "All My Friends," which explains why they have a sold out show in SF at the Mezzanine. This should be the perfect environment to take in the pleasurable sounds and sexy remixes of Banks, The Weeknd, Bondax and Wild Belle, among others.
Sunday, August 7: The O'Jays at Stern Grove
Those looking for an outdoor alternative to Outside Lands should certainly check out the free Stern Grove Festival. Travel back in time to take in the sights and sounds of American R&B group The O'Jays, who will put on an impressive soul and disco show worthy of their Rock N' Roll Hall of Fame status.
Sunday, August 7: Griz, Lettuce at The Independent
Griz, an electronic producer from Michigan, and Boston-based funk band lettuce will turn up the bass for the sold out and concluding Outside Lands night show. Dance the night away to Griz' serenading on the saxophone accentuated by funk, electro-soul, and self-described future-fun beats.
Sunday, August 7: Thomas Jack at Mezzanine
If tropical house is the fastest-growing electronic sub-genre, then Thomas Jack is riding the musical heat wave at its crest. His no-nonsense brand of blissful beats instantly transports your mind, body, and soul to a refreshing island getaway.
Monday, August 8: Motown on Mondays at Madrone
The only fitting conclusion to a music-filled weekend would be to partake in the groovy weekly dance party hosted by the Motown on Mondays crew. These pioneers have expanded their soul party worldwide, but San Francisco has the strongest dance party of their offering. Check out our interview with the founders from a few years ago.