Jeff Whitmore (Public Works & Mighty) Discusses the Latest from Cutting-Edge Music & Arts Venue, The Midway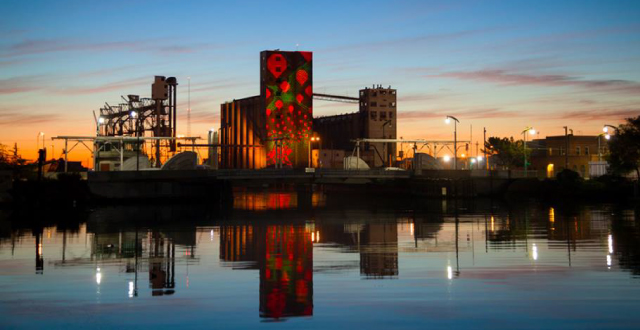 Thirty paces north of the Illinois-Marin St. crossing, I stood mesmerized by a slender-faced carnival barker with ghostly complexion. Deathly still in a red and black pinstripe suit, the pale figure stares down from beneath the brim of his topper—a hat twice the size of his puckered face. "Step Right Up," he dares with a devilish, antagonizing expression.
The creepy sideshow concierge is a Mike Shine creation. The mural lives on the exterior of an old warehouse in San Francisco's Dogpatch. The painting is the first noticeable sign of a vibrant circus theme stretching around the corner, bleeding out from the creative space within. All is part and parcel of the vision of transforming an old warehouse back to life as The Midway, a complex for the arts in an area showing potential as San Francisco's next art hub.
Just a few blocks away, a new art compound named the Minnesota Street Project (MSP) has already made a home for some of the renowned 49 Geary Art Galleries, recently displaced due to rising rent prices. "The synergy a hub [can] generate [ultimately benefits] all the galleries," one such gallery owner, Jack Fischer, told Sura Wood of SFArts.org. And, as some influential figures in the San Francisco's music and arts scene are forecasting, the Dogpatch might be that next unifying hub.
"I remember being down here when the rave scene started hitting in the early 90's. It was in the middle of nowhere…but they would have raves popping up in these warehouses." — Jeff Whitmore
The Midway is the vision of Jeff Whitmore, founder of Public Works and co-founder of Mighty. It's been Jeff's life-long dream to bring diverse crowds together through art, music, and creative expression. To help him bring that dream to reality, Jeff's called on long-time friends and fellow nightclub veterans, Peter Glikshtern and Jordan Langer. "Just as Pier 70 and The Old Mint were venues they went after and brought me in [on]," Jeff stated, "they got involved to round out the team. These guys are putting in a lot of hard work."
Recently, Jeff invited SF Station for a tour to check on The Midway's progress, one year after it was planned to fully open. "I came for about a dozen years," Whitmore shared, standing in his massive new music and arts venue. "I would come down here every month or six weeks, just to see if there was a sign. This building is in the best location."
During the walk-through, the New York-native recalled influential nights in Brooklyn and Manhattan. It was at clubs like Studio 54 and Mudd Club, where Jeff Whitmore's dream was seeded…
"It was always such a mix at those places," Jeff noted, "…always some art going on, always some music…usually some performance. That was where it hit me," Whitmore said, with a quick shrug. "I love the club thing, but when we can do a little bit extra along with it…" He gestured his mind exploding, letting the depth of his passion be felt. He then recalled a specific night at Mudd Club, which left a mark.
"There was this guy sitting there…I couldn't say 100% as if he introduced himself or gave me his card, but [I'm] pretty sure it was Walter Yetnikoff." Yetnikoff is the music industry executive responsible for merging CBS Records International with Sony in 1988, creating Sony Music Group. "On one side, there was a plumber from Brooklyn," Jeff continued. "On the other side, was a tranny from Hell's Kitchen. Everybody was talking back and forth, throwing their two cents in on different [topics]. My mission is to bring that level of diversity together. And one of the best ways to do that is with music and art."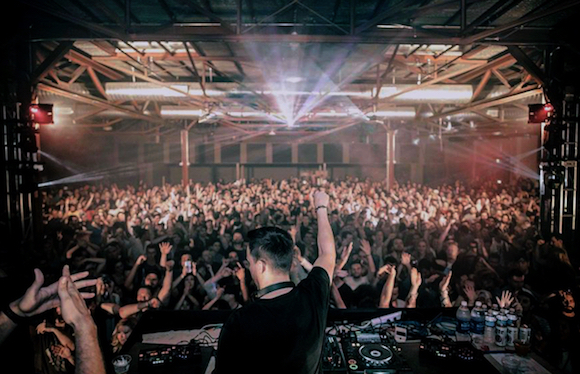 Maceo Plex at The Midway's RiDE, photo by Jason Siegel
Jeff Whitmore has always demonstrated an aspiration to cross-pollinate art and music through events he's thrown at Mighty and Public Works. The Midway, however, is set to take the dream deeper down the rabbit hole and to a whole new level.
"This is a creative carnival," Jeff Whitmore explains. "…we're putting all, or most, of the popular forms of creative expression around the Bay Area under one roof." One possibility he hopes will come with the vision is to have one-day festivals combining music, food, and art—curated by the bands themselves. "Art may not be your thing," Jeff wagers, "but if you have the Yeah Yeah Yeah's playing and Karen O has an art exhibit, you're going to be into it."
As designed, The Midway houses nine artist studios and a multi-station workshop. The artist residency programs, Jeff envisions, sees professional artists instructing classes for students who otherwise can't afford such courses. "There's an educational element to it," declares Whitmore. "You know, this is…not just a big night club."
A separate adjacent room, to be equipped with flexible seating and kitchen appliances, will provide professional cooking exhibitions and public classes.
Across the gallery from the exhibition kitchen, you'll find a room dedicated to an emerging technology, ENVELOP's 3D sound space called ENVELOP at The Midway. "That's a magnificent room right there," Jeff signaled to the ENVELOP chamber. "It's going to be one of very few in the world. In there, you could have Pink Floyd's Dark Side of The Moon coming over you in waves, because they can assign each note to a speaker."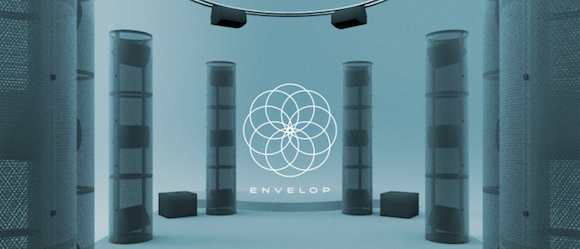 Rendering of ENVELOP at The Midway, a 3D sound space
Recounting his personal experience with the sound system, Jeff said, "I was hearing things moving back and forth around me like a pinball in really high clarity. Then…I felt like I was in a whirlpool or a tornado or something—like I was going to fall over. Stone-cold sober, I thought I losing my balance! I was sold. This is an amazing experience." Excited about marrying emerging tech and music at The Midway, Jeff also pointed out, "At least two or three of [the crew behind Envelop] are composers. So, now they're composing sound specifically for this system." In addition to unique album listening parties, ENVELOP at The Midway is going to offer classes and workshops on how to create dimensional music and sound meditation experiences.
If this operation isn't sounding overly ambitious yet, get a load of The Midway's music venues and late-night cafe. One venue space, dubbed Gods & Monsters, matches The Independent in capacity. It's the smaller of the two. The other, called RiDE, is four times the size and features three full bars.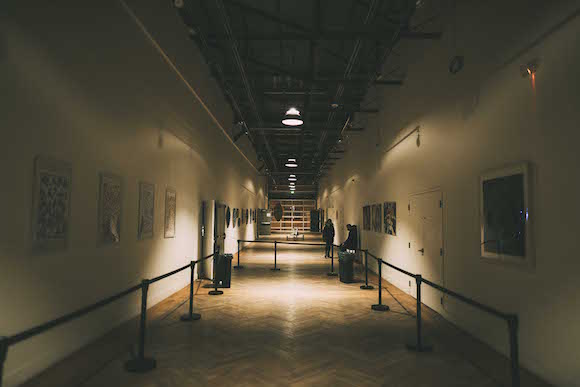 The Midway's Main Art Gallery
Though the concept tends to sound over-the-top, Whitmore's plans tie all of these features together masterfully. And this is where The Midway's cohesive carnival theme reveals its functional element. Jeff's assistant, Rachel Torro—also a well-known Bay Area DJ—broke it down best.
"When you walk into a circus or carnival," Rachel explains, "there's a main midway, which branches off into all the different attractions. So, that's what our gallery is. That's our midway–all of the attractions are branching off." Although Torro makes it sound simple enough, it was anything but in the eyes of the SF Planning Department.
"They didn't know what to do in the beginning," Whitmore recalls with sympathy in his voice. "In a city sometimes you have fifteen things going on at once." And that's how things have played out in since Whitmore secured the space for The Midway. While Jeff's complex plans went under review, the SF Planning Department was hit with a few more mammoth-sized plans, including the migration of the Bay Area's beloved basketball team.
"We have to tell them what our impact will be because the Warriors are moving in," Jeff said. So, he was forced to hire a group to conduct a traffic study, which added two more painful months to the process, according to Jeff. Another large-scale project you may have heard about, is the record-breaking tower planned to go up in SoMa in the next two years, compliments of Salesforce.
"We thought there would be income coming in a year ago." Jeff winced at the reminder. "It's taken us about nineteen months to get through the Planning Department. For Mighty and Public Works, it was maybe two months."
Also contributing to the delays, are the nuance renovations that come with converting an old warehouse into a cutting-edge music venue. "We just did our third wave of sound treatment," Rachel mentioned looking up at the ceiling over RiDE. "Everything is sounding a lot better considering our tin roof. It's a lot harder than people think to turn a warehouse into a functioning, great sounding venue. But it's coming together." After it's recent sound treatment, RiDE is now ready to thump.
Fortunately for Jeff, his crew, and everyone who cannot wait for a taste of what The Midway has to offer, the space has been receiving per-event permits to keep things moving forward. "There are certain people who believe this is something the city needs," Whitmore nods.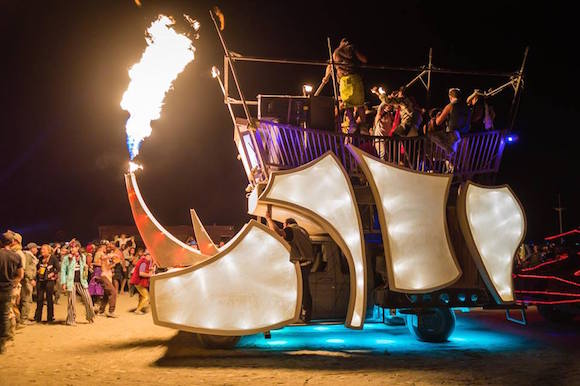 Dusty Rhino's feature art car throws fire
Last month, Dusty Rhino rolled through The Midway for Wild Kingdom, an Art Car & Fire Festival. Now, this Saturday, The Midway and Hush Concerts will be hosting the highly-anticipated, San FranDisco party. Giorgio Moroder—the self-proclaimed founder of disco—will be headlining the stacked lineup, which also features Tuxedo, SF's own DJ Dials, and over a dozen more music artists.
The Midway is currently only hosting events intermittently, albeit increasingly, and San FranDisco on Saturday, July 30th, is going to be the bass booming neo-disco rave you would kick yourself for missing. All curious ladies & gentlemen, kids aged 21 and over, should step right up and grab tickets before it's too late. At the time of this post, tickets were still just $40—but in the second to last stage of sales. This event is expected to sell out.