Throughout the last few weeks, so much hate and fear has swept our news channels and our social feeds, weighing on hearts across the country and the globe. Amidst the ugliness, however, it's imperative to remember there is love out there, just as there is in each of us. Love is thriving. It's shared constantly all around us and there are five brilliantly big hearts coming to San Francisco to remind us of that on Friday night.
Meet San Diego's Desert Hearts crew, led by Mikey Lion.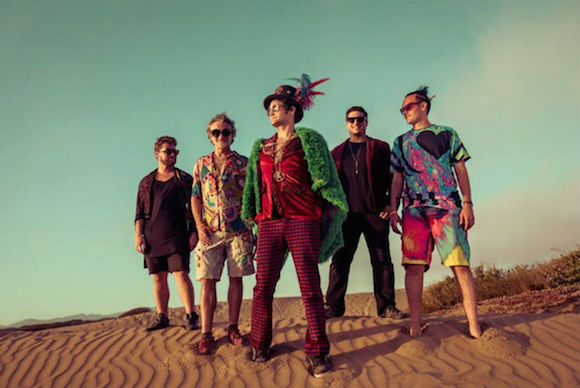 Desert Hearts began as a series of renegade parties in the Mojave Desert. The gatherings were founded on the human yearning to feel love and to share love, all to the tune of dance music. The sentiment naturally became a movement, then swiftly grew into a bi-annual festival, which harbors 3,500 loving souls for 72 hours of house, techno, & human-kindness. The calling to launch Desert Hearts came to Mikey immediately after his first Burning Man in 2011. But the wheels of fate were grinding in motion long before.
"I have the best parents of all time," states Mikey. "When I was thirteen, they told me they would pay for any instrument I wanted to play. I came back and said I wanted to play the turntables. At first, they were like—'WTF that's not an instrument!'—and refused to pay for them."
Young Mikey was adamant in his path, however. He saved up all his money and bought a pair of Technic 1200s. "After seeing how dedicated I was to scratching records," he remembers, "they saw how into it I was and they ended up paying me back for them."
Mikey's dedication to spinning hip-hop records was contagious. In just a matter of years, his brother began mixing hip-hop, too…but just as Mikey found his love for electronic music.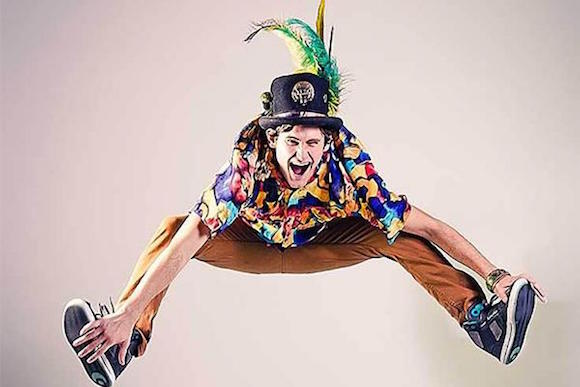 He was seventeen and deep in his first psychedelic trip, melting for Daft Punk at Coachella. The experience made such an impact, the next day Mikey devoted himself to house music. In the following years, Mikey Lion gravitated closer to his calling by attending Lightning in a Bottle, this festival led him at last to Burning Man. It was there, in Black Rock City, the Desert Hearts movement was conceived.
Mikey rounded up a clan of fellow DJs and took to the Mojave Desert to initiate the first installment of Desert Hearts. It proved to be a challenging first year.
"At the very first Desert Hearts Festival, our sound guy went MIA the day of the party," Mikey recalls. "We ended up calling Brad from Funkworks Funktion-One, who we'd never met before, and he came out to save the day on a moment's notice." The festival was then better off with the help of Funktion-One—the manufacturer of arguably the best live sound system currently at market—but the trials were not quite over…the generator died. Music didn't actually get started until 6am on Saturday morning." Nevertheless, as all big hearted humans do, Mikey found the best in the chaos. "It all worked out for the best because the Funkworks crew is like family to us now. That first night started the whole Desert Hearts Family, with the entire party sitting by the fire."
By this time Mikey's little brother, known as Porkchop, had followed suit and also began mixing electronic music. "He was always a couple years behind me musically." Lion says, though not to boast. "When I was into hip-hop he was into rock. Then, when I got into electronic music he got super into hip-hop. But now he's the biggest techie-head ever and we trade music all the time." Mikey, the elder by eighteen months, gushes, "Porky is …pretty much my other half. He's a party animal and probably the funniest person I know. He also has a heart of gold and absolutely destroys as a DJ." If Porkchop ever felt shadowed by his older brother, he's certainly finding his own light now. His set at this year's Desert Hearts Spring Festival garnered huge praise.
Desert Hearts continued to snowball. In 2014, Mikey Lion launched the Desert Hearts record label that now supports the whole crew. Their movement found such success, it no longer made sense to keep it pinned to the desert. Now between the dates of the bi-annual desert fest, the 'Hearts rove the continent to spread their message like true crusaders of love. They kicked off 2016 with Maya Hearts—a New Year's rave deep in the Mexican jungle—and now they're sprawling the U.S. with their third run of City Hearts, their urban translation. This season's edition has been dubbed the Endless Summer Tour and swings through San Francisco this weekend.
Jacob Avanzato
Mikey Lion and Porkchop will be joined by fellow core members—Lee Reynolds, Marbs, and Deep Jesus—as City Hearts takes over the Funktion-One-equipped Public Works on Friday, July 15.
In anticipation of the event, we sat down with Mikey Lion to find out how the tour's been going and a peek into his future plans.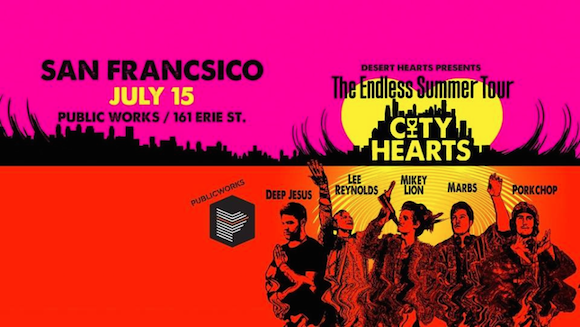 Did you imagine the Desert Hearts movement would grow this fast?
Not in the slightest. We just wanted to throw an intimate party with our friends in the desert and the next thing we know we're leading a massive movement of love and music. It all happened so organically and I'm still trying to wrap my head around the whole thing!
Did you have an idea in the beginning that it would lead to a record label?
Again, not in the slightest. We started throwing parties because we wanted an outlet to DJ and share music with people, which led to producing my own music. I was striking out trying to get my music signed to other labels when I was just like "Whatever, I'm going to start my own," knowing exactly nothing about how to run a label. That's pretty much how we've done every single thing in Desert Hearts. Learn by doing!
Have your parents ever addressed the story of your catalyzing psychedelic trip at Daft Punk's Coachella set?
I'm not sure if I've ever really gone into full detail about that night with them, but my parents know what's up for sure. They both go to Desert Hearts and all our San Diego & LA parties. I took my mom to Burning Man last year and she took care of my friends who'd been partying too hard and needed some motherly love. (chuckles) She's an angel, I swear to God!
What has been your favorite moment from the Endless Summer tour so far?
Easily our party in San Diego on 4th of July weekend. We helped build the house and techno scene in San Diego from nothing, so to see 2,000 people come out and party with us in our hometown almost brought tears to our eyes. This music and this movement means so much to us and to see our hometown embrace it in the way that they have is the best feeling in the world. The fact that it was a dusty dance floor in the middle of Downtown San Diego didn't hurt either. It felt like we were at the actual Desert Hearts Festival but in the middle of the city. We're for sure going to start doing way more outdoor day parties as often as possible.
Who are the Trash Pirates? Can you talk a little about what they do and what they mean to Desert Hearts?
Ahh, the Trash Pirates and Waste [Noughts] are some of the best humans on Earth! [They're] some of the most genuinely good people I've ever met. I think I met them through my token hippie of a partner Kristoff. They're whole thing is making trash and recycling fun. The culture they have built up within their crew is so inspiring. Just last week during our City Hearts San Diego party, they didn't have a lot to do during the beginning of the party, so they took it upon themselves to clean up all the surrounding blocks around the venue. That area is pretty close to skid row so there was a ton of work to do, and the Pirates just stepped up and handled it. They make me want to be a better person.
What is in the next chapter for Desert Hearts?
Really getting the label firing on all cylinders. The growth of the label is what's ultimately going to allow us to take City Hearts to the rest of the world. We have some really special parties in the works that I can't talk about just yet, but trust us they're going to blow minds.
Are there plans to bring City Hearts out of the country?
On this particular tour we're not heading outside the country but yes that is the ultimate goal. We want to take the Desert Hearts vibe and share it with the rest of the world. City Hearts is our way of doing that and it's only a matter of time before we do a proper South America and Europe tour.
San Francisco is a special place for the City Hearts tour, isn't it?
City Hearts SF was the very first City Hearts party we ever threw and it was really the turning point for us when we figured out we could start taking our vibe on tour. It's always one of our favorite spots on tour because the people truly understand what love is all about. Thank you to every single person in San Francisco for embracing us and helping us spread the love! I love you guys and I'll see you at Public Works on Friday!